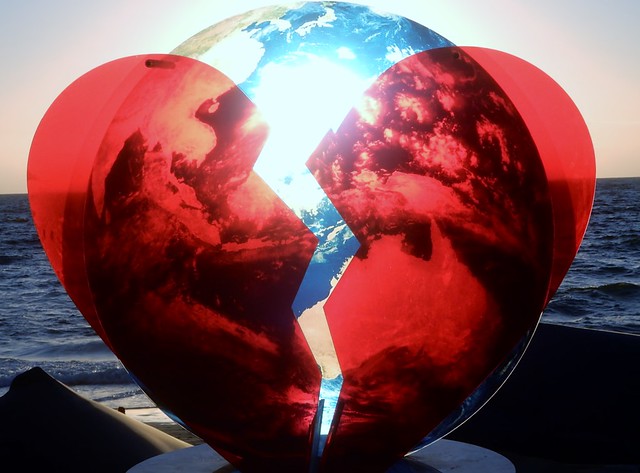 When This World Breaks Our Hearts
We live in heartbreaking times, filled with painful news from around the world which breaks our hearts.
Though we are able to talk face to face with people on the other side of the earth, we cannot resolve long term problems. War, hunger, disease, and hopelessness show themselves again and again.
What does spiritual life have to offer us in these times other than easy platitudes and unfulfilled promises?
It is not as if spiritual life provides a list of workable action steps to address intractable worldwide plagues, or personal tragedies. Spiritual life is much deeper, much more than that.
It can be easy for us to forget, as we face such heartbreakingly painful times, spiritual life gives us courage.
Courage is more than being brave or persisting in the face of hard times. It is not about facing an adversary or a situation. Courage is our willingness to look directly into our own hearts, our deepest fears.
Spiritual life fills our hearts and sets them on fire. We explore the sacred in the world around us, even in the challenging parts. We discover the sacred in ourselves.
Spiritual life is not a blueprint for social change with answers to all our questions. Spiritual life raises additional questions in us, questions on which we need to reflect to appreciate our world.
Our questions help us listen and pay attention more clearly. We become more open to the life which fills our hearts and the world around us. They allow us to experience new life.
We take heart, and share our lives in creative ways. Spiritual life encourages us to act.
Spiritual life is at work in us, even when we do not realize it, knitting together the shards and pieces when this world breaks our hearts.
Finding Healing When This World Breaks Our Hearts
I am a member of a liturgical church. When we get together we surround ourselves with signs and symbols which remind us about who we are. We have banners and paintings, pictures in stained glass, music, kneeling and the sign of the cross, and a basket for the food locker. There is one symbol which can be easy to overlook, even though it is my favorite.
We remember who we are, and who we are becoming, with fire.
We light candles every time we get together. The flames of our candles remind us of our story; the burning bush and the pillar of fire, the light of the world and how our hearts burn within us.
Spiritual life surrounds and infuses us. It draws us in and ignites the fire within us. We burn with its passion, and its fire purifies us.
Each week we light candles and remember the fire in our hearts.
We live in a place where there are brushfires, but we are not particularly fire and brimstone people. It is more like the fire of sitting and watching a fireplace. The flames remind us of our deepest selves, and burn away all the false things which hold us back.
The monks at the monastery where I go on retreat also lights candles.
Spiritual life reminds us fire is warm and powerful. There are challenges, and there is also joy. Fire sheds light in dark places and ignites our passion.
I sit quietly and listen to the stillness. The flame in our heart, which might have dwindled to embers, is reignited and fueled by spiritual life. The heat and the light grow in the cold darkness, and we reflect on the insights and questions spiritual life ignites within us.
Paying Attention to What Breaks Our Hearts
Each of us experiences our hearts being broken in our own ways.
For some of us, watching or reading the news breaks our hearts. Each day seems to bring new ways to break our hearts. We may watch images of innocent people struggling against injustice and suffering, and our hearts are broken again.
Our world is filled with real people experiencing heartbreak and suffering for which they are not to blame.
Others of us watch films or read books which break our hearts. We may revel in classic stories of heartbreak and adventure, or immerse ourselves in ironically modern stories which break our hearts.
Some of us might be part of a family which breaks our hearts. We might want to do everything we can to distance ourselves from relatives or other people we have known who have broken our hearts. I know people who avoid connecting with anyone at all because of how they have been hurt.
This world breaks our hearts, and it can help us to pay attention to why and how it does.
We learn about who we are when we are aware of how our hearts have been broken.
Appreciating How This World Breaks Our Hearts
Reflecting on when and how our hearts have been broken helps us appreciate how to help them heal.
There have been times when my heart was broken and I tried to hide or ignore it. I thought I could forget about my broken heart if I simply kept working and trying to meet goals or expectations.
Monastic community helped me appreciate how the ways my heart has been broken have shaped me. When I am willing to practice opening my heart, it can be healed and reignited.
We take time to breathe deeply, close our eyes, and listen to the sacred stillness within us and in the world all around us. Sitting still, we give ourselves the time and quiet we need to hear the wisdom of spiritual life.
Even when the world breaks our hearts in new ways each day, we learn to live with them open to ourselves and each other.
Spiritual life flows in us, bringing the broken pieces together in new ways.
Where will we gain understanding today about how this world breaks our hearts?
How do we recognize when the world breaks our hearts, and how do we help them heal?
[Image by mikecogh]
Greg Richardson is a spiritual director in Southern California. He is a recovering assistant district attorney and associate university professor, and is a lay Oblate with New Camaldoli Hermitage near Big Sur, California. Greg's website is StrategicMonk.com and his email address is StrategicMonk@gmail.com.