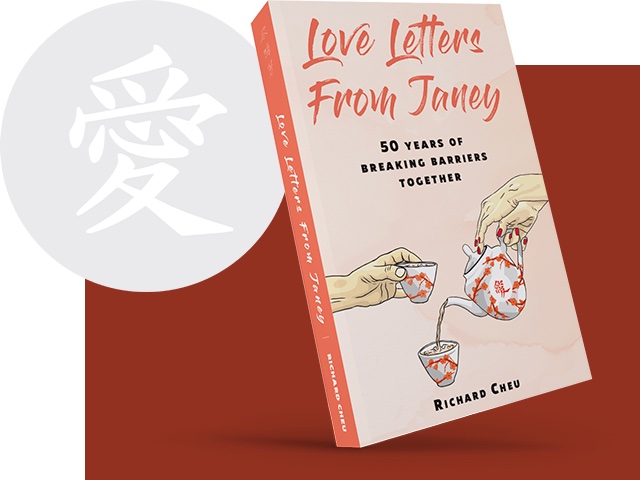 Love Letters
I believe in the power of love letters.
Few of us write letters anymore. We have so many faster ways to communicate. Now we call or talk over Zoom or FaceTime. We send an email or a text illustrated with emojis, or post a message on Facebook or Twitter. Many of us feel a little overwhelmed by the number of wayoptions we have for communicating.
It seems like too much effort to sit down and compose a letter to someone else, then wait for them to receive it.
I can remember working to put my thoughts and feelings into words on paper. Sometimes I made a mistake and needed to start over at the beginning.
Then there was the long, agonizing wait as my letter went through the mail. The tantalizing prospect when a return letter might arrive today, or maybe tomorrow.
Love letters gave our relationships added emotional depth and poignancy. Writing each other helped us think through our feeling and how to put them into words written on a page.
Collections of love letters allow us to go back and feel our feelings again, to explore relationships from the inside out.
We can learn about our lives by reading our letters and reflecting on whether, and how, we have changed since we wrote them.
Our letters were windows into our emotional lives and the practical ways we expressed them.
Richard Cheu allows us to accompany him on a journey of memory and discovery as he explores love letters from his wife, Janey. He invites us to join him in appreciating the uniquely personal significance of the love and the letters they shared.
His book helps us recognize what we can learn by remembering and reflecting on our own loves.
Love Letters From Janey
Richard and Janey met when they were both students at Stanford University. Richard graduated in 1959, and went on to pursue a Master's degree in Biology at the University of Oregon. Janey graduated from Stanford in 1960.
While Richard studied at Oregon and Janey completed her senior year at Stanford, they got to know each other through letters.
Richard's book and Janey's letters describe their acquaintance and courtship at a time of change and opportunity in their lives. Both Janey and Richard were raised by families which had emigrated to California from China. While America in the 1950s and 1960s was a place of new challenges, they faced older, more familiar challenges as well.
Janey's letters describe the ways she worked to shape her life. Those struggles continued throughout her life.
Her letters describe her efforts to think through what she would do after completing her degree at Stanford. There were few career paths for young women in 1960, and she worked to sort out what she wanted to do.
Richard and Janey's letters were their primary way of communicating. They got to know each other, learned about each other's families and background, and discussed their differences and similarities. One question they write about is Janey's family being practicing Catholics while Richard's family are Methodists. Their conversations about religion are another reminder of the controversies of the early 1960s.
Janey and Richard were married on July 9, 1961.
Love Letters From Janey relies on Janey's letters to provide the structure of the story it tells. It explains how conversations in their early letters help them make decisions together which turn out to enrich their lives.
Richard remembers and reflects on the life of their relationship which began on the Stanford campus. Each step takes them further along their chosen paths.
Love Letters and Everyday Life
Janey and Richard are remarkable people who share a remarkable story.
The story is uniquely personal to them, but each of us can tell our own story. We can learn valuable lessons by reading this book, and Janey's letters. But we can also find significant truths by remembering and reflecting on our own experiences.
While we may not have the treasure trove of Janey's letters, we have memories of our own. Each of us can take time to sit still, remember, and consent to the ways spiritual life is present and working in us.
We live our everyday lives going forward one step at a time. Remembering and reflecting, we are not limited to a single perspective. We can look back and see things happen from different directions. Some of us can see things we have done which caused pain we did not expect, and we can try to heal it.
Richard and Janey faced discouraging obstacles. Janey's letters show us they faced them together. We can create the kind of relationships which help us move forward with grace and courage.
Spiritual life is not about climbing one mountain after another. It is all about the way we live our everyday lives, one step after another.
Writing Our Own Love Letters
Janey and Richard found each other and worked to create an inspiring love. Read Love Letters From Janey to find out more specifics about their love for each other.
Each of us has opportunities every day to create love in the world around us. We choose to either share our love with the people around us or to ignore what other people need. When we think we can hoard our love, not sharing it, we make a terrible mistake.
We spend our lives writing love letters to people. Sometimes we share them and wait eagerly for a return letter. Other times we decide not to write, or not to send the love letters we have already written.
When you read Love Letters From Janey you will recognize Richard and Janey were under no obligation to share their love. They could have chosen not to acknowledge it, not to pay attention to the love they shared.
Janey and Richard chose to love, and we can see the evidence of the love they shared.
What sort of love letters will we write today?
How can we create love in the world around us this week?
[Image by Richard Cheu]
Greg Richardson is a spiritual director in Southern California. He is a recovering assistant district attorney and associate university professor, and is a lay Oblate with New Camaldoli Hermitage near Big Sur, California. Greg's website is StrategicMonk.com and his email address is StrategicMonk@gmail.com.