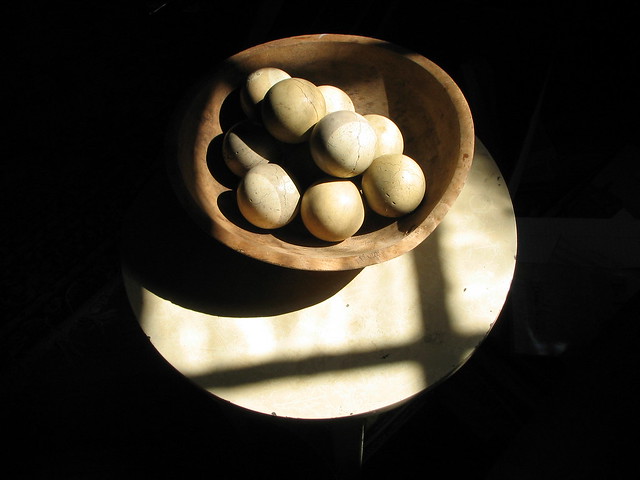 Finding Stillness in the Busyness
This can be a contemplative time of year. It is often a challenge for us to find time for stillness in the busyness.
It begins in the wake of costumes and frivolity with false selves on display for all to see. The days grow colder and darker, almost as if the year itself is turning inward. Candles and treats give way to the dark evenings of standard time.
Much of November is about letting go. Leaves falling from the trees. We let go of long, sunny evenings and early mornings. The sounds of summer become quiet. Raking up the leaves which have entertained us, we begin to prepare for the challenges of winter.
We begin to exchange the flashing colors of summer and autumn for the stark contrasts of winter. Even in the "endless summer" of Southern California, November can be a contemplative month.
The changes in our physical world prompt us to get in touch with our spiritual selves. We review what we have accomplished, and what we have yet to do, during the year. Harvesting and assessing the fruit of the year, we prune back branches to become more productive in the future.
We start to spend more time indoors, where we have more opportunities for reflection and rest. Slowly, drop by drop and day by day, November gradually draws our attention to gratefulness and thanksgiving.
This part of the year can be an opportunity for us to reflect, remember, and recognize what we have received. Do not forget or let it pass unnoticed.
We have only these six weeks left of this year. Some of us will push to fit everything we can into these days. Others will prepare to make next year more productive than this one.
Can We Find Time For Stillness in Our Busyness?
After today there are only a few more November mornings this year. Each one is a precious gift. How we spend them is up to us.
Some of us are already committed by habits or responsibilities. We have taken on tasks or roles which mean we will spend these days doing things. Our alarms awaken us and we are on our way to meet particular needs.
We may have spiritual practices which demand our attention. Some of us are trying to make up time we have already missed earlier in the year.
Many of us live in times of constant and overwhelming stimulation. Some of us track the weather on the other side of the planet or political news from across the country. There are few moments in our days, or our nights, when we are not paying attention to analyzing something. We do not get the stillness we need to restore our minds or our dreams, and we are exhausted.
Stillness is something we have forgotten. There was a time when we appreciated how significant stillness could be, but we have lost it. Most of us cannot remember the last time we sat still and listened for even five minutes.
We miss the opportunity to listen to stillness within ourselves and in the world around us, whether we realize it or not.
Many of us assume our lack of rest is a physical or medical problem. Others experience it as an emotional weakness.
We do not find our rest because we are looking in the wrong places.
Our need for rest is a spiritual challenge at least as much as it is physical or emotional.
The good news is we can take tangible steps to begin finding our rest within stillness. Sacred stillness is waiting for us to listen.
Where Will We Find Time For Stillness in Our Busyness?
Each day we can set a time to practice listening to stillness. Some of us set a time in the morning and another in the afternoon or evening.
A contemplative practice is not complicated or rigorous. The challenge for us is taking the time to practice each day, showing up and investing our time.
Before we begin we remind ourselves why we are starting this practice. We remind ourselves we are agreeing to give our consent for spiritual life to be alive and active within us. For twenty minutes twice a day, we intend to let go of busyness and distractions which get in our way.
Many of us choose a simple word to remind ourselves of our intention when our minds begin to get distracted.
We sit comfortably and close our eyes, remembering the word we have chosen, and spend time listening to stillness. Even when we struggle with busyness we find sacred stillness.
Our practice allows us to continue finding rest within stillness over time. We become more open to sacred stillness and better able to find the rest we need.
Recognizing the Stillness in the Busyness
Many of us have forgotten what stillness sounds like. We close our eyes long enough to catch our breath and prepare for our next working day. Some of us do not remember the last time we found enough stillness.
Beginning a contemplative practice of listening to sacred stillness is a good place to start. An initial taste of stillness and rest often helps people realize how thirsty they are for more.
Some of us spend time seeking stillness with other people. We find them helpful and supportive as we sit together in stillness.
Another spiritual director and I have started an online centering prayer group which meets each week. We create space in the midst of the busyness and noise online where we can find stillness.
Our practice is not complicated. We gather on Zoom each Wednesday and begin with either a reading or a short piece of music. Those of us who come together practice listening to sacred stillness for several minutes. We share another short reading and then we go our individual ways.
Please join us.
There is power in the stillness within us and all around us, though we are often too busy to pay attention.
When will we take time to find stillness in the busyness today?
How will we seek rest stillness in the busyness this week?
[Image by dgray_xplane]
Greg Richardson is a spiritual director in Southern California. He is a recovering assistant district attorney and associate university professor, and is a lay Oblate with New Camaldoli Hermitage near Big Sur, California. Greg's website is StrategicMonk.com and his email address is StrategicMonk@gmail.com.