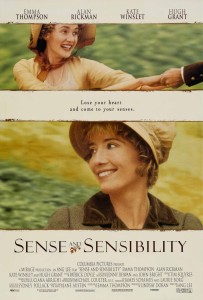 "From the Oscar-winning director* of Crouching Tiger, Hidden Dragon and The Hulk and the whiny, ridiculously over-entitled rich gal from Titanic, and the frigid (darn, should have saved that one for Titanic), neurotic, desperately-blocked writer from Stranger Than Fiction and the Uber-Villainous Gruber from Die Hard and that one genius-jerk from "House" comes a heart-warming tale of self-sacrificing, unrequited love and patient, edifying sisterly dedication. And rain. And fountains."
I'm speaking, of course, in a booming voice-over voice. And of Sense and Sensibility, which is currently available from NETFLIX INSTANT:
Facing poverty after their father's death, three sisters are obliged to rely on the generosity of others in this adaptation of the Jane Austen novel.
Lee has the reputation of being an "Actor's Director," and the work of the ensemble cast in this film certainly does nothing to dispel that notion. It's the first time I really sat up and noticed non-Gruber Rickman, whose Colonel Brandon is unforgettable; the perfect foil for the younger, far more dashing and handsome (and eminently unworthy) Willoughby. Emma Thompson's Elinor and Kate Winslet's Marianne are absolutely fantastic together. And absolutely hilarious together — a fact that accompanies the former far less frequently than one might think. Or want. Plus, Hugh Grant is remarkably not bad. (In truth, I care very little for Edward, but that's not because Grant plays him poorly. It's because he plays him well.)
If I might call your attention to one last point of excellence,
Patrick Doyle's
score is
superb
.
Brilliant, brilliant, brilliant, I say
!
*Ang Lee did not, I should note, bring home a little golden statuette for his work on CT,HD or The Hulk. Emma Thompson, however, did. And as someone who considers himself quite a fan of the BBC-Mini-Series approach to Austen, her adaptation work here is very special. Few Austenian feature films capture enough of the original material for my tastes, but this tight little 136-minute piece comes closer than (m)any.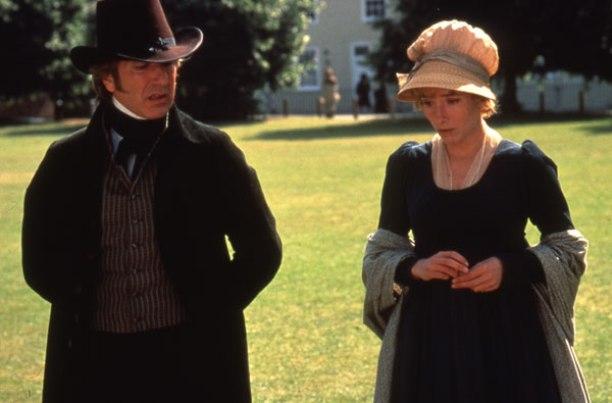 Attribution(s): All posters, publicity images, and movie stills are the property of Columbia/Sony Pictures and other respective production studios and distributors, and are intended for editorial use only.