As someone who has written of my affection for Hergé's Tintin in the past, whose seven sons are quite possibly even greater fans of the artist (and his endearing little reporter) than I am, and who considers himself still very much a youngster at heart — "Emotionally, at least," I say, hoping against hope that it's more "childlike" than "childish" as my wife laughs to herself behind me, silently — I am happy to report that the first season of "The Adventures of Tintin," the wonderfully-faithful, French-Canadian series from the early 90's that does a far better job of capturing Herge's distinctive style and charming tone than anything that has come since (yet which is rendered no less fun as a result of its faithfulness), is streaming on AMAZON PRIME
.
Also, that sentence is probably the worst thing I have ever written. I'm so proud of myself right now.
In this series, we witness the adventures of Tintin, a young reporter and his faithful dog, Snowy, as they travel around the world on adventures.
http://youtu.be/0D181Y1YWmA
The animation's more workmanlike than wonderful, but the characters are pretty much exactly what I'd come to expect from the comics. Especially Haddock and Thomson & Thompson. And if you get those three pole stars from Hergé's universe right, the rest will pretty much follow, right? Besides, whatever the series might lack in terms of quality and execution, it makes up for with heart. And by coming down heavily on the "Adventures" side of things. The kids will love it. (Plus, the music's great. So there.)
In case you're not a Primer, Season One is also available for purchase through AMAZON INSTANT($), either as individual episodes or as an entire season. (The same can be said of Season Two
, though that one is not available through Prime, for some inexplicable reason. Confusing? Quite)
Lest I ignore the 900-lb digital (and motion-captured) elephant in the room, however, I will speak of the Spielly/PJ version, as well.
This one
. Which is a) not entirely without merit; b) streaming a number of places, including
AMAZON INSTANT($)
; c) rife with serious Uncanny Valley issues; and d) almost certainly less enjoyable once you've watched the TV show. Somehow, despite a vast budget and light-years worth of advancements in technology, the 2011 film fails to capture the spirit of the original.
My friend Steven Greydanus sums it up pretty much perfectly over at his (newly-designed!) "Decent Films" site:
Tintin's fantastic, charmingly naive little world is not well served by the epic quasi-realism of high-tech computer animation. Overtly cartoony 2D animation would work, naturally. I think a live-action production could possibly work, especially if it evoked a kind of obvious artificiality, a quaint staginess that might in some way be roughly analogous to Hergé's clean, simple little drawings. (Come to think of it, a stage play of Tintin could work well — not a big-budget Broadway extravaganza, but a local community production, or even a school play.)

Computer animation is exactly the wrong medium for Tintin. It's too rich and textured to work like hand-drawn animation, and it's too self-cohesively persuasive to work like a live-action film with actors, sets, props and stunts.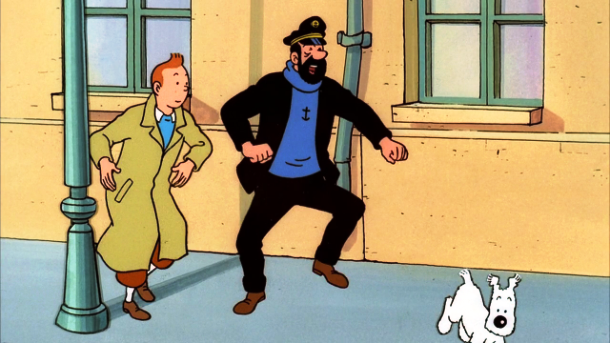 Attribution(s): All posters, publicity images, and movie stills are the property of Ellipse Programmé/Nelvana and other respective production studios and distributors, and are intended for editorial use only.