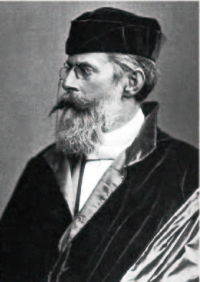 Let's be precise. We're not talking about just any von Herzogenberg; we're talking about "Heinrich Picot de Peccaduc, Freiherr von Herzogenberg," "an Austrian composer and conductor descended from a French aristocratic family."
Two historical facts of particular note:
Early on he was attracted to the music of Richard Wagner, but after studying J. S. Bach's works he became an adherent of the classical tradition and became an advocate for the music of Brahms.
Relatedly:
In 1874, with the Bach scholar Philipp Spitta, Herzogenberg founded the Leipzig Bach-Verein, which concerned itself with the revival of Bach's cantatas.
Helped revive of Bach's cantatas? That alone would be enough for me to love him. It doesn't have to be, though. Because the music's pretty impressive, as well. Here's my favorite so far: Trio in D Major for Violin, Horn, and Piano, op. 61.
Want something a bit more symphonic? Here's his Symphony #1. I definitely feel the Brahms. (The 4th movement is especially charming.)
Here's a lied.
And a motet. All lovely.
Also, that is a righteous mustache. And that hat is…something else.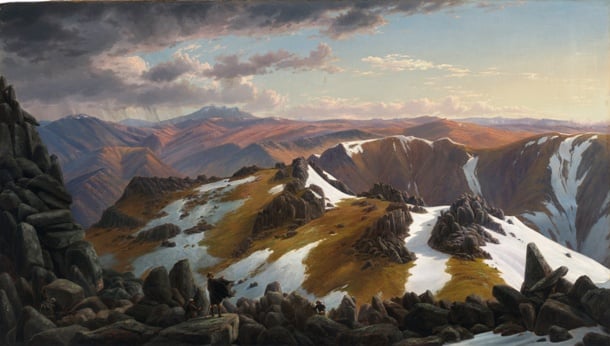 Attribution(s):"Northeast View from the Northern Top of Mount Kosciusko" by Eugene von Guérard is licensed under Public Domain via Wikimedia Commons; "Herzogenberg" is licensed under Public Domain in the U.S. via Wikimedia Commons.