As many of you know, my brother John died suddenly, and our family has been walking through a sad and unfamiliar path of difficult decisions and tearful goodbyes. John leaves a wife, Susie, and four children: Cole (14), Julia (4), Sophia (4), and Grady (2).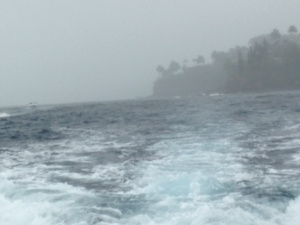 Yesterday we held a formal memorial service; today we took to the ocean, where John most loved spending time, to scatter his ashes.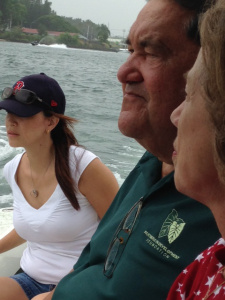 Who knows how you do such things? Not me. Still, here's the prayer I offered over CB radio while 10 large boats gathered in a circle and John's widow, Susie, scattered his ashes:
Oh God, we're gathered here today to give thanks for the life of our son, husband, father, brother, friend, John Dill. Thank you for the many ways in which his life touched our own. As we scatter his ashes in the ocean he loved, we know that he is enfolded now in your love and peace.
In the same way, encircle us with your love and presence as well, all the length of this troublesome life, until the clamor of life is quieted, and our pain is healed, and our work here is done. For the gift of John's life, all it has meant and continues to mean to us all, we give you thanks. Ashes to ashes, dust to dust, be at peace. Amen.
From different boats all around the circle, friends, scattered flower petals and leis in John's memory. As we rode back toward shore, we looked back to see the leis floating in the water, one of them a heart: John's blessing for us.