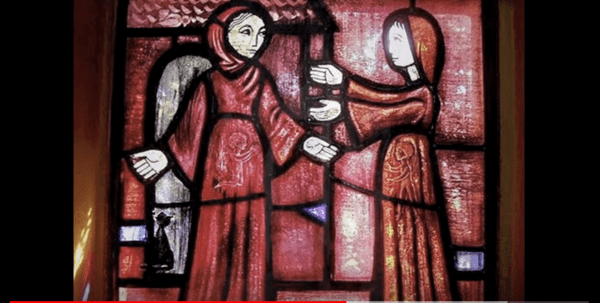 Show Notes:
Welcome to the third installment of the Girardian Virtual Bible Study. This week, Lindsey and Adam dive into Advent 4C, studying Luke 1: 39-56.
You can join Lindsey and Adam on the live Bible Study with your comments and questions on the Raven Foundation Facebook page every Wednesday morning at 10:00 am Central, 8:00 am Pacific. If you can't make the live show, you can watch the recording or listen to the MP3 the following day here on the Raven Review. For more on the work of René Girard and the Bible, we highly recommend Paul Nuechterlein's website Girardian Reflections on the Lectionary.
Young Mary. Unmarried. Pregnant. Living in the heart of a patriarchal culture, in occupied land, in turbulent times.
Rejoicing.
This is as subversive as it gets. The Magnificat is Mary's throwdown.
The name "Protestant," comes from "protest," and Mary's significance in church tradition is one thing many Protestants have protested. But we Protestants protest too much. The 4th Sunday in Advent, the Sunday of Love, is the day (among others) to give Mary her due. Without her, there would be no Jesus. Furthermore…
As Andrew Marr, Abbot of St. Gregory's Abbey (Three Rivers, MI), puts it, Protestant resistance to honoring Mary is resentment "projected onto Jesus if one implies that Jesus is envious and resentful of his mother." But one of the ultimate Girardian insights about Jesus is that Jesus is not resentful. Jesus is in rivalry with no one. Although Jesus is for the marginalized and oppressed – drawing them into the fold of Love – Jesus is not against anyone. Instead, Jesus includes the excluders with compassion and mercy in order to transform exclusion into embrace.
Jesus is certainly not in competition with his mother. There is no such thing as honoring Mary too much, because Love is infinite. And as a young, pregnant woman staring the patriarchy in the face, Mary knew her infinite worth and dignity, and we, too, should acknowledge and celebrate it.
Before she sings her song of jubilation in the midst of utter vulnerability, however, Mary visits her relative, Elizabeth, who in her old age has also become pregnant. Both pregnancies are miraculous, but they are not the same. Elizabeth has longed for a child throughout her long life; now that she is finally pregnant, she recognizes the child in Mary's womb, not her own, as her "Lord."
Elizabeth could have been jealous of Mary. She could have refused to believe in the divinity of Mary's pregnancy. She could have said, "Who does this young hussy think she is? Her baby will not upstage mine!"
She doesn't do any of this. She is honored and joyful. She blesses Mary and the fruit of her womb. Again, there is no rivalry – not between the women and not on behalf of their children. Rather, they bond over the shared joy of God's miraculous love working within them.
To be clear – the process of nurturing a child in the womb and bringing it forth into the world is always a miracle and a gift from God. It's not the virginity of Mary's pregnancy that made her pregnancy a miracle and a blessing; most pregnancies are not virginal (certainly none in the ancient world – before advancements in medical technology – were), and yet they are miracles. (Editor's Note: In the video, I say that "all mothers" experience the miracle of growing a life inside of them. But, of course, not all mothers give birth. I did not mean to exclude adoptive mothers, and I want to be clear that the love that flows from the heart when parents adopt children is every bit as miraculous. Furthermore, I know that not every pregnancy is experienced as a joy and a blessing. I believe God brings love to all new life and those who nurture it regardless of conditions or circumstances, and that is a miracle, but I did not mean to erase the different experiences of parents and children. – Lindsey Paris-Lopez). But the greatest miracle of Mary's pregnancy is her courage in the midst of utter vulnerability. She could have been rejected, shamed, shunned, and left with nothing for becoming pregnant out of wedlock. Even with a faithful fiancé, there was still a whole society full of people who might not believe her, and might shun her and Joseph both. And yet, Mary was joyful.
Perhaps it is Elizabeth's affirmation that helps give Mary the courage to rejoice. Perhaps Elizabeth's joy is exactly the reassurance Mary needs. Rev. Tom Truby considers this in his excellent sermon, and it is worth contemplating how Elizabeth's love created a positive mimesis of self-confidence in Mary. Don't we all need encouragement from our friends?
After Elizabeth blesses Mary, Mary says, "My soul magnifies the Lord…" and proceeds to rejoice in God looking with favor on her "lowliness," "scattering the proud," "bringing down the powerful," "filling the poor and sending the rich away empty." This parallels John the Baptist's invocation of Isaiah, uplifting the valleys, bringing the mountains low, and straightening the crooked places. Girard has referred to this as a great leveling, invoking equality where once there was hierarchy. This is a subversion of norms, a radical re-orientation of a culture built on keeping some people above others.
Patriarchy – a major form of hierarchy – is subverted in Luke's Gospel. Just before Mary finds her voice, a man, Zachariah, the father of John the Baptist, loses his. Doubting that his wife can become pregnant in her old age, the Angel Gabriel shuts Zachariah up. He cannot speak until his son is born and circumcised, at which point his first words are words of praise. In Luke's Gospels, women understand and believe when men do not. Is it because, having experienced marginalization and powerlessness, they have a deeper knowledge of God's presence with the marginalized than those who have power at the expense of others – the men – do? This is what James Alison has called "the intelligence of the victim." At any rate, a man is made mute so that he must listen and see how faith and courage and wisdom are shaping the women in his life. He is emptied of his misconceptions so he can be made full again.
This leveling of the genders is not vengeance against men. It's a transformation of the rivalry between genders that creates the false notion that one is higher than the other. The truth is, we are all better off when we understand the full human dignity of every person.
The Magnificat may sound vengeful, with its praise to God for "scattering the proud." But how are the proud scattered? God does not wave a mighty arm to send people flying in every direction. No. Instead, Jesus comes to bring in the marginalized and excluded, which means the proud, those who know themselves by how high they are lifted above others, are deprived of their common scapegoats and enemies. The sword that divides the proud is the deprivation of their common enemy or designated "loser" against whom they know themselves. Jesus takes away our ability to form identities over and against others, forcing us instead to know who we are in relationship with one another. We can know who we are by how much we love each other and how we live in communion with one another.
The Magnificat, therefore, is not about vengeance, but a reorientation of the world. It subverts all our standards and expectations, this song of an unwed mother rejoicing. She embodies her message of a world turned upside-down, where we no longer know who we are by who we exclude, but find our fullest selves in the full embrace of everyone, acknowledging that we are all beloved children of Love, and we all have it in us to bear Love to the world. Just like Mary.
---