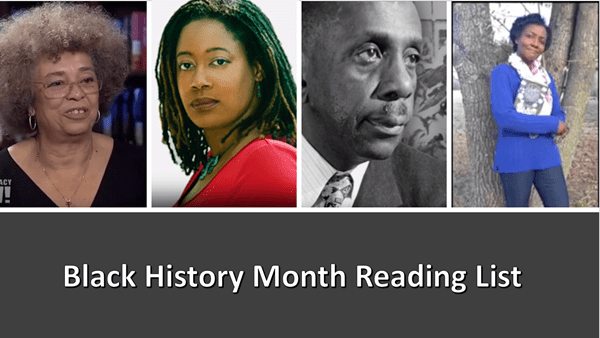 Happy Black History Month!
BHM As The Beginning of A Revolution of Consciousness
It's hard to overlook the fact that the month dedicated to the celebration of African Americans and black people worldwide is the shortest month of the year. However, if we start off every year with a commitment to seek justice and equality, then Black History Month can be a continuation of that commitment. After all, the month of January encompasses the birth of civil rights leader Martin Luther King Jr., and a dedication to his dream calls for a conscious effort to recognize all people of color who, individually and collectively, have enriched our world despite worldwide oppression against darker-skinned peoples. So as January turns to February, this is the perfect time to continue to recognize those whose spirits have risen through the deadly powers of racism and oppression to advance humanity forward. Let's just make sure to continue to recognize them long after 28 days have passed.
For the truth is, black history is everyone's history, but a history of segregation, colonization, slavery and dehumanization nearly eclipses this fact. Black History Month should lead those of us who are white to repent of the fact that contributions to the world by people of color go largely unrecognized, with only a handful of leaders and cultural icons standing out in history books and cultural memory among a sea of white political and military leaders, authors, artists, media stars and more. One month of the year cannot atone for the way black people have been written out of the very history they built with their hard work, ingenuity, and resilience in the face of exploitation and demonization. One month of the year cannot atone for the fact that a nation with an infrastructure and economy built on slave labor has yet to repair the rotten foundations of a system that upholds economic inequity largely (but not exclusively) along racial divisions. And if one month of the year is used to further deny and mask the systemic racism that permeates the nation and the world, then Black History Month is weaponized against the very people it proports to promote. But if Black History Month is seen as a guidepost in a constant movement toward justice and restoration, then it can be the beginning of a true revolution of consciousness leading to real systemic change and healing.
Books and Beyond
Last year, I began a Black History Month tradition of reading four books by African American authors, one for each week of February, in order to expand my understanding and empathy and to train myself in anti-racism advocacy. I read one theology book, one social justice / activism book, one children's book with my older daughter, and one adult fiction novel. Like the month itself, the books are only the beginning. The goal is not just to read them, but to expand my own world through the thoughts and passions and imaginations of African Americans. The truth is, the legacy of segregation is still alive and well through much of the country, and it impoverishes us all unless we actively work against it. That is why it is crucial for white people (among everyone else) to read the works of African Americans, not only to understand and work to transform racist policies, but to begin to heal the wounds that segregation has left within us by us dividing us from each other. All of humanity is interconnected; we are interdividuals who are formed in relationship to each other, but segregation has cut all of us off from our own souls by severing us from one another. Books can give language to the heart and soul's cry; they can bring pain and joy into sharp focus, they can help bridge not only physical, but mental and emotional divides. My goal in reading each of these four books is to deepen and broaden my own perspective, that I may follow the lead of African Americans and people of color in shaping a nation and world that lives out the ideals to which we now only pay lip service of liberty and justice for all.
Theology: Jesus and the Disinherited by Howard Thurman
I start with theology to ground myself in hope. Love is the foundation and must be the culmination – the Alpha and the Omega – of life, of humanity, of all that is and ever will be. In the midst of racism and dehumanization, of violence and oppression, Love will prevail. God is Love and Love is Justice. It helps, as I read through the crimes of humanity against humanity, and as I strive to gather my strength to work for justice in an unjust world, to first ground myself in the hope that Love will redeem us all.
This year, I intend to read Jesus and the Disinherited by Howard Thurman. It has been reported that Martin Luther King Jr. carried a copy of this book with him and quoted from it extensively. I intend to remedy the fact that I have yet to read it. From the title alone, I know that this will be a powerful book showing God's solidarity with the marginalized and vilified. African Americans, brought in chains to the new world and still breaking free from the shadow of prejudice and poverty cast by slavery and segregation, can relate to the poor and marginalized peoples under Roman occupation, the communities with whom Jesus – himself a marginalized Jew – stood in solidarity. I know that I have much to learn from this book, and I can't wait to get started.
Reportedly, this book, along with the example of Gandhi, helped to ground King in the principles of nonviolence. But the principles of nonviolence have too long been limited to the principle of non-retaliation, failing to see that injustice, marginalization, exploitation and dehumanization are all forms of violence, and complicity with these sins is violence as well. I believe, therefore, that this book will not only strengthen my commitment to a renunciation of weapons in the struggle for justice, but will also galvanize me toward further renouncing the weapons of apathy and complacency that hinder me from giving all I can for the peace, freedom, and dignity of all humanity.
Social Justice: Freedom Is A Constant Struggle – Ferguson, Palestine, and the Foundations of a Movement by Angela Davis
Angela Davis is one of the most prominent, outspoken, and fearless activists of our time. I am so excited to read her latest book, Freedom is a Constant Struggle, a collection of essays and interviews connecting the struggles of marginalized people throughout the world.
Davis has been a leading scholar on intersectionality – the fact that race, class, gender identity, and sexuality converge and intersect within individuals and groups, thus differentiating the experiences of discrimination and marginalization they experience depending on how these categories are intertwined within a person's identity. Awareness of intersectionality is crucial to helping ensure that movements for freedom and justice are inclusive; failing to understand intersectionality can create movements that leave some behind even as they work for the full inclusion of others. For example, some women's movements have a history of leaving women of color behind. By helping to prevent certain coalitions from forming over and against others, intersectionality is a deterrent against scapegoating.
Just as Angela Davis has seen, and helped the world to see, the integration of different categories of marginalization within individuals, she is also helping us to see the intertwined nature of conflicts around the world. Racism, oppression, and discrimination are worldwide problems, and a narrow focus on one corner of the world overlooks the interconnection these conflicts have with each other. All humanity has a responsibility to one another, and as Martin Luther King said, "Injustice anywhere is a threat to justice everywhere." Drawing connections between anti-racism movements in the United States and Palestine as well as elsewhere in the world, Angela Davis reminds us that every struggle for justice is a global struggle, and we can connect and support each other across the globe. In fact, the only way to truly transform racism is to see how it crosses borders and permeates the whole world, and to form movements that advocate for peace, economic opportunity, and freedom from prejudice for all peoples of every nation.
These are radical, monumental aspirations, and I look forward to seeing how Angela Davis breaks these overwhelming concepts down into concrete ideas and actions that I may be able to advocate and even imitate. In all aspects of life, we look to models to guide our actions, and in the pursuit of justice, Angela Davis is becoming one of mine.
Children's Book: Midnight Without A Moon by Linda Williams Jackson
I chose this book among others to read with my daughter partly because it has received good reviews and is within her age range. But I also chose it because, sadly, the subject matter is still as relevant in 2019 as it was in the mid-1950s, when the story takes place.
From the Amazon description:
It's Mississippi in the summer of 1955, and Rose Lee Carter can't wait to move north. For now, she's living with her sharecropper grandparents on a white man's cotton plantation. Then, one town over, an African American boy, Emmett Till, is killed for allegedly whistling at a white woman. When Till's murderers are unjustly acquitted, Rose realizes that the South needs a change and that she should be part of the movement.
This story will lead to discussions of how African Americans have been demonized throughout history and continue to be demonized today. The prejudices and fears that led to Emmett Till's murder are alive in a nation that has, within my daughter's lifetime, killed Trayvon Martin, Michael Brown, Tamir Rice, and so many others. I want my daughter to understand that these prejudices and their consequences are not confined to the past or to the South, and I want her to empathize with the main character's determination to make a change. The more she can understand and empathize from a young age, the more she will be able to help build a world in which prejudice is transformed into understanding and systemic racism is transformed into true equality – the world in which she and all people deserve to live.
Fiction: How Long 'Til Black Future Month? by N.K. Jemisin
Finally, I am probably most excited to read this collection of short stories by N.K. Jemisin. I fell in love with Afro-futurism during last year's black history month when I read the Binti trilogy by Nnedi Okorafor. Fantasy and science fiction are genres I thoroughly enjoy reading for the sheer fun and imagination, especially when the world-building is particularly creative and well-done. But much science fiction excludes or marginalizes black characters, creating fantasy worlds were, even with different creatures from different planets, the representation from earth is predominantly white.
African American fantasy and science fiction writers are changing the literary landscape, and with it, the ways we imagine the future and who our heroes, leaders, and role models will be. Showing people of color as geniuses of science and technology, as leaders of movements that save and change worlds, as people with a unique understanding of survival in times of struggle – this is, in fact, our world today, but it has gone unrecognized for too long by too many because of a lack of representation. But African and African American writers are filling those gaps with stories of worlds similar to and yet different from our own, which shine a light on exactly how our world is and illuminate how it could be. The books I've read by Nnedi Okorafor and Octavia Butler have been incredible. I have never read anything by N.K. Jemisin, but she is a multi-award-winning author, and I am so excited to see the worlds she creates.
How Long 'Til Black Future Month? Doesn't the title just say it all?
What do you plan to read for Black History Month? Let me know what's on your list, or what you recommend. And remember, this is only the beginning.
Image: Screenshots from Youtube. Left to Right: "Freedom Is a Constant Struggle: Angela Davis on Ferguson, Palestine & the Foundations of a Movement" by Democracy Now!, "N.K. Jemisin Interview," by David Barr Kirtley, "Backs Against The Wall: The Howard Thurman Story," by MPT National, and "Midnight Without A Moon," by Linda Williams Jackson.