First Sigil Release: A Sigil To Protect Protesters & Those Detained by ICE
Hi folks! I am finally home from my three week long tour of the West(ish) Coast. While on the road, I taught "The Art of Sigil Witchery" at seven different places, and I have been inspired to share some of those sigils with you all. This sigil is the first of 5 that I will be posting on the blog – much in the nature that I created and shared the Power Sigil nearly 2 years ago.
An important part of this workshop that I do, we as a group all work together to craft a sigil.  This exercise allows the class to see my method in action and get a feel for how they can do it themselves. When I do this workshop at a convention or festival, we tend to focus on a sigil for that event. When I'm doing the workshop for a small group like a coven or similar gathering, we make one for that group.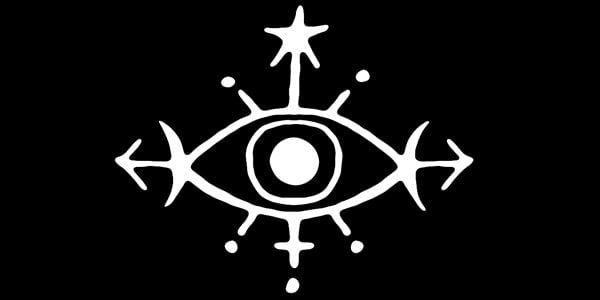 Things get a bit more open to possibilities when I'm offering the workshop at a shop that's made up of many different folks who just all happened to be interested in the topic. The first two workshops I taught (Spokane, WA and Billings, MT) were more locally-focused in their sigil goals – either by group or by landscape.  However once I got down to Phoenix, things started opening up to broader topics.  While they were rooted or inspired by local happenings affecting each community – every sigil struck me as something that deserved to be shared with the larger community.  And so I have re-drawn them so they could be easily shared and registered them with Creative Commons Attribution-NonCommercial-ShareAlike 4.0 International License.
For each sigil, I'll share with you a photo of the whiteboard drawing, describe it more in detail, and include a high resolution graphic for sharing.
The first sigil I'm going to share with you is actually the one from the last workshop on the tour, which took place at The Raven's Wing Magical Co. in Portland, OR.  The focus of this sigil is to aid in the protection of those protesting ICE as well as detainees. Much thanks to the students of the Portland workshop who worked together with me to craft this sigil.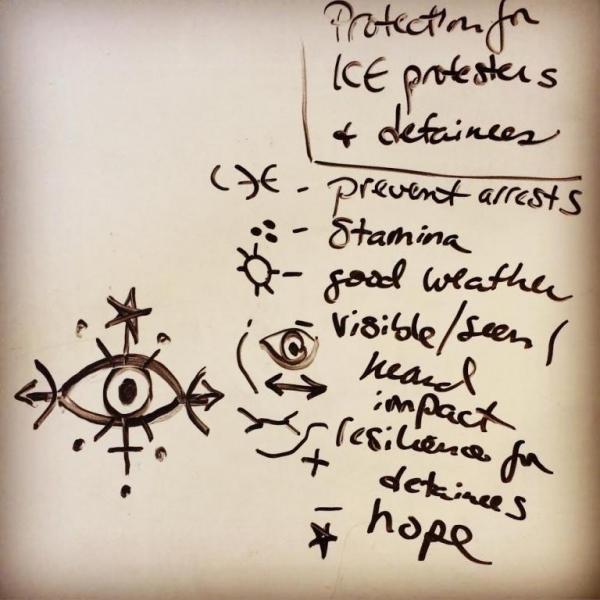 Built into this sigil:
-prevent arrests of protesters and those who would be detained
-provide stamina for protesters
-good weather for protesters
-that their message be seen, visible, heard, have impact
-resilience for detainees
-fuel hope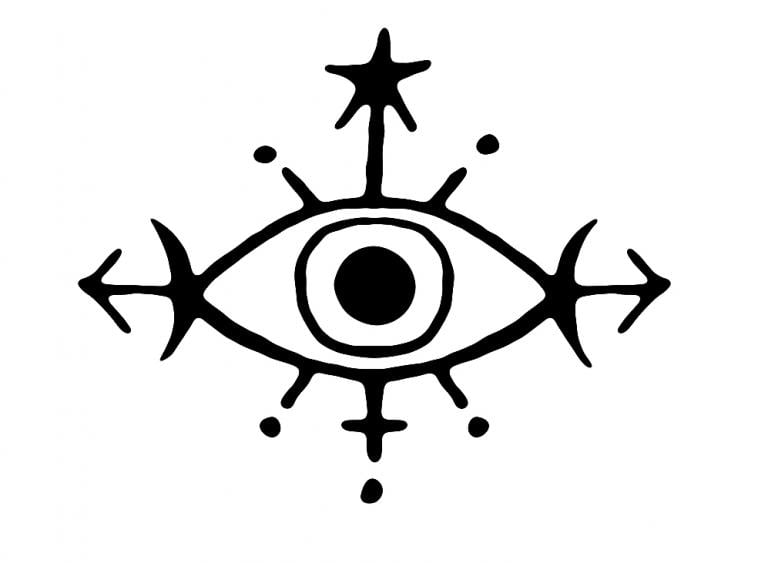 What to do with this sigil:
– You are welcome to use this sigil however you see fit that is in alignment with the intent of the sigil.  As long as it's not used for profit/commercially, you can wear it, share it, draw it in appropriate places, make signs of it, use it for blessings and other forms of protection, and so forth.  You don't have to be physically out there protesting to use this sigil – you can use it to lend support to others and bring more focused energy to the situation, guided towards a positive and powerful solution.
It is protected by the Creative Commons License, details below:


Sigil for Protection of Protesters by Laura Tempest Zakroff is licensed under a Creative Commons Attribution-NonCommercial-ShareAlike 4.0 International License.
If you're interested in learning more about this method of sigil crafting, check out www.sigilwitchery.com or even better, check out the book I wrote on it – which is available via amazon, the previously mentioned website, and bookstores everywhere.