2nd Sigil Release: A Sigil to Build and Strengthen Community
Before we get started: In case you missed the previous post explaining what's going on with releasing these sigils, click here to read a bit of backstory and to view the Sigil To Protect Protesters & ICE Detainees. These posts are also in the spirit of the Power Sigil.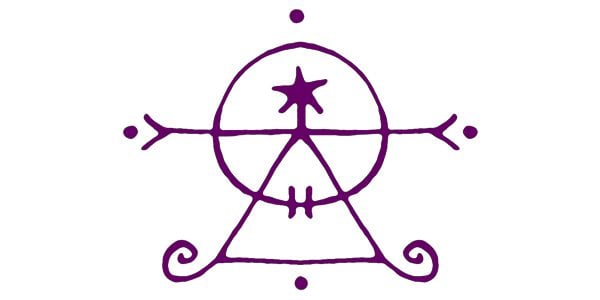 While these sigils were rooted or inspired by local happenings affecting each community – every sigil struck me as something that deserved to be shared with the larger community.  And so I have re-drawn them so they could be easily shared and registered them with Creative Commons Attribution-NonCommercial-ShareAlike 4.0 International License. For each sigil, I've included a photo of the whiteboard drawing, described it more in detail, and included a high resolution graphic for sharing. The purpose of these sigils is for them to be shared and used.
The second sigil in this recent group I'm sharing with you was crafted at the workshop that took place at Fantasia Crystals in Phoenix, AZ.  It was a packed room on the first summer night where the outside temperature had reached triple digits (yay for air-conditioning!). It was the Summer Solstice so you can't blame the weather for being enthusiastic, and I'm thrilled people came out regardless. Anyway, the consensus of the class was that we would craft a sigil to strengthen community.  I'm choosing this one as the second out of the five because working together and building community is essential for growth and change.
Much thanks to the students of the Phoenix workshop who worked together with me to craft this sigil.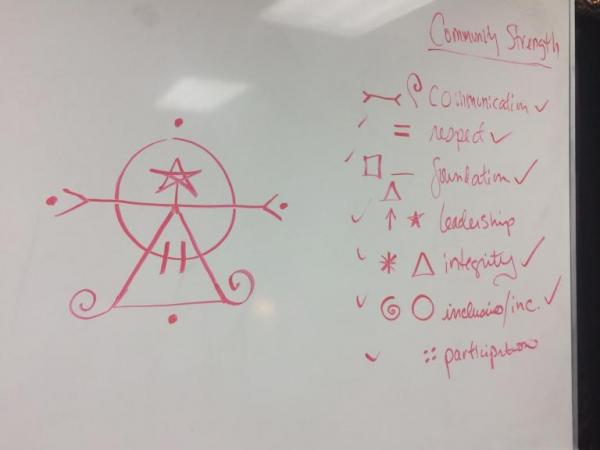 Built into this sigil:
-enable a healthy flow of communication (speak/listen/acknowledge/understand)
-emphasis mutual respect
-help build a stable foundation and common ground
-inspire dynamic/positive leadership
-instill integrity
-be inclusive, incorporating diversity
-encourage participation/gathering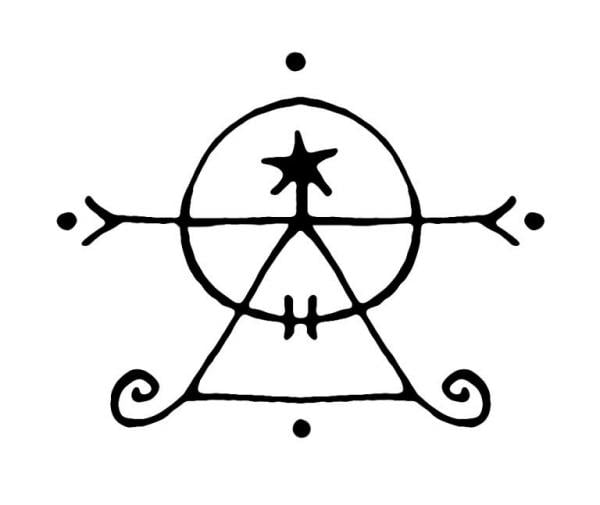 What to do with this sigil:
– You are welcome to use this sigil however you see fit that is in alignment with the intent of the sigil.  As long as it's not used for profit/commercially, you can wear it, share it, draw it in appropriate places, use it for blessings, etc. This sigil is ideal for being placed in community spaces: on the walls, drawn on floors, made into altar cloths or arrangements of flowers, placed on banners, assembled at the base of a bonfire before it's lit. It can be used to bless gatherings and festivals, Pagan Pride events, and so forth.
It is protected by the Creative Commons License, details below:

A Sigil to Build & Strengthen Community by Laura Tempest Zakroff is licensed under a Creative Commons Attribution-NonCommercial-ShareAlike 4.0 International License.
If you're interested in learning more about this method of sigil crafting, check out www.sigilwitchery.com or even better, check out the book I wrote on it – which is available via amazon, the previously mentioned website, and bookstores everywhere.