Presenting: A Border Sigil, or a Sigil to Resolve Border Issues and Facilitate Healing
Here we are, at the third of five sigils I am releasing.  These sigils were created collectively with the students in my Sigil Witchery workshops on my most recent tour.  To find out more about that process, check out the first sigil released here and the second sigil here.  You can also read about the Power Sigil from 2016. They are not being released in the order in which they were made, but rather what feels to be a good order and balance.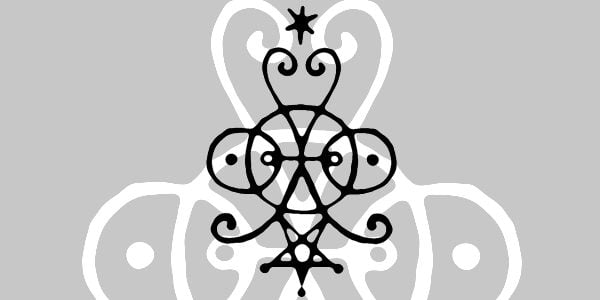 While these sigils were rooted or inspired by local happenings affecting each community – every sigil struck me as something that deserved to be shared with the larger community.  And so I have re-drawn them so they could be easily shared and registered them with 
Creative Commons Attribution-NonCommercial-ShareAlike 4.0 International License. 
For each sigil, I've included a photo of the whiteboard drawing, described it more in detail, and included a high resolution graphic for sharing. The purpose of these sigils is for them to be shared and used.
A Border Sigil was crafted at the Sigil Witchery workshop at Tree of Life Metaphysical Books & Gifts in San Diego, CA. Tree of Life is a wonderful shop just a few blocks from the ocean, and San Diego is a major city situated on the border between the United States and Mexico.  This positioning, being on the edge of the coast and a gateway between countries makes it feel like a very liminal place on multiple levels.  While most people situated away from this country's borders are only more recently being informed of the crises happening, San Diego is a city that is ground zero.
So it shouldn't be much of a surprise that when I asked the large class of students what should we make a sigil for, one person vocalized a sigil for the border, and the rest promptly agreed. Having been through some more conservative areas on this tour, I was a bit worried that there might be some disagreement about what this sigil would include. But that was put aside as the class collectively brainstormed things that would improve the humanitarian situation and foster more understanding and connection. That desire can certainly apply, no matter what one's stance is on policy. We're all human, and we need to strive to recognize and respect the humanity of others.  I feel that is the spirit of this sigil.  Much thanks to the diverse class of students who worked with me to create this sigil.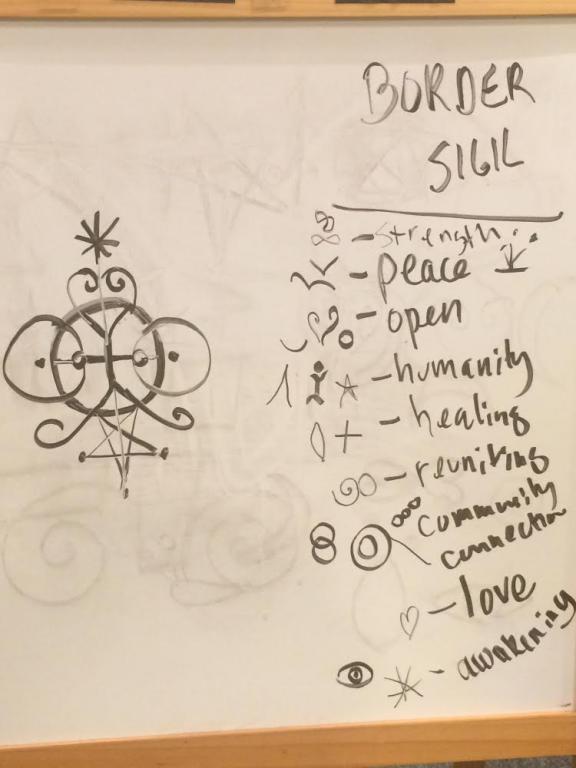 Built into this sigil:
-to lend strength to those who need it
-promote peace
-open (applies to hearts, minds, legal/safe crossing, for those seeking asylum)
-recognition of humanity
-aid in healing
-reunite families
-foster community and connection
-love
-awakening to the issues for informed progress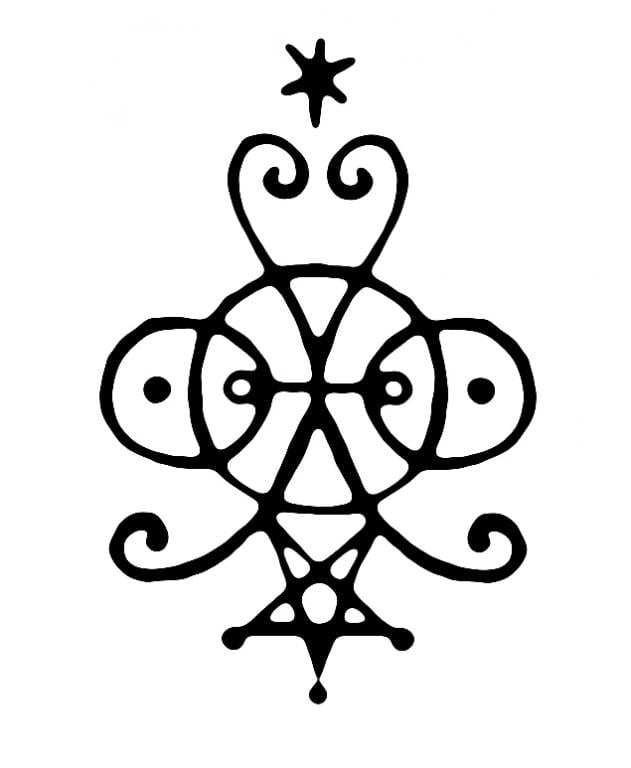 Notes about this Sigil

If you look closely at the whiteboard image, you will see a light vertical line that connects the asterisk and the star. This was a suggestion made after we wrapped up the sigil that I tried out. I think is definitely a valid one – it connects North and South. But it can also divide the sigil (in my eyes), so in the end I redrew the sigil as what the class finalized, but I wanted to make mention of the line. (I also tried a horizontal line with the same result and eliminated it.)  I think it's a good idea anyway, and it's why I always tell my students, if you feel strongly about including an element in one of these sigils, then far be it from me to say no.  It's your power, your magic, your visualization. That is always why the Creative Commons includes "share alike" language.
Also, yes, sometimes these sigils when finished look like a figure or something else, though it's usually completely unintentional.  The human brain especially loves to create something known or familiar out of shapes we see.  For me, when I look at the finished sigil, it reminds me of a bee facing us head-on with fight-ready arms.  That seems fantastically appropriate when I think about bees: they are industrious, they work together, they collect pollen from many different flowers, they make honey, but they also protect the hive.
What to do with this sigil:
You are welcome to use this sigil however you see fit that is in alignment with the intent of the sigil.  As long as it's not used for profit/commercially, you can wear it, share it, draw it in appropriate places, carve on a candle to help focus energy to the cause, share with folks who live or work near borders, or for safe passage for those crossing country lines, in danger of being unfairly or illegally retained.
It is protected by the Creative Commons License, details below:

A Border Sigil by Laura Tempest Zakroff is licensed under a Creative Commons Attribution-NonCommercial-ShareAlike 4.0 International License.
If you're interested in learning more about this method of sigil crafting, check out www.sigilwitchery.com or even better, check out the book I wrote on it – which is available via amazon, the previously mentioned website, and bookstores everywhere.