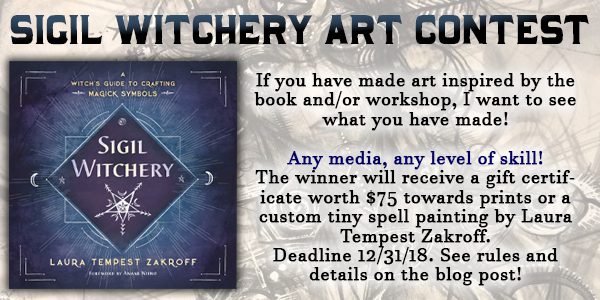 It has been quite a year in terms of art and magick in my neck of the proverbial woods. This time last year, I was shipping out the first copies of Sigil Witchery, and it was officially released on January 8th. The book was already in its second printing not even halfway through the year.  I've taught the related workshop at least 50 times this year alone, all over the United States.  Some of those workshops led to the posting of the shared sigils found on this blog.
But what has been truly inspiring for me is to see so many people inspired to make art.  Whether it's someone who felt they could never draw or craft posting their creations after reading the book/taking the workshop – or the messages and photos from  artists and designers who have felt their practice renewed and inspired – I love it all. Why?  Because I know that art is a powerful form of magick, of mythmaking, and of personal exploration.  I firmly believe that any human being can benefit from this kind of creativity, even if it's "just for fun."
So if you have read Sigil Witchery and/or have taken a workshop with me – I want to see what you have made!  And I'm making a contest of it to make it even more fun. The prize??? Out of all of the entries, I'll pull one name and the winner will receive their choice of a $75 gift certificate towards my regular run prints or have a custom tiny spell painting made for them.
The Rules & Important Details
1) The art can be of any media – painting, drawing, digital, sculpture, fabric arts, baked goods, ceramics, etc.

2)  The photo/image must be clear and be mainly of the artwork itself.
3) The art can have been created at any time during this year by you. (Please do not submit other people's work, unless it was a group project that you were involved in – and make this clear.)
4) The art does NOT have to contain a sigil – though sharing with me how the book/workshop inspired you is encouraged.
5) Email the image (ideally jpg or pdf format), along with your name, best email for contacting you, and a short description of the piece to artcontest@lauratempestzakroff.com
6) Submissions are due by the end of December 31st, Pacific Standard Time.
7) I may use selected pieces to put into a website gallery or blog post.  If you want to participate in the contest, but would prefer I
not
post your art, please note that in the email. If you are OK with your art being posted, but would prefer to use another name, let me know that too.  ALL valid entries will be entered into the drawing regardless.
8)
This is not a competition
– all levels, experiences, etc are welcome – whether this is your first attempt at making art or you're a professional, I want to see what you have made!
9) You can send in multiple photos/images, but try to choose your best 1-3 pieces please.  More images will not get you more chances to win, to keep it fair to everyone.
10) Winner will be announced on Friday, January 4th and will be randomly selected from all valid entries.
And that's it!  You can also post in the comments (but I still need the details in #5 emailed to me, with a reference to your disqus handle/post).
Thanks so much everyone, and here's to a beautiful, artful year to come!