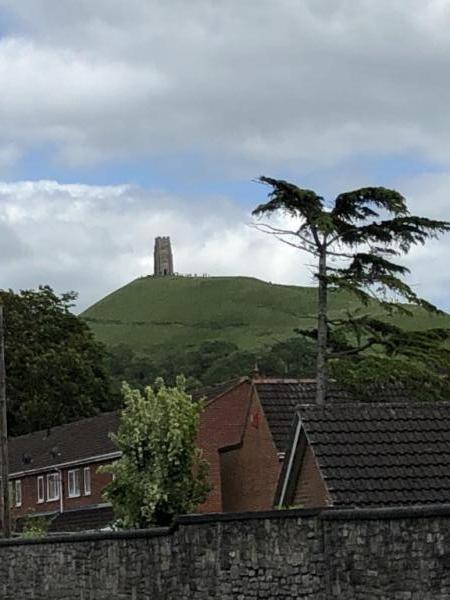 After getting our feet wet in Avebury, we dried off and headed to Glastonbury, which was about a 3 hour trek by bus, train, and bus. We were going to be there from Thursday through Sunday evening – which would include a workshop, a ritual atop of the Tor, hanging out with Druids, and visiting the wells.
Glastonbury had been on our travel log for several reasons (besides just going to visit a beautiful place). One was I had been booked to teach a workshop as part of our trip back in February. Then in March while at Paganicon, we found out from Damh the Bard that the OBOD Gathering and he invited us to come. He also mentioned there would be a Midsummer ritual on top of the Tor and a very early morning trip to Stonehenge to do ritual there. So right then and there we decided that THAT had to happen. Also, while Nathan had been to the UK multiple times, he had never been to Glastonbury – and I had only been there on a whirlwind afternoon trip 11 years ago. Way too much to see and do in the space of a few hours.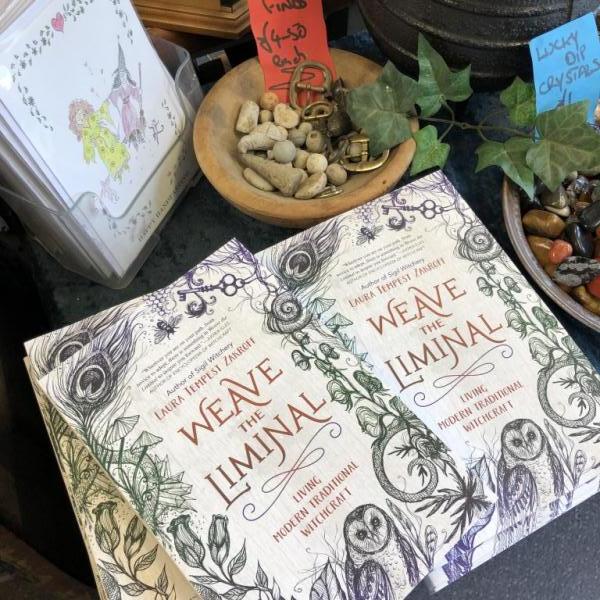 Going To Glastonbury
A good thing to know about using google and various apps for figuring out transport – google in particular will give you all sorts of convoluted ways to get somewhere, most of the time in the UK. I think it thinks it's saving you time, or it's a sadist. Maybe both. From the get-go, after landing in Heathrow, google gave us a crazy set of directions to get from our terminal to our friends' home in North London. It said we had to walk to a bus, to a train, switch trains, etc. In reality, all we had to do was get on the Piccadilly line on the tube, which was a direct shot from the terminal, getting us there a whole hour earlier than google suggested. SO, this is my way of telling you – download maps, ask directions, look around and you'll be fine. We barely used our phones (which was a saga unto itself, but really a godsend) except for the train apps while on wifi and the maps.me app – which is great because you can download a whole map of the area and then go offline.
I mention this because there were multiple options in trains (and then in turn buses) to get to Glastonbury from Swindon. And if things are running on schedule, they're often running early, so "it's 4 minutes for the train" means the train is going to be leaving in 2 minutes, so forget about racing from the ticket counter right up the stairs to the train. But there are multiple trains with all sorts of combination of stops, some of which are far more direct than what google tells you is the best option. Again, the folks who work the bus and train stations are happy to help you – they don't want you lost or stuck either.
The bus ride from Bristol to Glastonbury looked like it was going to be a long one, which a huge list of stops. But two important things: the bus had wifi and unless someone is visibly at the stop or pull the cord, the bus FLIES past that stop. It's especially good that there's wifi so you can track the stops, because there were multiple stops with the same name (I think we passed 3 different "the Crossroads"). Also, I need to say that the bus drivers in the UK have mad skills, speeding double-decker buses down narrow streets, whizzing past ancient towns with crazy hills and curves.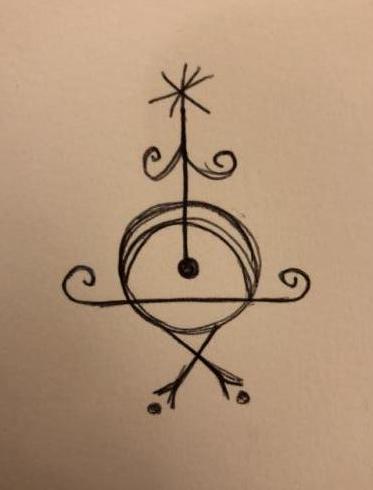 Arrival & Mini-Miracles
The BnB (Rie's Retreat) I secured for the night was right off the bus route, and a short walk to the center of town. This was a lucky find because the I had booked another place for the evening at the same time I booked our Avebury stay, and found out only the night before that they cancelled the reservation. This worked out well because Marie and her BnB were absolutely lovely. We took a little while to rest, set out our wet things from the morning's trek, then headed over to check out the lay of the land before the workshop. We had maybe an hour or so to look around and grab an early dinner since I would be signing books and teaching from 5-9pm- so I'll talk more about the town itself in an upcoming post.
I debated mentioning this next part because it falls under drama, but I'm going to because it's part of our experience and affected how things happened. As I mentioned above, I had secured the workshop back in February. But when we were traveling across the country, moving our cats and the rest of our lives, I got a strange email from the owner of that shop saying they were cancelling the workshop. This was in early May (less than a month before the workshop was supposed to take place) with no warning, and the reason given was because another shop in town was selling my books (and others from my publisher) at a large discount. (No matter that a shop makes money off the workshop and most people buy books right then and there…) There apparently was no room for discussion about it, despite best efforts of several people, so I was left with just a couple of weeks to find another workshop space. You know, just one more thing to do while I'm in the middle of a major move and dealing with last-minute insanity with the mortgage and title companies to make sure we closed on our house on time. Yeah, totally fine.
Both my publisher and I tried to find alternative locations without success, but luckily our friend Shawna contacted Liz and Trevor over at The Cat & Cauldron. There was some confusion about it being a book launch (what they call a signing over in the UK) vs. a workshop – and the issue that the shop itself is small so a separate space was needed but we got that sorted out in the nick of time happily. Seriously, one would have thought Mercury was going Retrograde with all of the miscommunication and other weird stuff that was going down leading up to this trip about multiple things, felt like I was in an episode of Fawlty Towers.
The workshop took place at a private event room upstairs at the historic George & Pilgrims Inn & Pub. (NOTE: I think all of my workshops need to happen in historic old pubs and old haunted buildings- can we make that happen?) We managed to get some really wonderful students despite the late notice (and then had a dozen more people tell me over the course of the next 2 days they wish they had heard about it), and we crafted a sigil for Glastonbury – to help protect and preserve it. We had an absolutely lovely evening with wonderful people, and it was great getting to know Liz and Trevor.
We got back pretty late – I think we had another round of drinks after the workshop…probably did since I can't quite remember that lol! Then again, we were also up at the crack of dawn and hiked to the Long Barrow, so that also played into it. We tried to be as quiet as possible getting back at the BnB and then collapsed into bed. The next morning after breakfast, we would be moving down the way to stay at the Covenstead with the Druid folk, and had 3 days to explore the town more. More about that in the next post.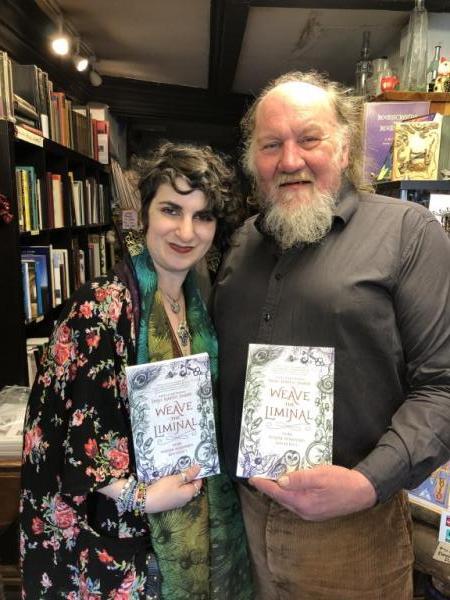 Detective Witch
And if you're wondering about the original shop who cancelled and the other shop selling discounted books – we did a little detective work over the next few days. We think we figured out who the other shop was. They get their stock from closeouts/clearing houses – and they're basically what the industry calls "hurts" – books with relatively minor damage. They had books not only from my publisher, but all of the other major occult/metaphysical publishers and a whole bunch of others. I saw one copy of The Witch's Cauldron there, and other older books (basically not new releases) from quite a few familiar names. They're not a workshop space or a Witch shop from what I could tell. There are a dozen different Witchy/New Age/Occult shops all on the same street. They each have something that makes them unique – or at least the successful ones do from what I was told.
However, I did not step foot in the shop who cancelled on me. I honestly had no idea what I would say to the owner. I hear they're lovely, and there's probably more to the story, but I can only go on what I experienced myself. I guess maybe now I would say, "Just wanted to let you know: thanks for cancelling on me because I met some really awesome folks because of it. They've also sold a goodly amount of books that I signed at full price, well after the workshop."
More Glastonbury To Come
– Getting kidnapped (in the best way)
– Water, water everywhere
– Druids on Parade!