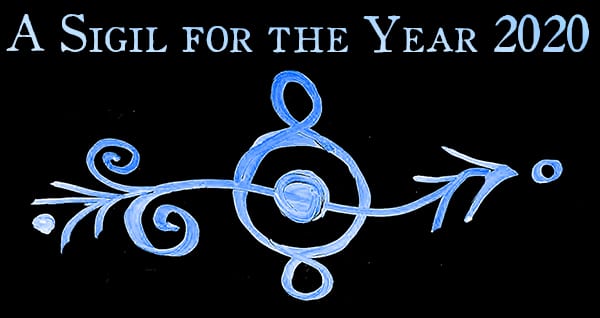 For the last several years I have been collaborating with my Patreon supporters to create a sigil for year to come. In lieu of making a New Year's resolution, I prefer the idea of creating a sigil that helps set the theme and feel of the year to come.  I feel that resolutions – instead of being helpful – often trap many people into a guilt cycle when they find themselves off course.  A sigil on the other hand can help you focus on the underlying things that those resolutions may represent, getting to the roots.
How this works: I ask my patrons to contribute a word or phrase that they'd like to see in the upcoming year.  Then I take that list, find the common themes, and then make a video of me creating the sigil. From there folks can use the sigil to inspire their year.
As I've upped my video-making skills a bit in the past year, I decided I would make the video available on my YouTube channel as well. It's a bit like being in one of my workshops (albeit in a much condensed-down format without all of the history and technique you'll find in the book and the workshops) as you can see how the sigil is created and I explain a lot more in detail, so definitely worth the watch if you're interested in crafting sigils.
After the video I've posted a photo of the workboard and a graphic of the sigil for you to use.  Note: If the preview shows as as a grey holder screen, don't worry, it's still there.
Here's a photo the workboard: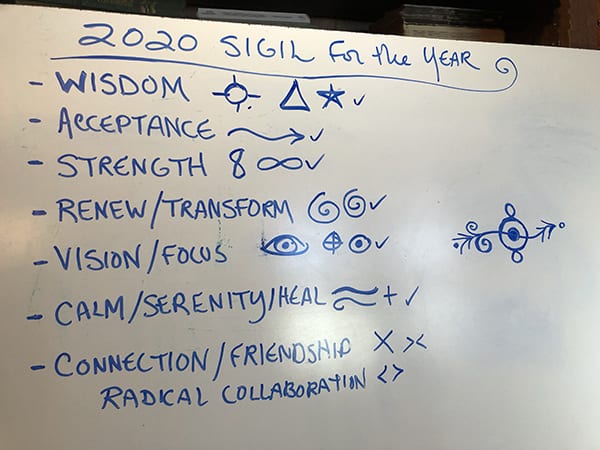 Here's the sigil on its own: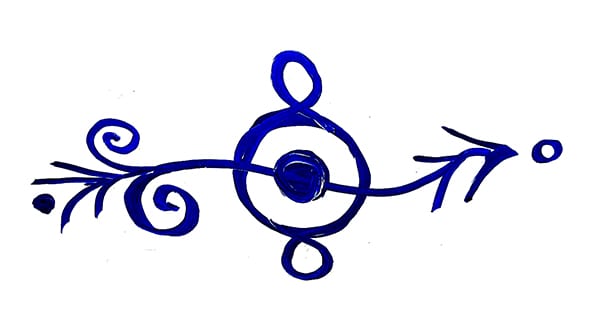 How to Use This Sigil:
As I say in the video, how you use the sigil is completely up to you.  You can put it on a candle, make it a screensaver on your computer, phone, or tablet, place an image of it on your altar, etc.
If you have any questions – leave a comment on this blog post or the video itself.  Thank you!

A Sigil for the Year 2020 by Laura Tempest Zakroff is licensed under a Creative Commons Attribution-NonCommercial-ShareAlike 4.0 International License.