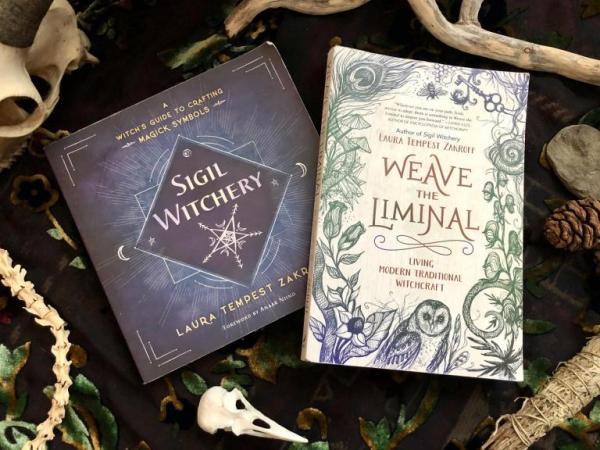 Win a signed copy of Sigil Witchery or Weave the Liminal!  Read on to find out how:
January 8th, 2020 marks the one year official anniversary of the release of Weave the Liminal: Living Modern Traditional Witchcraft and the TWO year anniversary of Sigil Witchery: A Witch's Guide to Crafting Magick Symbols – both published by Llewellyn Worldwide.  I'm amazed at how far they've come – Sigil Witchery was in its 4th printing by Fall of 2019 and Weave was already in its 3rd!  Also, Sigil Witchery won the Gold COVR Award in the Wicca & Witchcraft category this past June.
It has truly been a blessing to see how much my work has inspired others in their own paths and practices – and these two books especially are near and dear to my heart.  Writing books and teaching workshops that empowers others to find their own way and discover their own magic is very important to me.
So to celebrate the anniversaries of these two books, I'll be giving SIGNED copies of each away via this blog. Here's what you need to know in order to put your virtual ticket in the cauldron.
How to Enter: 
Leave a comment ON THIS BLOG below telling us one of the following:
A.  If you have read one of these books (but not the other), share what in it has helped you most on your path and why you'd like to win the other one.
B. If you have not yet read either book, let us know which one you are interested in winning and why.
C.  If you have read both/either, but do not have a signed copy or a physical copy, tell us what you loved most about that book and why you'd like to win a physical copy.
D. If you have written a review of either book on Goodreads or Amazon or on your blog, post a link to your review in the comment and LMK what book you're interested in winning.
Important Details:
1. You must be logged in with a valid Disqus profile to comment, no anonymous comments will be considered.
2. Open to US residents only.
3. One entry per person.
4. Comments must be made by end of day on this blog (not on a Facebook, Twitter, Instagram, Tumblr, etc share), January 13th.  Winners will be notified on 1/14.