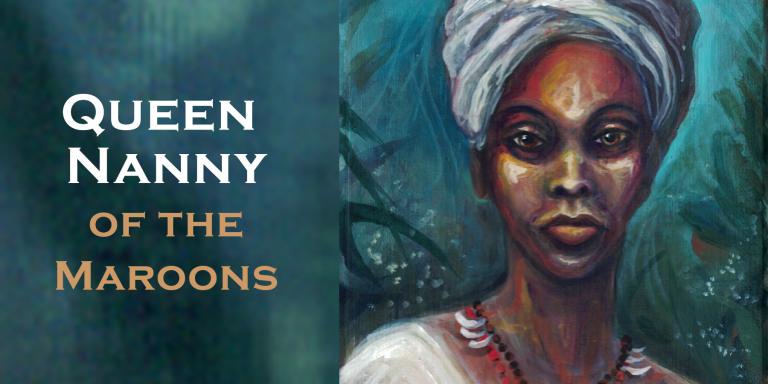 While I had heard about Queen Nanny in history classes long ago, what put her on my magical and artistic radar was a lecture by Emma Kathyrn at the Magickal Women's Conference in London in 2019. Emma's lecture was titled "Rebel Women & Rebel Magic" and prominently featured Queen Nanny –  you can listen to the lecture here.   Not only was Queen Nanny a 18th century freedom fighter, but she was also a renowned Obeah woman.

Obeah as a magical and spiritual practice is often misunderstood – not only outside of the Caribbean cultures it originates from, but often from within as well – largely out of fear. "Obeah was not only used as a source of power through its association with the supernatural but with political power as well, specifically slave rebellions and the other forms of resistance in Jamaica." – From Obeah – The Ultimate Resistance.
Queen Nanny's military cunning and resourcefulness combined with magical resistance is definitely worthy of recognition and respect. Her story is often overlooked by patriarchal culture in favor of her male counterparts. In the retelling of her story, Queen Nanny's magical skills were often grossly exaggerated or made perverse by white culture as an attempt to diminish her power. She deserves to be honored for her power, wisdom, and strength.
In the past year or so, in addition to my usual artwork subjects of deities, myths, and spells, I decided I wanted to explore historical/legendary women magical practitioners. Particularly ones who lived prior to the 20th century.  On one hand this complicates things a bit, because the source material can be rather dodgy and there's usually no photographs and just a handful of artist-inspired portraits created long after their deaths – that are often lackluster or uninspiring.   But that also allows me to tap more into the essence of their spirit to create a different vision of them that hopefully does more honor to their spirits and memories.
I began working on Queen Nanny's painting back in May – putting aside other painting plans as she pushed forward in my mind. One night, unsure though if I was on the right track, I decided to call it an evening and go read in bed. Lilith Dorsey's latest book "Orishas, Goddesses, and Voodoo Queens" had been sitting untouched in a pile of books I hadn't gotten to yet. I grabbed it, thinking about Queen Nanny and opened up the book – landing exactly between sections on Marie Laveau (who I had started sketching before my attention shifted) and Queen Nanny.  That was enough a sign for me!  I got a bit further along before I pretty much stopped painting all together for over a month.  This past week I was able to pick up my brushes again…and here she is.
I wanted to capture her in the prime of her life – strong, formidable, and sovereign. Included in the painting is the classic abeng horn, a hint of machete and other weaponry, Nanny's mythical cauldron, rosary pea seed necklace, and plants indigenous to Jamaica.  I hope the painting draws more people to learn about her and to be inspired.
Read more about Queen Nanny here: 
– "Much of what is known about her comes from oral history, as little textual evidence exists. She led a community of formerly enslaved Africans called the Windward Maroons. In the early 18th century, they fought a guerrilla war over many years against British authorities in the Colony of Jamaica. "- Wikipedia
– "Queen Nanny of the Windward Maroons has largely been ignored by historians who have restricted their focus to male figures in Maroon history. However, amongst the Maroons themselves she is held in the highest esteem." – Jamaicans.com
– A brief history of Queen Nanny from Black Past 
Listen More:
Good Night Stories for Rebel Girls
Slave Rebels & Resistance in the Revolutionary Caribbean 
Notorious 
Watch More: