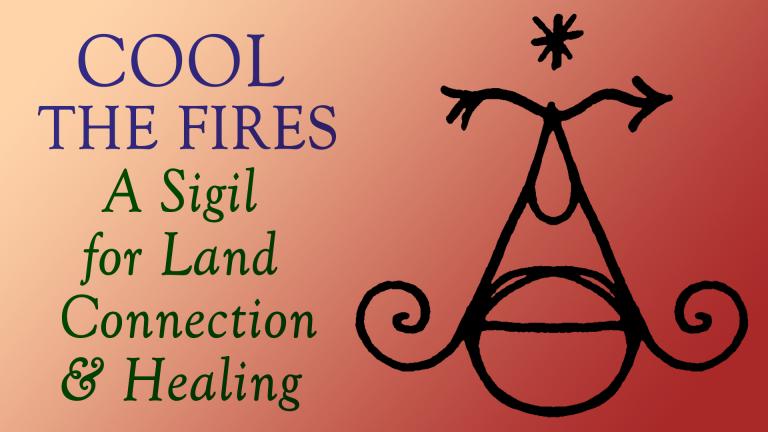 This past year has dealt humanity all sorts of fires to deal with: physical, emotional, spiritual, mental, etc. While there are social and political dumpster fires aplenty, one of the most difficult to deal with is when the very land we live on is aflame. The year started with major wildfires in Australia, and over the summer and fall much of the American West Coast has been experiencing one major fire after another. People, places, animals, habitats – all damaged or destroyed by flame.
Whether started by natural causes (lightning strikes on top of droughts/bad weather) or the irresponsible actions of humans – how we've dealt with the land has also played a major factor in spreading those fires. Mismanagement, overbuilding, stripmining, and lack of respect of wisdom from indigenous cultures in how to work with the land (and the fires that naturally occur) have all compounded the situation.
Cool the Fires – A Sigil for Land Connection & Healing was created collectively during my online Sigil Witchery workshop that took place on Friday, October 16th/Saturday October 17th (for the folks in Australia and New Zealand). ( To find out more about my online workshops, visit here.) This class was scheduled to create a more agreeable workshop time for attendees in Australia and New Zealand, but there were other folks joining in from around the world, including California and the Pacific Northwest. And so collectively, we decided upon this theme for our group exericse.
The following is a screenshot of our digital whiteboard: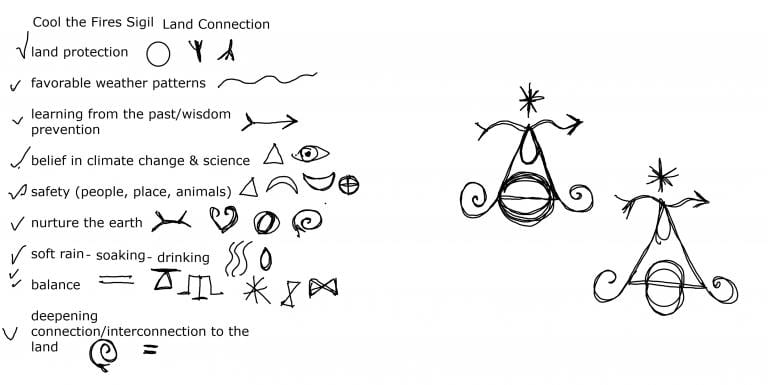 Built Into This Sigil:
– land protection
– encourage more favorable weather patterns
– aid to help with learning from the past/tapping into that wisdom to prevent future fires
– stimulate belief in climate change and embrace science
– safety for people, places, animails
– nurture the earth
– soft rain (the eart can soak/drink up the rain effectively)
– balance
– deepening connection/interconnection to the land.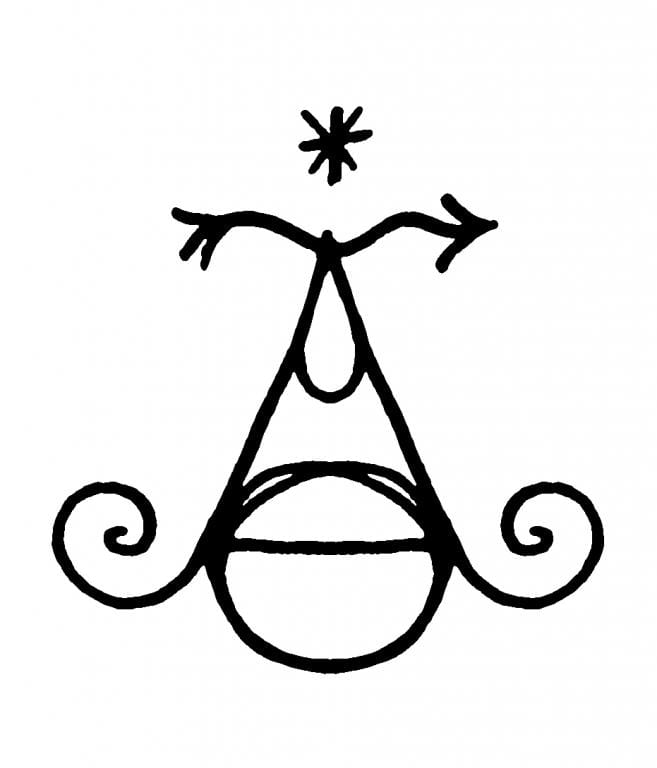 How To Use This Sigil:
This is a shared magic sigil. You are welcome to use this sigil however you see fit that is in alignment with the intent of the sigil. Ideas for use:
– place on candles (basic white candles are fine, blue and green or earth colored candles are especially good)
– draw in the earth around your home
– draw in the earth in fire-vulnerable areas
– use as a meditation focus on your altar
– draw on a map of affected areas to use as a focal point
Please note: When sharing this sigil (or any other sigil you find on this blog), please be sure to include the link to the blog post. The sigil works best if people understand precisely what went into it, versus just sharing the image and telling people to use it.

Cool the Fires (A Sigil for Land Connection & Healing) by Laura Tempest Zakroff is licensed under a Creative Commons Attribution-NonCommercial-ShareAlike 4.0 International License.