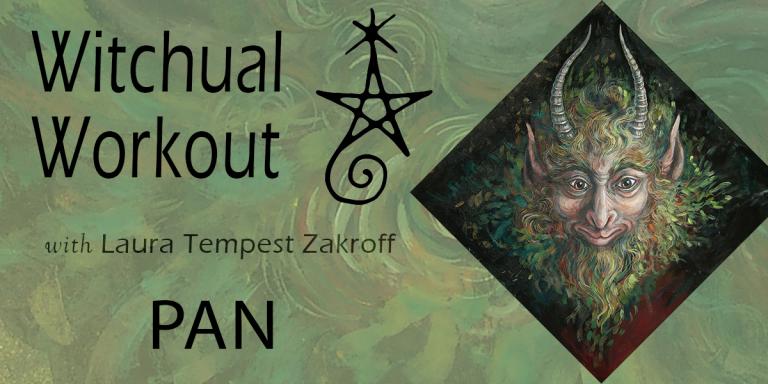 Time to recap the last week of the Witchual Workout! If you don't know about it – the Witchual Workout is a daily program designed to get you (and me) up and moving regularly – with a dash of magical inspiration to help build and enhance your daily practice. You don't have to be a dancer of any kind to participate and I encourage you to listen to your body and modify as needed. Many of these episodes can be done from a seated position as well.
The major theme for last week's episodes was the magical technique and application of shimmies in a variety of ways. A great workout – and a lot of fun too!
Monday, December 7th – Witchual Workout 96: Body Magic Mechanics – Shimmy!
Tapping into the waning moon energy, we're going to work on our lower body shimmies. In this episode we focus on the basic structure and technique of what I refer to as a "heel-based shimmy" – it's a great body movement for shaking things up – both for building and dispelling energy depending on your focus. This one will definitely get your heart pumping and your blood flowing, so listen to your body. It takes some time for your body to get used to this kind of movement, but if you practice at least once a week with this video, you will notice the difference within a month. Do it daily and you'll get it within 1-2 weeks!
Tuesday, December 8th – Witchual Workout 97: Oracle – Time (What is Time?)
Today is an oracle day and we received "Time" from the RITES group. Time gives us a lot to think about, especially at this part of the year, but the major thing to think about is how it relates to our path and practice. We work with a drum solo to get a sense of pattern, timing, and making choices about how we wish to participate, how much movement we want to make. If you're not familiar with shimmies, go back one episode and check out #96.
Wednesday, December 9th – Witchual Workout 98: The Great God Pan
It's Wednesday, so we're looking to the divine again for our theme. Today's inspiration is Pan – the goat-footed Greek god of the grove (and groove!). Pan reminds us of the wild within ourselves, the primal and passionate aspects we tend to ignore. Perfect deity to help us work with our shimmies and have some fun with it.

Thursday, December 10th – Witchual Workout 99: Tarot – The Ten of Wands
Today is a Tarot day – and we received the 10 of Wands. Tens mark nearing completion of a cycle, and with wands, we ask ourselves – what have we learned? What plans are we seeing come to fruition? What is our part in that? Are we using the knowledge gained over time, or are we still rushing ahead? We know that our goals are just over the horizon – do we have the patience and grace to get us there?


Friday, December 11th – Witchual Workout 100: Shimmy + Focus
Today is the 100th episode of the Witchual Workout – that's amazing! Thank you so much to everyone who has been watching and supporting these videos along the way! This episode is about considering how the shimmy can be used to raise and build energy, or to break it down and disperse it.
I've made a handy playlist of all of the Witchual Workout episodes – you can access it here. You can absolutely jump around to different episodes or themes, or levels of difficulty. Some episodes are designed just for sitting or focus on a single part of the body, so you can do what you are able or feeling engaged to do so.