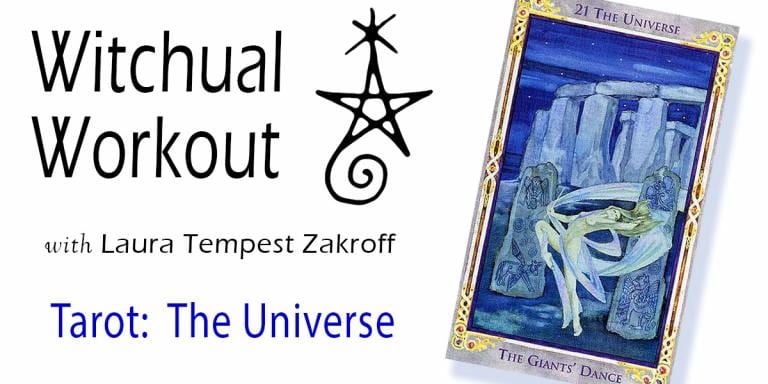 Time to recap the previous week of the Witchual Workout! If you don't know about it – the Witchual Workout is a daily program designed to get you (and me) up and moving regularly – with a dash of magical inspiration to help build and enhance your daily practice. You don't have to be a dancer of any kind to participate and I encourage you to listen to your body and modify as needed. Many of these episodes can be done from a seated position as well.
This past week's collection of 4 episodes taps into finding inspiration through symbols, finding the divine within, and seeing it present in the universe around you. Be inspired to move and make magic.
Monday, January 18th – Witchual Workout 119: Living Democracy Sigil
Today the Moon is waxing – an excellent time to work with building, blessing, creating, and protecting. So perfect timing to work with the newly created Living Democracy Sigil. To find out more about this sigil, what went into it, and downloadable graphics for you to use, visit https://www.patheos.com/blogs/tempest/2021/01/the-living-democracy-sigil.html
Tuesday, January 19th – Witchual Workout 120: Oracle – Inspiration
Today is an oracle day and we received "Inspiration" from the RITES group. Looking at this card upside down, I was inspired to see a cauldron pouring forth its brew, releasing inspiration and power. In the time of the waxing moon, in order to create and bless, we need to make sure our fears don't overpower our hopes, so we do some stirring and release during the warm up, then a short movement meditation to visualize making a mighty brew and releasing it into the world as a blessing.
Wednesday, January 19th – Witchual Workout 121: Devi
Wednesdays we look to the divine for inspiration, and considering this is a historic day here in the United States – not only do we have the inauguration of Joe Biden as President, but Kamala Harris becomes the nation's first female Vice President. Not only that, but Kamala is also a woman of color – and I can't stress enough how much representation matters for inspiring change. (You can tell I have a lot of feels about it.) Kamala's middle name is Devi – which comes from Sanskrit and means "goddess." Devi represents the feminine aspect of the divine, the great Mother Goddess (in Hindu mythology, but dates to earlier belief systems). We all have this aspect of the divine embodied within us, regardless of gender.
Thursday, January 20th – Witchual Workout 122: Tarot – The Universe
Today is a Tarot day – and we received 21 – The Universe (on the 21st day of 2021!) The last of the Major Arcana cards, this is a card of completion, success, achievement, and celebration. We stand on the shoulders of giants, and we too become part of the cycle for the next generation. But today, we celebrate and give thanks.
There was no Friday episode this week.
I've made a handy playlist of all of the Witchual Workout episodes – you can access it here. You can absolutely jump around to different episodes or themes, or levels of difficulty. Some episodes are designed just for sitting or focus on a single part of the body, so you can do what you are able or feeling engaged to do so.