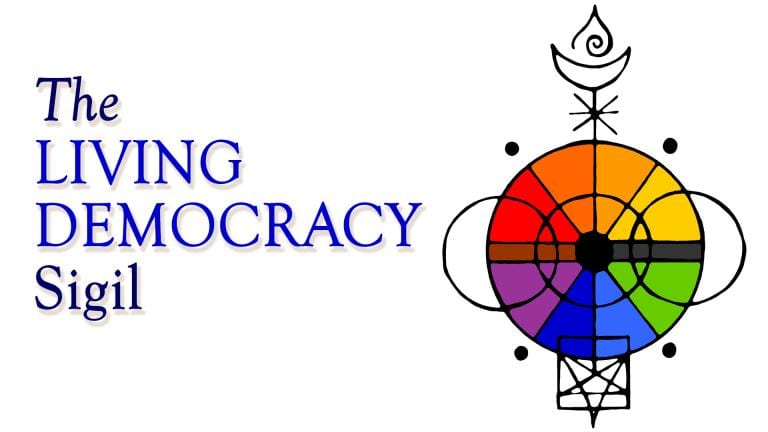 In the United States (as well as in other parts of the world) there has been a significant effort to stifle democracy with fascist movements.  Nationalism and white supremacy masked with a false flag of patriotism seeking to undermine free and fair elections, seizing power from the people.  While those who committed seditious and desecrating acts against the Capitol on January 6th continue to be identified and arrested, there is still much work to be done.
With the historical inauguration of President-Elect Joe Biden and Vice President-Elect Kamala Harris just days away, my 1/16/21 "Art of Sigil Witchery" workshop students aided in crafting a sigil to help protect, promote, and preserve democracy. I've dubbed it "The Living Democracy Sigil" as we focused more on what went into the sigil and designing it, versus a catchy name. To live democracy is to understand that it's not perfect and that it takes hard work to grow and maintain it. Also, that we all must participate in the process to make it function.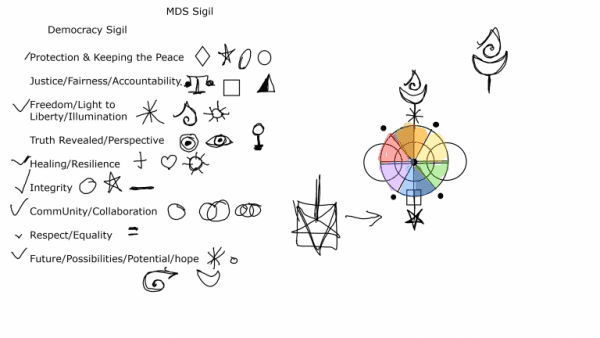 Built Into This Sigil:
– Protection & Keeping the Peace
– Justice, Fairness, Accountability
– Freedom, Light to/of Liberty, Illumination
– Truth Revealed, Perspective to see it clearly and wholly
– Healing & Resilience
– Integrity throughout
– CommUnity, Collaboration
– Promote Respect & Equality
– Future-focused, Possibilities, Potential, Hope, Prosper
Design Notes:
The sigil is available below in color and in black-and-white (to color your own in if you wish).  The class discussion on color centered around creating a spectrum that represented all, and the Philadelphia Pride flag was also brought up.  In the final process where I refined and digitized the design, I used the latter color scheme as inspiration, creating the color wheel around and placing brown and black in the center – between the two bars that we used to symbolize integrity with equality combined. Without recognition of and respect for BIPOC voices, democracy cannot flourish. #BlackLivesMatter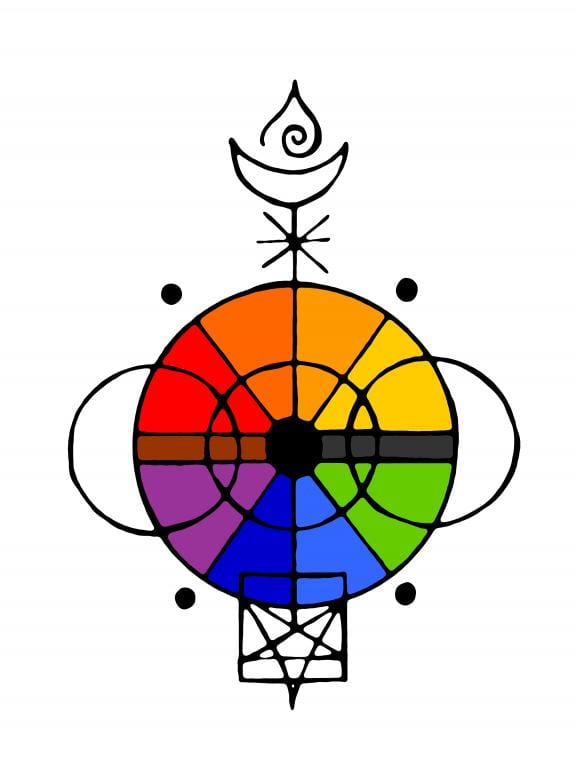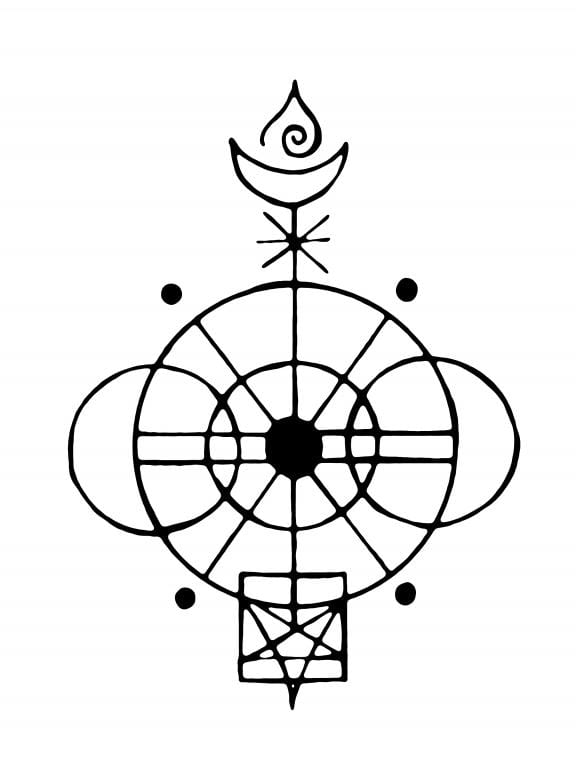 How to Use This Sigil:
You are welcome to use this sigil however you see fit that is in alignment with the intent of the sigil.
Suggestions for use:
– use as a community focus in virtual ritual
– put on a candle (white is a good basic, blue is another excellent choice, follow your intuition)
– place on your altar
– use in protection and justice oriented spellcraft and working with deities who also represent this aspects
Please note: When sharing this sigil (or any other sigil you find on this blog), please be sure to include the link to the blog post.  The sigil works best if people understand precisely what went into it, versus just sharing the image and telling people to use it.

Living Democracy Sigil by Laura Tempest Zakroff is licensed under a Creative Commons Attribution-NonCommercial-ShareAlike 4.0 International License.
Other Sigils You Might Want To Use:
– The Power Sigil
– The 2020 Freedom Sigil
– The 2021 Sigil for the Year 
To find out more about this method of crafting sigils created by Laura Tempest Zakroff (author of the best-selling book Sigil Witchery), checking out Sigil Witchery.