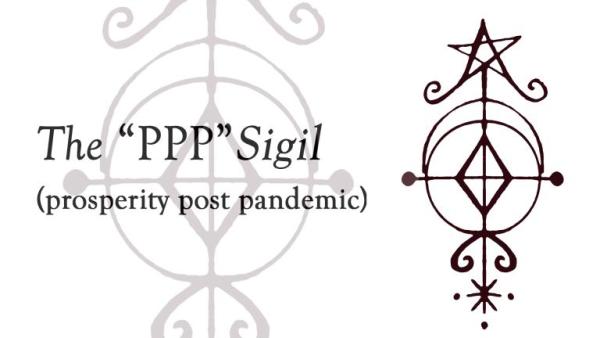 The pandemic continues to put a strain on the majority of folks everywhere – from emotionally and mentally to physically and financially. Disruption of supply chains and manufacturing, rising inflation affecting basic costs of living, waning safety measures despite new strains, war, and political shenanigans continue to affect us all. Although you'll see the word "post" in the description, this is not to say we are anywhere past the pandemic, but rather are in another stage of dealing with it while focusing on the future.  So the PPP Sigil is a way to help guide us to more stable, equitable, and prosperous times.
The Crafting of the Sigil
Throughout the pandemic, I've been teaching a virtual Sigil Witchery workshop at least once a month. A integral part of the class is co-creating a sigil together. We've created quite an array of notable sigils in the last two years that you can find using #sigil to search this blog.
The PPP Sigil was created on April 10th as part of this series, so as you can see I'm rather behind on posting it. (My apologies for the delay. I usually manage to get these up within 1-2 weeks, but somehow it's suddenly over a month later.)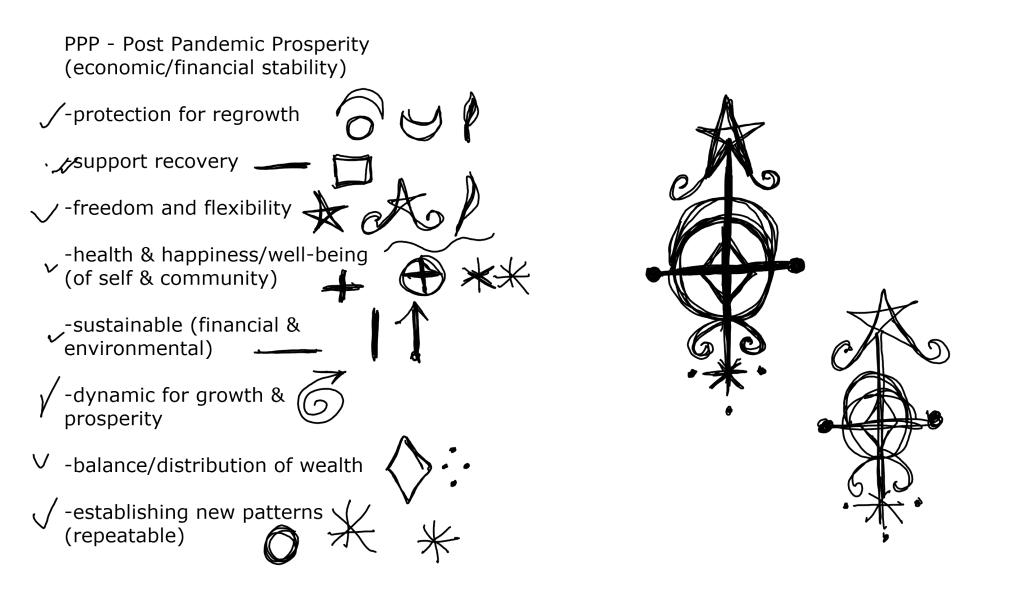 What's Built Into This Sigil:
protection for regrowth (to build and create new sustainable opportunities)
support recovery
freedom and flexibility to adapt and work for the better good
health and happiness/well-being (of both the self and the community)
sustainable trajectory (financial and environmental)
creating a healthy dynamic for growth and prosperity
balance/equitable distribution of wealth, remove obstacles, financial recognition of the working class
establish new patterns that can be repeated, built upon, benefiting generations to come
The Sigil: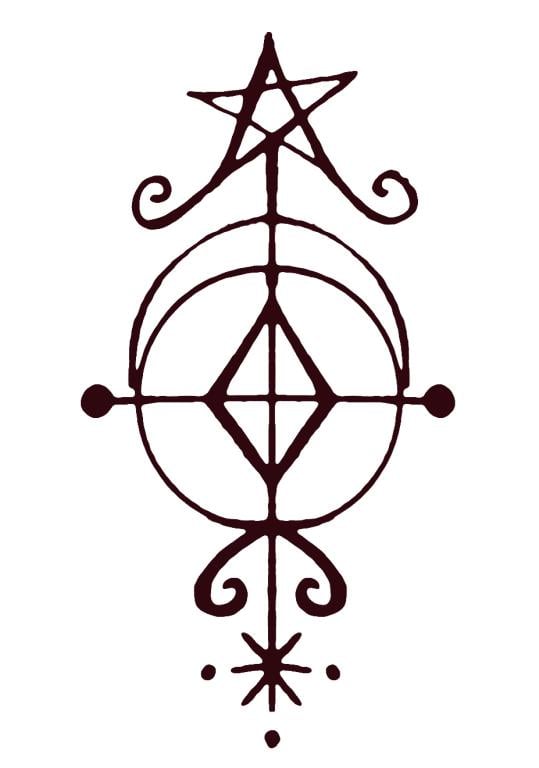 Suggestions On How To Use This Sigil:
You are welcome to use this sigil however you see fit that is in alignment with the intent of the sigil.
Suggestions for use:
– Use in meditation and ritual to guide change
– Apply to a candle (white or green) to draw prosperity (especially from the New Moon to the Full Moon)
– Draw upon the body (using oil or temporary make-up marker)
Please note: When sharing this sigil (or any other sigil you find on this blog), please be sure to include the link to the blog post.  The sigil works best if people understand precisely what went into it, versus just sharing the image and telling people to use it.

The PPP Sigil by Laura Tempest Zakroff is licensed under a Creative Commons Attribution-NonCommercial-ShareAlike 4.0 International License.
To find out more about this method of crafting sigils created by Laura Tempest Zakroff (author of the best-selling book Sigil Witchery), checking out Sigil Witchery.