If you think it will take grand gestures to show your spouse how much you adore them, you are wrong. In fact, many studies show that the formula needed to create long-lasting love is made up of small gestures such as giving your partner a kiss when you depart for the day. Another small gesture that expresses love is bringing him or her a hot cup of coffee without them asking you to do so.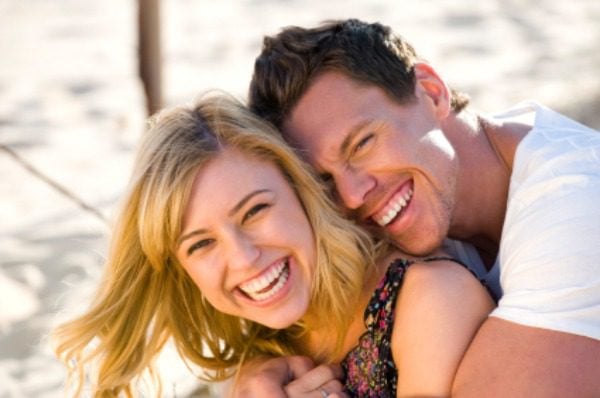 One of the things that Tess values about Rick is his ability to show love through his actions.
Tess puts it like this: "When I get home and I've had a tough day and Rick asks if he can rub my neck and give me a hug, it makes a big difference because it shows that he puts me first over eating supper."
Rick responds: "I love Tess and know her job as a special ed teacher is tough.  She deals with difficult kids all day long and needs to feel appreciation and love when she gets home."
 Tess speaks: "Rick honors and values me – that's what makes our marriage strong. Since we have three children, we make sure we go out for a quiet dinner or long walk alone at least once a week so we can touch base and be a united couple with our kids."
 6 Ways to make small gestures count in your relationship:  
Look for ways to support each other: Stress at work, financial pressures, or family drama can all push a couple apart. Offer to give your partner a back rub or make them a cup of tea. Dr. John Gottman suggests that you have a 20 minutes stress-relieving conversation in the evening when you don't try to solve problems but take turns listening and offering support.
Spend 5-10 minutes doing things to show love and kindness to your partner. Examine the schedules of family members and determine whether there is a reliable time that you can spend time alone with your partner. It may require altering work schedules to the extent that it is possible. Focus on each other, offer physical affection and really listen to each other. Often even devoting five to ten minutes to each other can strengthen your bond.
Develop strategies for intentional communication and repair of ruptures or conflicts. Strive to have a loving dialogue about perpetual conflicts and agree to compromise on those that aren't easily resolved. Look for win-win solutions when possible so you can both get some (but not all) of your needs met.
Help one another out: This can include helping your significant other make plans, complete tasks, achieve goals or manage their time. These positive actions lead to interdependence, as partners begin to coordinate their behavior to try to bring their long-term bigger goals to fruition.
Cuddle on the couch or bed. Research shows that physical affection releases oxytocin, the "feel good" hormone and this is activated when couples are affectionate.
Dream and plan together – look into your future and envision your dreams while staying focused on the present and your time together.
It would be easy for Tess and Rick to ignore spending time together alone. All three children (all under age twelve) are active and deserve to have a lot of affection and caring. But somehow Tess and Rick both know that if they nourish their relationship, they'll be better able to do this.
It's important to never underestimate the power of deliberate time with your partner. Doing fun things together like going for walks or riding a bike can bring joy and laughter. Telling jokes, watching funny movies or TV shows, or anything else that brings you enjoyment, can kindle passion and keep you emotionally and physically connected.
However, in order to thrive in your relationship or marriage, you need to put effort into showing small gestures of love to each other. The problems of the world, finances, or the kids needing a ride or help with homework, will all seem more manageable when you make small gestures count.
Follow Terry on Twitter, Facebook, and movingpastdivorce.com. Terry's award winning book Daughters of Divorce: Overcome the Legacy of Your Parents' Breakup and Enjoy A Happy, Long-Lasting Relationship was published in January of 2016 by Sourcebooks.
I'd love to hear from you and answer your questions about relationships, divorce, marriage, and remarriage. Please ask a question here. Thanks! Terry