In my lifetime, I've experienced many reasons to mistrust partners stemming from my own background or being lied to. However, in recent years I've learned that keeping secrets from your partner is really a form of betrayal and leads to a lack of trust and intimacy in a relationship.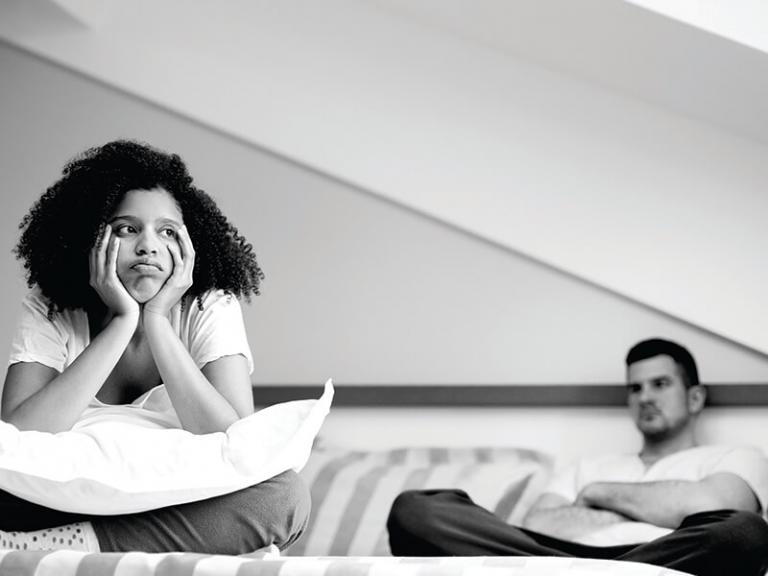 I used to believe that a breach of trust was something that couples could bounce back from quickly but I've gained insight about the ways this isn't usually the case. For instance, most marriages don't survive big betrayals or even a series of smaller ones. My current view is that finding healthy ways to be vulnerable, express your thoughts and feelings, and be honest with your partner, is the best way to build a trusting relationship. Vulnerability is the glue that holds a relationship together over the long run.
But is lying by omission or keeping a secret the same as lying? First, you want to consider how your partner would view your secret if he or she found out and you failed to tell them about it. Also, if you feel guilty or uneasy about not disclosing information to him or her, it's a red flag you need to be honest or forthcoming about something you've kept a secret.
For instance, Christine failed to inform her husband Justin that she had charged twenty-five thousand dollars on her credit card for clothes and items for their new home.  She explains: "I didn't really see a reason to tell Justin because I was planning on paying off this debt but he saw my credit card bill laying on the kitchen counter and got very angry at me. I see now that I was becoming more emotionally detached from Justin and we stopped being intimate. But I just didn't want him to judge me harshly or leave because he is very conservative with money."
When I attempted to explore with Christine the reasons why honesty is essential to a trusting relationship, she put it this way: "I guess I never saw myself as being dishonest but I do feel guilty." At this point, I asked her to consider that mistrust erodes the quality of any relationship and that keeping crucial information secret from Justin isn't a way to build trust and intimacy with him. During our sessions, Christine realized that keeping secrets is a form of self-sabotage because she loves Justin and wants to build a future with him and keeping secrets was driving a wedge between them.
In fact, recent research shows that one in five people are keeping a major secret, such as infidelity or money troubles, from their spouse in Brittan. Surprisingly, a quarter of respondents in this study said they kept this secret for more than twenty-five years. Further, one in four of those people who kept a secret in this study said that it was so big; they worried that it would destroy their marriage. Common secrets reported include money troubles, viewing pornography, and various forms of betrayal such as infidelity.
When your partner withholds important information from you regardless of their reasons, it's normal to feel betrayed.
Experts agree
that trust can be easily broken and hard to repair.  For many people any form of deceit can be a deal breaker and even cause a couple to divorce.
4 reasons why it's a bad idea to keep secrets:
Keeping secrets is the same thing as being dishonest. Honesty is always the best policy and most of us have a moral code which tells us that keeping secrets is akin to lying. For most of us, being dishonest is only acceptable when we are in dire straits – like trying to save someone's life. Yet some people rationalize that they need to keep secrets or their relationship will end.
Often keeping secrets creates more problems in a relationship. The more time that passes, the harder it is to fess up. When people keep secrets or tell lies, they often have to tell other lies to cover up the first lie. They dig deeper and deeper into a hole of dishonesty.
Keeping major secrets is a form of deceit and it breeds mistrust. Further, once a person loses trust, it is hard to regain it – especially for those who have been betrayed by a parent or former romantic partner or spouse.
People are hurt by secrets and lies and this can destroy a relationship. It's hard to feel emotionally connected to someone when you catch them in a lie or find out that they've kept a secret from you.
Mistrust is a lingering feeling in the back of your mind that your partner does not truly love you, or may abandon you. So much about trust is walking the talk. Your partner may tell you he/she loves you, but do his/her actions support that? All too often, when people aren't feeling safe enough in a relationship to be honest and open with their partner, it's because they don't believe that their partner truly loves them or they are overly protective of their own interests.
Follow Terry Gaspard on Twitter, Facebook, and movingpastdivorce.com. Her book Daughters of Divorce: Overcome the Legacy of Your Parents' Breakup and Enjoy a Happy, Long-Lasting Relationship is available on her website. Feel free to ask a question here.
Terry's new book, The Remarriage Manual: How to Make Everything Work Better the Second Time Around, will be published by Sounds True in February of 2020 and can be pre-ordered here.