Karen, 38, and Kevin, 39, have been married for eight years and have fallen into the habit of bickering about small things and arguing often. On a daily basis, they no longer show appreciation for each other. As a result, their interactions have become more negative than positive and they both reported in a couples counseling session, that they would like to experience more happiness in their marriage.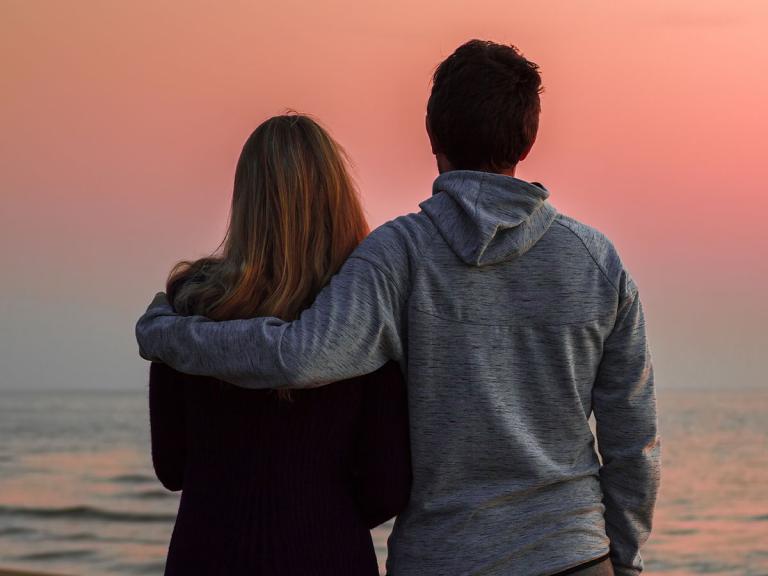 Perhaps the first step in overcoming this tendency to be negative and arguing too much, is to learn more ways to promote a happy relationship. The following list can help you to more clearly define qualities of a happy relationship – one that is characterized by friendship, admiration, and mutual respect.
Here are 6 ways to promote a happy relationship:
You have a strong friendship and are free to be your authentic selves. In a nutshell, you can be yourself and don't have to walk on eggshells. You both feel safe in the relationship and free to express your thoughts, feelings, and desires openly without fear of rejection.
You focus on showing admiration and mutual respect. This means that you accept, admire, and respect each other for who you are.  You don't focus on each other's flaws (we all have them) and you both show respect by being kind and compassionate with one another.
Your Trust each other.  You both follow through on your promises unless there is something urgent going on. This means you both honor your agreements and apologize when you're unable to do so.
You know how to manage conflict together. You avoid blaming each other when you have a disagreement and look for ways to have better communication – listening to each other's perspective and owning your part in the conflict. When things get too heated, you decide to take a break, but be sure to make repair efforts within two days.
You show appreciation for each other. You value each other and freely give positive reinforcement such as compliments and praise. You both show appreciation on a daily basis.
You spend time talking about your vision for a future together. Although you may not express  exactly the same ideas, you are willing to compromise and you are basically on the same page. You enjoy spending time together and sharing your dreams.
If you feel that your relationship falls short on any of the items above, it's crucial that you begin visualizing yourself in a happy relationship and focus on changing your own behavior. Consider creating a vision board where you post quotes, messages, and photos of the kind of relationship that you aspire to have. Check it on a regular basis and see if you need to work on any of your goals. Research by Dr. John Gottman shows that even if one partner works on improving the dynamics in their relationship, both partners will experience more happiness.
Follow Terry Gaspard on Twitter, Facebook, and movingpastdivorce.com. Her book Daughters of Divorce: Overcome the Legacy of Your Parents' Breakup and Enjoy a Happy, Long-Lasting Relationship is available on her website. Feel free to ask a question here.
Terry's forthcoming book, The Remarriage Manual: How to Make Everything Work Better the Second Time Around, was published by Sounds True in February of 2020.