A few weeks ago I had the opportunity to meet and talk with members of the Catholic Marketing Network at their annual conference and trade show. The show is always delightful — walking amidst a convention hall of Catholic wares, tsotskies and books is my idea of a very good time, indeed, and of course, I also got to photobomb the pope!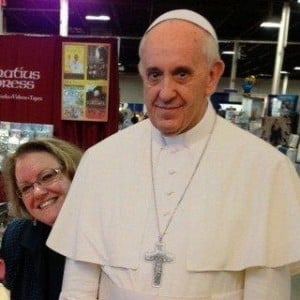 And of course, there was the wine-and-cheese book-signing sponsored by Ave Maria Press, which was great fun and looked like this: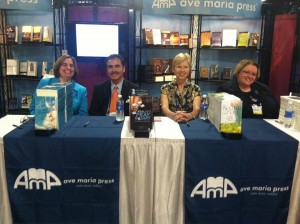 The conference shared space with the Catholic Writer's Guild (whose ice-cream social I took a pass on, but whose upcoming Writer's Retreat, in October(pdf) looks promising!) and then there was my speech to the merchants and participants, which ostensibly promoted my book, but in a roundabout way, using trains-planes-and-automobiles and taking a turn at the junction between commerce and ministry.
It's a short talk, but I covered a lot of ground, so to speak. The kind folks at Holy Spirit Radio recorded it, and if you'd like to give a listen, you can do so with this mp3.
Yes, I talk fast. I am a New Yorker. And the awkward pause and "okay" at the start is me getting distracted by phototakers, which I can't get used to. I still hate having my picture taken….
Related: If you haven't yet decided whether you'd like to dive into Strange Gods: Unmasking the Idols in Everyday Life, the book is continuing to receive some very kind reviews, from an interesting mix of readers and talkers. Please check them out!