The sun is beginning to set. We're just a few hours away from quietening down for Lent and it's odd, but all day I have felt — alone in my office, as I am — a sense of party. I've nibbled at chocolate all day, even though I shouldn't, because it's Fat Tuesday and a worldly sort of day.
Even so, I've been collecting some interesting resources to share with you all — things to help you achieve at least a small measure of interior calm, to start; things to put some heart into your Lenten observance, particularly on difficult days, and finally one terrific essay that may help you put Lent in perspective in a unique way.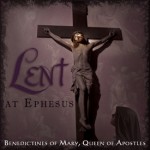 In order to begin to get quiet (and that sometimes takes many days into Lent, so be gentle with yourself) let's begin with some music! I'm not sure what it means to "auto-rip" something, but if you do, and you have that capability, may I recommend most heartily that you immediately auto-rip Lent at Ephesus, by the Benedictines of Mary.
This is the latest collection of chants and hymns by those young nuns out of Gower, Missouri who sing with such a remarkable tone and musicality that they have consistently knocked the "classical recordings" world off its stool.
Can I tell you, the 7th offering on this recording, "Improperia" is so hauntingly gorgeous that I had to stop what I was doing and take a look at the liner notes. "Pre-8th century chant taken from the prophets Micah, Jeremiah and Isaiah; the reproaches mark the climax of the Good Friday Liturgy, one of the earliest liturgies still extant and in which the Greek has been preserved." It reminded me of the early music of the great Benedictine, Saint Hildegard of Bingen, but even better.
With chant, I generally prefer male voices to female, but this community achieves a very singular sound that is head and shoulders above other recent recordings, and Lent at Ephesus is 78:43 minutes of gorgeousness. So, yes, rip it. Or, if you're like me and still using CD's, buy the thing. You'll be happy you did.
After you've done that, take yourself over to Word on Fire and subscribe to their free Lenten Daily Reflections. Just sign up, and as of tomorrow, you'll have a helpful reflection delivered to your email every day. And because it's Word on Fire, you can expect extras — videos by Father Robert Barron, giveaway, and hopefully some very good pieces like this downright inspiring sermon on fasting and almsgiving, by Father Steve Grunow.
(By the way, if you need help figuring out some of the guidelines for Lent, you can print out this helpful illustration and keep it nearby, along with this primer for fasting by Mary DeTurris Poust. And by all means, DO print out Marcel's annual Mega-Post-for-Lent!)
Speaking of Mega: There is still time to enter to win an entire library of Lenten reading over at The Catholic Blogger. Go do that!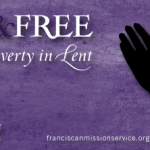 These "daily reflection" type of offerings are a lot of work, and I'm always impressed with folk who offer them, or any sort of regular seasonal offering.
The Franciscan Mission Service is offering a Lenten Blog Series called Liberated by Poverty in Lent. It begins Ash Wednesday with a interview with social justice activist Shane Claiborne and goes on from there.
For the Manliest of Men: Lenten Holy Hours! Sign Up!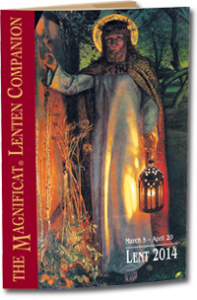 Looking app-ward, the first, my first and most obvious recommendation is for the Magnificat Lenten Companion. The print edition is sold-out, but the app is really beautifully done, and a reasonably-priced-treasure at ninty-nine cents.
I have one app to give-away for a lucky reader who is using an iphone or ipad (sorry, it's not in android yet). Just leave a comment below saying "Magnificat App" and on Ash Wednesday night — at 9 PM (yes, I'm being arbitrary) I will put the names into a hat and pick one, and you will have a free app!
To help with your almsgiving, remember the "Operation Rice Bowl" boxes that used to grace our kitchens during Lent? Yeah…there's an app for that. It's free, and a very good reminder that we are in a season of self-abnegation. And it's kind of nice to put a new spin on an favorite old tradition.
If you're seeking a bit of peace and beauty to center you on a rough day, check out the PeaceQuest App, which looks like a particularly gorgeous 3D computer game, but offers "pearls" of wisdom along with its restfulness.
I like this "bible on the phone" app, which was recommended to me by Frank Weathers, because it has a very brief read the whole bible a tiny bit a day feature that has managed to provide some very timely assistance!
Lent is the perfect time to begin to incorporate the Liturgy of the Hours into your life, and if you prefer to do that digitally, then go here and avail yourself of LOTH apps in iOS or android. It's the equivalent of getting the whole 4 volume set of books, plus hymns and church bells, too. I don't use the audio feature too frequently, but sometimes as I'm driving, I do, just to hear the psalms.
If you are looking for something more varied, and also free, you can't do better than the Laudate App, which has the LOTH, a couple of different bibles, various prayers and devotions and prayer podcasts, and — and this is a particularly cool feature — an audio read of Pope Emeritus Benedict XVI's reflections, read by an actor who does is charmingly, and even with a light German accent.
I also still like The Pope App, which was begun during Benedict's reign and gives you "everything pope" you could want, including webcam views of Saint Peters, livestreamed video of events, papal docs and pronouncements and more. And it's free!
Finally, I promised you an essay that would help move you into understanding what we mean, when we say "you are ashes". A terrific piece by Greg Hillis, written after he attended his first Cistercian (Trappist) funeral:
It was a surprise to enter the Abbey's church and see a body lying on the floor. The body of the monk was lying, in fact, on a bier. He was dressed in a pure white cowl, and his face bore no signs of having been made up by a mortician. Br. Harold did not look like he was sleeping; no one could say, "He looks so peaceful, almost like he's sleeping". No, he looked like what he was – dead.

But Br. Harold was not alone. Two monks sat at his head and solemnly prayed the psalms, psalms that Br. Harold knew so well from decades of praying the divine offices. The monks of the community took turns praying the psalms with Br. Harold one last time, and would do so right up to the moment of his funeral mass.

When the time came for his funeral, Br. Harold was carried closer to the altar and placed directly in front of it. There was no casket, and Br. Harold's face was not covered; he simply laid there, participating in the Eucharistic feast with his community.
Read the whole thing. Stay to the end.
I'll say no more, but this:
I wake and feel the fell of dark, not day.
What hours, O what black hoürs we have spent
This night! what sights you, heart, saw; ways you went!
And more must, in yet longer light's delay.
With witness I speak this. But where I say
Hours I mean years, mean life. And my lament
Is cries countless, cries like dead letters sent
To dearest him that lives alas! away.

I am gall, I am heartburn. God's most deep decree
Bitter would have me taste: my taste was me;
Bones built in me, flesh filled, blood brimmed the curse.
Selfyeast of spirit a dull dough sours. I see
The lost are like this, and their scourge to be
As I am mine, their sweating selves; but worse.
— Gerard Manley Hopkins
UPDATE:
Only learned about this today, but it's something different; Sister Rose Pacette is hosting a Lenten Film Series. I know a lot of you are really into cinema, so this is something you can subscribe to, that might make a hard day in Lent go easier.
Related:
Lenten Book Suggestions