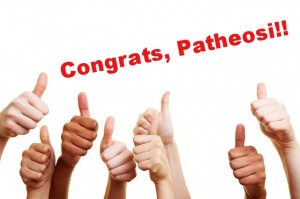 Last night, in Charlotte, where Team Patheos rocked a panel on digital media, the Catholic Press Association presented awards in a numerous categories, and a number of our Patheos writers (and our good friends) were recognized for their excellent work!
Part of a seemingly unstoppable Jesuit Juggernaut that included Fr. Antonio Spadaro's world-stopping interview with His Holiness Pope Francis, and a number of awards for America Magazine (who just shamed the Associated Press into actually correcting their reportage on the Tuam children's home) and our friend James Martin, SJ, for his book, Jesus, the team from The Jesuit Post (which happily participates on Patheos, here) took the award for Best Group Blog.
Jesuit work didn't keep Deacon Greg and the team from the Catholic Near East Welfare Association (CNEWA) from also cleaning up. Their first-class magazine, ONE took something like 16 awards. Deacon Greg also participated in the award-winning Homilies for the Homeless enterprise!
Meanwhile, our own Pat Gohn's book Blessed, Beautiful and Bodacious: Celebrating the Gift of Catholic Womanhood was honored a Best Book category related to Gender Issues, and Lisa Hendey and Sarah Reinhard (who blogs here as part of Julie Davis' Happy Catholic Bookshelf) were honored for CatholicMom.com and Dr. Anthony Esolen (who gives us The Word of the Day when his schedule permits) was honored multiple times for his outstanding essays for Magnificat Magazine.
Our friends at Our Sunday Visitor
also picked up numerous awards, including one for their beautifully redesigned
website
and their
newsweekly
.
Matthew Bunson, my editor at The Catholic Answer also picked up an award for his must-have Encyclopedia of U.S. Catholic History, and some of his polish must have rubbed off on me, because my column on the back page of that magazine, entitled, Ora Pro Nobis, was also honored, which surprised me and yes, delighted me, too, because that's a fun gig! I need to update that picture, though.
Congrats to Everyone honored by the Catholic Press Association! Complete list here. And thanks, CPA!
UPDATE:
Just realized that Brandon Vogt and Melinda Selmys were also honored for their work on currently debated marriage issues for OSV! Congrats, you two!