Got a wonderful email from a reader who is being received into the Catholic Church in 2015, and it is in many ways thanks to internet web sites, both secular and religious. Writes this reader, whose privacy I am protecting, but who is very excited to be entering the church:
In the beginning was National Review Online, back when Jonah Goldberg was starting it up and the blogosphere was young…NRO named lileks.com as their Site of the Day. I started reading the Daily Bleat, and I noticed two or three blogs listed in the right-hand column of the page. One of them was Instapundit – this was back in the BlogSpot days. Instapundit linked to you at some point and that ultimately brought me to where I am today and where I will be…
So, there you go. In the Beginning was the Word, and the Word went forth. And Goldberg begat Lileks; Lileks begat Reynolds; Reynolds begat Anchoress (with Ed Morrissey!); Anchoress begat…
And who knows where this woman's journey will take her, or whose life she may — all unknowingly — profoundly influence in ways she would never imagine.
When people tell you that the internet is a wasteland — which it certainly can be — recall that God has a way of using the most confounding tools and people to get our attention (Moses and David were murderers; Peter was a hothead; Paul, a persecutor of Christians) and then move things along.
Think of all the times you have seen a story of injustice or injury or impoverishment, and it caused you to hit a "donate" or "go fund me" button, and help out someone you don't even know. Think of how often you were moved, or outraged (or encouraged and heartened) by something you read on the internet, and passed it along via email or social media, only to discover that such a simple act became a significant moment for someone else.
Pope Benedict understood this, 'way back when he got himself a blog, of sorts, endorsed a meeting between the Vatican and bloggers from around the world, and encouraged Catholic priests, religious and laity to embrace the new medium, using it to "give the internet a soul.
Think about that, the next time you want to summarize the interwebz thusly: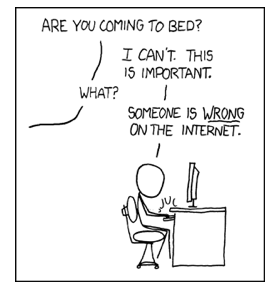 The cartoon tells the truth, but not the whole truth, of the aggravating, energizing, maddening, and strangely beneficial culture of the 'net.