Patheos Catholic channel is pleased to announce that Michelle Arnold, veteran apologist at Catholic Answers and one of the most interesting people to follow on Facebook, where she can be counted on for amusing, instructive insights, and a clear communication of what Catholicism actually teaches.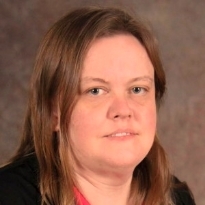 Raised as a Seventh Day Adventist, Michelle entered the church in 1996, quickly bringing her curious mind and strong communication skills to the service of the church. Reading about and commenting on religion seems like work she was born to do; as Michelle writes in her most recent post at Patheos:
As an unbaptized "cultural Christian," more or less, I only had a vague idea of what the Knights of Columbus was, but I was interested in the correspondence course. I had just finished reading The Great Controversy, Seventh-Day Adventist "prophetess" Ellen G. White's black fable, published in the guise of a history of the Christian faith. You can guess the identity of the villain of that black fable, I'm sure.

Once the correspondence course arrived, I also received a catalogue of the Knights' booklets on various aspects of the Catholic faith. Intrigued, I sent away for all of them. I treated those booklets like a cache of religious porn. Not only did I read them avidly, expecting more dark, dirty secrets of the type Ellen White had written about, but I took my pen to the pages, underlining passages and scrawling smart-aleck remarks in the margins.

What can I say? I was a kid. Thank God I got it out of my system before the Internet was invented.
Indeed. Now instead of snark in the margins, the internet — and the Catholic-curious — benefit from her habit of thinking things all the way through, a rare gift in these reactive days. In her brief participation here at Patheos, Michelle has already written on controveries of rhetorical excess, climate change, civic duties, pancakes, and why the pope is not as wrong as people seem to daily declare.
She's going to annoy some; she's going to delight others; she's going to instruct and get people thinking. In other words, she possesses all the traits of an interesting writer and intriguing blogger.
Patheos is very happy to welcome Michelle Arnold to the channel. You'll want to subscribe to her feed!