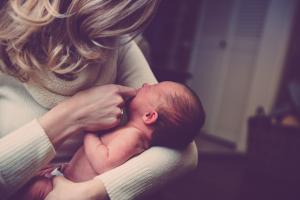 One of the members of the Catholic Working Mothers Facebook group, Elise at Oh Contraire, posted the following in the group this past Friday. I loved it so much that I asked her if I could post it to the blog, and she graciously assented. Thank you for your words of wisdom, Elise!
Dear New Mom Going Back to Work:

I remember vividly the day I went back to work after maternity leave for my first one. I was crying like a baby in the Parisian Metro; my husband was holding my sweet 4 month-old, who was my whole world. Then an older woman came to me with a very gentle smile and she said: "Everything will be okay. YOU will be okay."

As new moms, we're often overwhelmed by a roller coaster of emotions just before going back to work full time. So many emotions: fear, anticipation, sadness, joy, anger! They worry that our child will lose his/her close bond with us, the thought that maybe we're neglecting the baby by returning to work. Are these feelings normal?

Yes, our feelings are 100% valid! But more than that, as a mom of 4 I can now testify that moms guilt WAS indeed useful to me. It helped me to stay 100% focused on my children when I got back home each night, it helped me tremendously to prioritize my tasks during the day so I could come home and be completely present for them.

The transition is tough, though. So this is the piece of wisdom I want to share with you: find your tribe, build a strong support team around you: your husband, your close family, a neighbour, a friend! You'll need all the support you can get for this life-changing transition as a new and working mom.

May God bless you abundantly today!