Today's post is a guest post from Elise, one of the members of the Catholic Working Mothers Facebook group.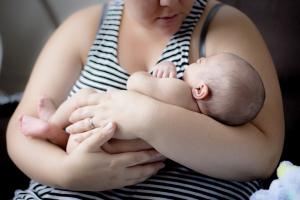 A couple of months ago, a young mom confessed to me: "Since I came back to work, being vulnerable after maternity is one of my biggest challenges. Being a mom really impacted my confidence at work. I find it troublesome to feel, look and sound confident … and troublesome to play the role of the strong woman in a suit, too. I guess I can't pretend very well…"
Working mom or not, we all felt this strange feeling of not really be the same person we were before giving birth.
Vulnerability. How not to feel vulnerable when you went through the birth of yourself as a mother?
In fact, we gave birth to our child… and to so much more: a new life, more responsibilities, new boundaries to create…
Becoming a mother is a transformative journey for sure. For months — and sometimes longer — I remember being in the "gray zone": not the same person as before… yet not completely competent/confident as the new person I became. And I could tell friends experienced the same feeling the first year as a new mom.
And you know what? That's okay. If you think about it, that's even for our own good. Feeling vulnerable is allowing us to create with our child the strongest bond we'll have with another human being. Feeling vulnerable leads us to ask for help while creating a new support system around us. Feeling vulnerable is an opportunity for self-growth: create and assert new values, getting clarity on your priorities, transform our relationship with our own parents.
So help me spread the word please: the new mom's vulnerability is not a weakness to hide. It's a transformative asset that will bear much fruit — if we say yes, and when we feel ready.
What are YOUR ways of feeling vulnerable since you became a mother? Can you see how those feelings pinpoint an opportunity for change in your life? Don't be shy and share in the comments!
Elise is the Coach for Moms, speaker and blogger behind oh-contraire.com. She's a French mom of 4 energetic, messy and Frenchy kids and her family lives in New Jersey. She helps busy but passionate new moms get a happier, lighter and simplified home life. You can join her tribe on www.oh-contraire.com or join her Facebook group where she shares organizing ideas, anti-stress tactics and down-to-earth insights for all moms.