… I'm truly blessed to be a member of a wonderful parish. I enjoy inviting friends and family members, Catholic and not, to church with me. Their reaction is always the same, "What a beautiful church!".
Last night I was discussing with my step-mom, who's Greek Orthodox, the terrible state of my Abuelita's parish in Virginia. They've removed the kneelers and the only thing decorating the walls is a single felt banner with the name of the parish glue-gunned on with felt lettering. I guess this is so the congregants can remind themselves they are actually in a church since all other outwardly signs have been removed. The tabernacle is no longer in the sanctuary but in a private prayer chapel off the narthax and the felt banner hangs where the crucifix once was. My Abuelita doesn't drive and this parish is less than a mile from her home so it's this or nothing. I take her here when I go up for a visit.
My dad remembers my Abuelita's church before it was robbed of it's riches, and so began an evening of nostalgic conversation about church beauty over hot noodles and wine. The number one comment I get from people who've come to church with me is how wonderful it is to a see a church that looks like a church. This coming from even my most liturgically liberal friends. The second thing they comment on it the overwhelming atmosphere of reverence and solemnity seen in the liturgy, the postures of the priest, and the heavenly choir.
Not a single one of them, not even The Unfortunate Liberal Friend from Our Lady of the Bongos and The Atheist [bless his heart], said "Ack! Ornate stain glass windows, detailed Gothic pulpit! Get it away! It's hideous and burns!"
So what happened? Seriously I want to know. I know there has to be more to it than the denouncement that the money used to purchase Catholic finery could better serve the poor because if that were the case there would be nothing beautiful or magnificent to behold anywhere. And really there are only a small proportion of Catholics who feel that way.
Where are the Church documents and theological studies that say church beauty is detrimental to our salvation? What was the justification to remove all the beauty? And if Vatican II is all to blame I'd love to read the documents stating all churches must be made naked and ugly.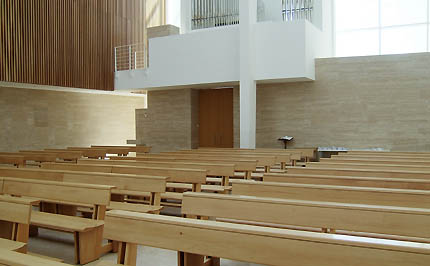 I'm genuinely asking.