… Hey Catholic vendors, are you offering Christmas deals, discounts, free shipping or two-fer specials that you'd like more people to know about? Let me help. In an effort to keep spending local and papist let me feature your wares here on my blog.
Today I want to feature my favorite rosary maker, Melanie Gillespie, who makes wonderfully unique and personalized rosaries. As you can see she's a real live Catholic mom raising a big Catholic family and not some faceless company selling junk made in China. Refreshing isn't it? Here is my very own personalized Trendy Traditions creation she made for me last year. And below is a very attractive Groom's rosary.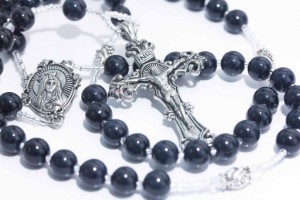 Check out her Etsy shop, the Trendy Traditions website, and their facebook page. If you follow her on facebook occasionally she posts deals on free shipping and discount specials. Melanie is fantastic and very accommodating and she can handle just about any special request. Since her focus is on personalized rosaries you can be sure your rosary, given as a gift, will be one of kind and extra special to the recipient. Even the packaging is done with care.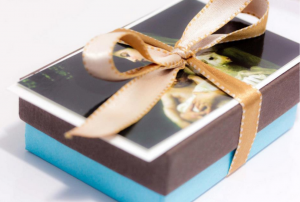 Inside the box is a mesh bag with a ribbon draw string that can used as a rosary pouch, to prevent tangling, if you want to keep your rosary in your purse or take it with you to church. She's thought of everything.