… I am fortunate enough to live within reasonable driving distance to the Washington DC area, which gives me the geographical advantage of being able to attend the March for Life. Ok, so I've only been to one march; and what an experience it was. Unfortunately, this year the day job, yes I have a real job (two, in fact), prevents me from making it. That doesn't mean I can't be there in spirit. In fact, anyone who can't make the trip, either because of distance or time, can spiritually join the marchers as they covertly take to the streets, avoiding every single news outlet ninja style. Nope, this year I will have to satisfy myself with living vicariously through the tweets and photo shares of others who can attend. Oh, and I can pray.
Starting January 18th, a novena sponsored by the USCCB begins.
On January 22 our nation will mark the 41st anniversary of Roe v. Wade, the Supreme Court decision that made abortion legal throughout the U.S.

Since that tragic decision, more than 55 million children's lives have been lost to abortion, and many suffer that loss — often in silence.

Join thousands of Catholics across the country coming together in prayer for a "culture of life" from Saturday, January 18 – Sunday, January 26!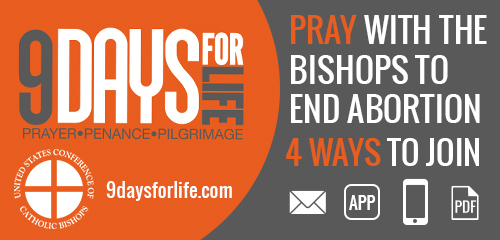 So who's in with me?