YESTERDAY I concluded op-ed for Spain's Euro Weekly News by saying 'Black Lives Matter is important to me because I have seen first-hand what happens when people believe the opposite. But I think the destruction of statues of long-dead imperialists and slave-traders is a dangerous distraction and plays directly into the hands of fascists.'
I added:
'What needs toppling are living people using their positions of privilege and power to please white supremacists – evil egomaniacs like Trump who had BLM protesters tear-gassed so he could stand outside a church to brandish a book which has caused humanity more suffering than any other: the 'holy' Bible.'
My column was in part response to a piece written by EWN's Voice of the Right, one Leapy Lee, who declared:
Trump's appearance holding a Bible and posing for an impromptu photo call outside the St Johns church was a brilliant PR exercise.

To the Bible belt and all those convinced that 'God is on their side,' plus his statement that he was the 'President of law and order' and was prepared to bring in troops to restore this order, would have won him millions of supporters, and to my mind absolutely guaranteed another Whitehouse term.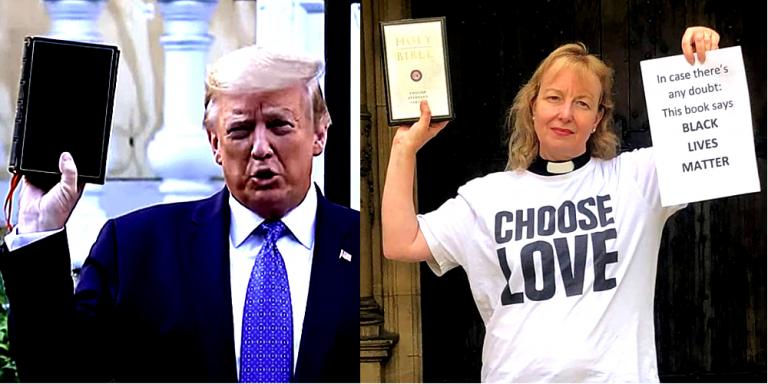 Within an hour of me sending off the piece for next week's edition of the paper, I spotted a report about a number of Oxford college chaplains who responded to Trump's stunt by posting pictures of themselves holding up Bibles in support of Black Lives Matter. One of them was Hertford College chaplain Mia Smith, above.
This ridiculous whitewash exercise is doomed to failure because anyone with half a functioning brain knows that the Bible has always been used to justify oppression. Most notably it did so in South Africa in when it was used a blueprint for Apartheid. This from Christian website CBE:
In the 20th century, in the face of external attacks on white rule, the best Reformed theologians gave their able minds to developing biblical support for separate development (Apartheid). They argued that the Bible taught that humankind, by the will of God, was separated into different races that should each have their own lands. They insisted that Apartheid was pleasing to God because it was endorsed by Scripture.
Two years ago the White House used a passage from the Bible to justify the practice of separating migrant children from their families at the American border.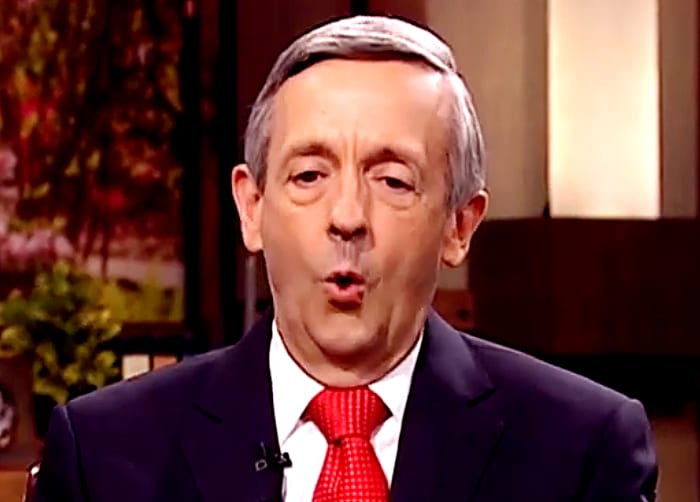 Said the then Attorney General Jeff Sessions during a speech to law enforcement officers in Fort Wayne, Indiana:
Illegal entry into the United States is a crime, as it should be. Persons who violate the law of our nation are subject to prosecution. I would cite you to the Apostle Paul and his clear and wise command in Romans 13, to obey the laws of the government because God has ordained them for the purpose of order.
Later, the White House press secretary Sarah Sanders defended Sessions's comments, telling reporters at a press previewing:
I can say that it is very biblical to enforce the law, that is actually repeated a number of times throughout the Bible.
She declined to cite specifics.
Mercifully, the Trump administration's inhumane attitude towards immigrants was dealt a major blow yesterday when the Supreme Court issued a ruling against Trump's move to rescind deportation protections for young undocumented immigrants. The justices, in a 5-4 decision, blocked the the government's effort to revoke the Obama-era Deferred Action for Childhood Arrivals (DACA) programme, which shields 700,000 undocumented immigrants from deportation.
Trump, still smarting over the Supreme Court's decision to extend employment protection rights to LGBT people, went totally ape shit, and asked in an infantile tweet:
Do you get the impression that the Supreme Court doesn't like me?
In two other hysterical tweets, the megalomaniac branded decisions by the court "shotgun blasts" in the face of conservatives, saying voters should back his re-election bid this fall in an effort to get more justices on the court.
These horrible & politically charged decisions coming out of the Supreme Court are shotgun blasts into the face of people that are proud to call themselves Republicans or Conservatives. We need more Justices or we will lose our 2nd Amendment & everything else. Vote Trump 2020!
Trump could well face further humiliation if the Washington District Court refuses to halt the publication of John Bolton's memoir of his time as Trump's national security adviser.
The Trump administration is in court today (Friday) in an effort to halt publication of The Room Where It Happened, a damning indictment of the President's character and and his antics. Trump claims the book contains "classified material."
The Guardian says that Justice department lawyers are likely to face an uphill struggle in court, as hundreds of thousands of copies of the book, due for publication on Tuesday, have already been sent to booksellers, excerpts have appeared in the press. Trump yesterday dismissing Bolton as a "wacko" and said the publication is:
A compilation of lies and made-up stories.
Trump's description of Bolton's book as a work of fiction will make it hard for the government to prove the assertion in its court filing that the:
Disclosure of the manuscript will damage the national security of the United States.
Bolton, meanwhile, continues to step up pressure on his former employer, describing Trump as not "fit for office", and not having "the competence to carry out the job".
He made the comments in an interview with ABC News, the full version of which will be aired on Sunday. In an excerpt screened yesterday, Bolton said Trump was a "stunningly uninformed" man whose ignorance could be easily manipulated by foreign adversaries.
He was so focused on the re-election that longer-term considerations fell by the wayside. There really isn't any guiding principle that I was able to discern other than what's good for Donald Trump's re-election.
And just when Trump thought his day could not get any worse, he got news that Facebook had removed advertisements created and widely shared by the President's campaign because displayed Nazi markings meant to designate political dissidents in concentration camps.
The ads included a red inverted triangle paired with text warning of "dangerous mobs of far-left groups" running around "causing mayhem." In the 1930s, the same badge was used to identify communists, liberals, social democrats, and others who did not agree with the politics of the Nazi party.
Jewish political dissenters were forced to wear the inverted triangle over a yellow star.
• If you wish to report any typos/incorrect info in this piece, please email me at barry@freethinker.co.uk
If you'd like to buy me a cup of coffee – and boy, do I get through a LOT of coffee keeping this site active – please click this link.