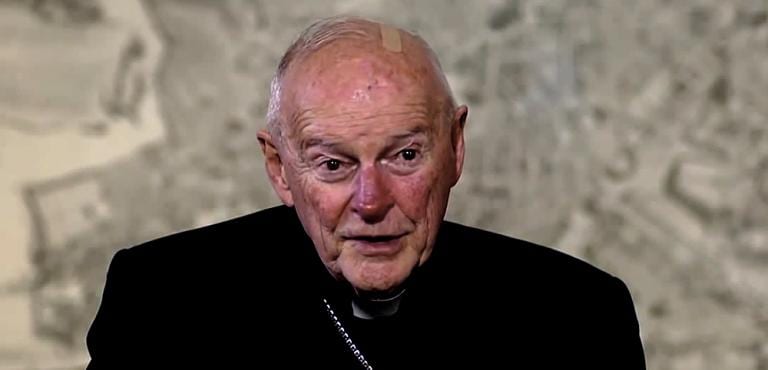 THE Theodore McCarrick affair in America grows more toxic by the day, prompting the National Catholic Reporter to compare it to COVID-19.
An op-ed published by the NCR today alludes to the "McCarrick virus" – and comes just days after a lawsuit alleged that a high school principal, Brother Andrew Hewitt of the Christian Brothers, had groomed a boy – "John Doe 14" – to have sex with the former cardinal, now aged 90, who stands accused in the lawsuit of leading a "sex ring."
Jeff Anderson, the lawyer representing the boy, described the plaintiff as "very brave" and:
A survivor of sexual predation by Cardinal Theodore McCarrick and other clerics.
The lawsuit also names as defendants the Newark archdiocese, the Metuchen diocese, several Catholic parishes, and the Catholic high school as defendants. Four other priests and a religious member of the Christian Brothers allegedly abused the victim.
The lawsuit alleges that McCarrick's sexual abuse of the plaintiff began in about 1982 and continued until about 1983. Doe was 14 to 16 years old at the time of the abuse. Doe's lawsuit claims he was first abused by a parish priest, then later groomed and sexually abused by Hewitt, who died in 2002. The principal then allegedly arranged for him to be abused by McCarrick.
Doe and other victims were taken on weekend overnight trips to McCarrick beach house in Sea Girt, New Jersey.
The lawsuit alleges:
McCarrick assigned sleeping arrangements, choosing his victims from the boys, seminarians and clerics present at the beach house. On these occasions, minor boys were assigned to different rooms and paired with adult clerics.
Father Anthony Nardino of St Francis Xavier Church allegedly had sex with the plaintiff in 1978, when he was 11. Anderson said this set Doe up for grooming and sexual abuse by Hewitt.
Anderson characterised Hewitt as a "procurer" for McCarrick and noted that the Christian Brothers have listed the former principal as credibly accused of abuse in another case. He believes Hewitt procured other boys for McCarrick.
Also named as abusers are Father Gerald Ruane, Father Michael Walters, and Fr. John Laferrera who also allegedly abused Doe. All three priests were under the Archdiocese of Newark and have been listed by the archdiocese as credibly accused of abuse. Father Walters and Father Laferrera have both been removed from ministry.
Anderson described McCarrick as "the boss" and these priests as "the crew." The now dead Father Ruwane, according to Anderson:
Became both an enabler and a participant in McCarrick's predation of this kid.
The lawsuit said McCarrick sexually assaulted at least seven minor boys. The diocese, archdiocese, and their entities knew, or should have known, that McCarrick and the other clergy named were dangers to children, it charged. They failed to report known or suspected abuse of children. They knew, or should have known, that children in their activities were at risk of sex abuse.
Anderson claimed that the issue goes beyond McCarrick's "fear and intimidation." With "little explanation," he accused Pope John Paul II and his successors Benedict XVI and Francis of enabling McCarrick's rise.
The lawsuit claims that Pope Francis "remained complicit in the coverup of McCarrick" and "did not take action" until July 2018.
"Pray for Cardinal McCarrick"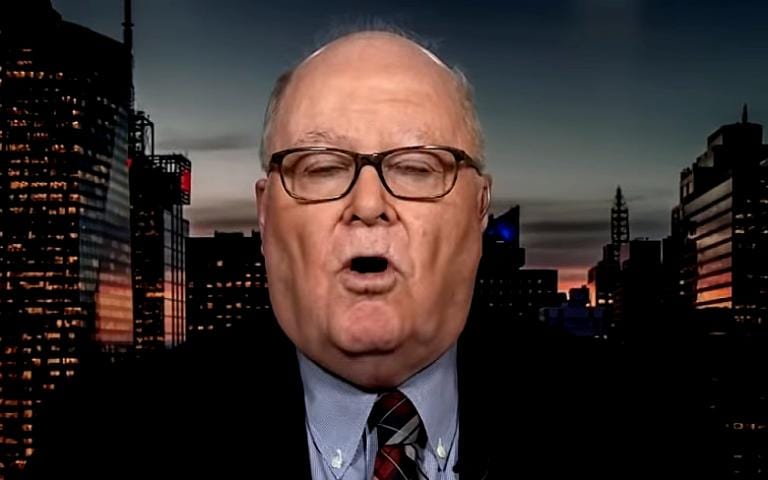 In the same year, Bill Donohue, above, of the Catholic League, wrote that McCarrick had become supportive of the league and that the ex-cardinal was:
Bearing a heavy cross. The alleged abuse took place a half century ago (in the 1970s), and the alleged victim was a teenager, thus ruling out pedophilia. Pray for Cardinal McCarrick and anyone whom he may have hurt.
The NCR's editorial begins by saying:
It has now been two years since Pope Francis accepted Theodore McCarrick's resignation from the College of Cardinals, shortly after allegations of his sexual abuse of a minor and evidence of other sexual exploitations first detonated into public view.

Yet after all this time, Catholics in the United States are still waiting for answers about which Church leaders, here and in Rome, knew about McCarrick's scandalous situation but failed to take meaningful disciplinary and preventive actions — and possibly even facilitated and abetted his meteoric rise to prominence.

That's far too long to wait. The delay only aggravates the severe damage caused by this unclarity and lack of episcopal accountability, further compromises the trust Catholics need to have in their shepherds, and prolongs the healing process for McCarrick's victims.

The whole ugly scandal seriously hampers the Church's basic mission of evangelization and service.
Hat tip: Roderick Bradford
• If you'd like to buy me a cup of coffee – and boy, do I get through a LOT of coffee keeping this site active – please click the link below.
I'd love a cup of coffee