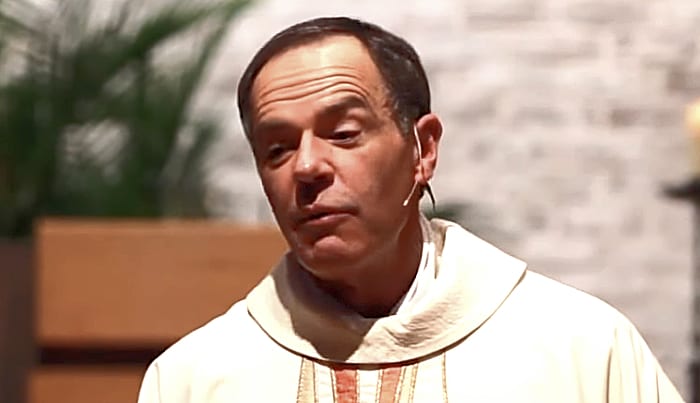 TAKING words straight out of Donald Trump's playbook, Indiana RC priest Father Theodore (Ted) Rothrock, above, wrote in a church bulletin message issued last Sunday that Black Lives Matter organisers are 'maggots and parasites.'
His fiery diatribe claimed that BLM protesters are:
Serpents in the garden whose poison is more toxic than any pandemic we have endured. They are wolves in wolves clothing, masked thieves and bandits, seeking only to devour the life of the poor and profit from the fear of others. They are maggots and parasites at best, feeding off the isolation of addiction and broken families, and offering to replace any current frustration and anxiety with more misery and greater resentment.
Three days later, Bishop Timothy L Doherty of the Diocese of Lafayette-in-Indiana, suspended the priest from public ministry in the diocese. The suspension notice was posted on the diocese's website. Rothrock was serving at St Elizabeth Seton Catholic Church in Carmel, Indiana, at the time.
Shortly after, Rothrock expressed surprise over his suspension and issued an apology of sorts:

He added:
People are afraid, as I pointed out, rather poorly I would admit, that there are those who feed on that fear to promote more fear and division.
Carmel Against Racial Injustice, a group formed to rally anti-racists in the city, called for Rothrock's resignation. The group vehemently objected to Rothrock's original post and didn't buy his apology. Ashten Spilker, a Carmel resident and one of the group's co-CEOs, told HuffPost.
Said Spilker, who is white.
What he needed to say was, 'I need to as a leader in a church educate myself to do better and recognize the plight of people of color, not only in my congregation but in our country, to better serve our community.'

It was misguided fear-mongering to his parish. People look to leaders to educate them, and so to put out something so misguided that can instill fear about what we're trying to do here in Carmel was irresponsible on his part.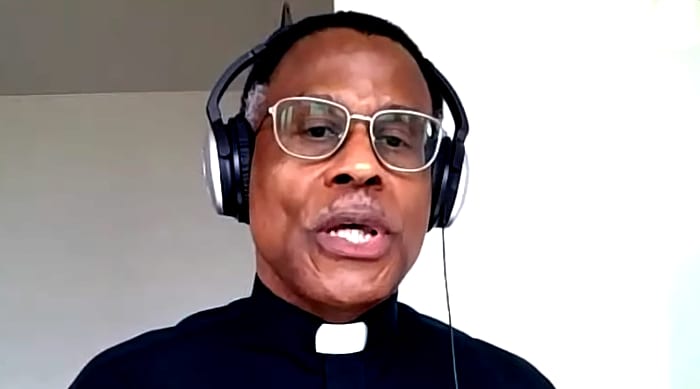 Rev Bryan Massingale, above, a prominent black Catholic theologian at Fordham University, said Rothrock's original message was "vile", "disgusting" and "simply inexcusable."
Massingale said he is happy that Doherty removed Rothrock from the ministry but added that the bishop also needs to apologise for the "national scandal" the priest caused and proclaim that the church won't turn a blind eye to any form of racism. The deeper issue is that Rothrock is not an aberration in the US Catholic church, Massingale said.
By claiming that "people are afraid" in his apology, Rothrock expressed the fears some white conservative Catholics hold but ignored the "real terror" experienced by Black Catholics and people of color living in a society that devalues and endangers their lives, he added.
Whenever the church does acknowledge racism, it's usually with "bland sentiments of concern that won't disturb white Catholics," Massingale said. Church leaders rarely have the courage to address how central white racial resentment and entitlement are in shaping public life.
Until white Catholics have the courage to face deeply uncomfortable truths about the depth of racism in the nation and end the Church's complicity of silence, attitudes like [Father] Rothrock's will continue to fester and poison American Catholicism.
Meanwhile, Christian conservative commentator Glenn Beck, posted a video on YouTube on Saturday calling on all Catholics to rally around Rothrock.
But on the diocese's Facebook page, more people appear to supporting Father Ted's suspension than opposing it.
• If you wish to report any typos/incorrect info in this piece, please email me at barry@freethinker.co.uk
If you'd like to buy me a cup of coffee – and boy, do I get through a LOT of coffee keeping this site active – please click the link below.
I'd love a cup of coffee