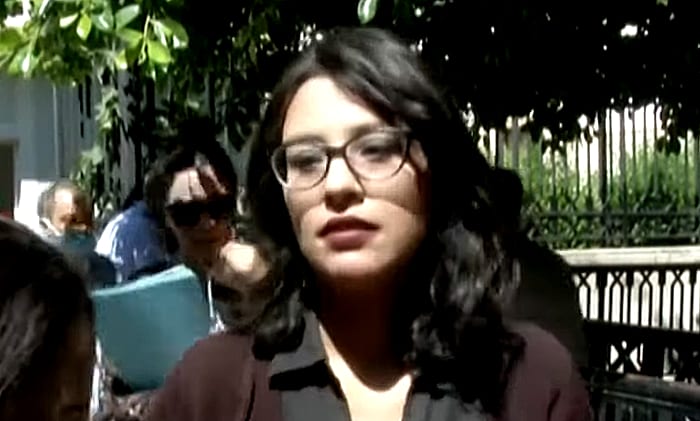 AMNESTY International has called on the authorities in Tunisia to overturn the conviction of blogger Emna Chargui, above, who was found guilty this week of using social media to 'offend Islam' and sentenced to six months.

Chargui's 'crime?'. On May 2 she shared an image on Facebook containing text that imitated the format of a koranic verse. The text simply advised people to to take precautions during the COVID-19 pandemic.
Immediately after, she began receiving hate messages from people threatening to kill or rape her, yet the authorities, according to Amnesy, failed to take action to protect her or to investigate these threats.
Responding to the sentence, Amna Guellali, Amnesty International's Deputy Regional Director for the Middle East and North Africa, said:
This sentence is a bitter blow to freedom of expression in Tunisia. It will have a chilling effect by deterring others from daring to express their opinions online. We call on the Tunisian authorities to overturn her conviction and to investigate the threats Emna has been receiving

Emna Chargui should never have been charged in the first place. Instead, the authorities should have opened an investigation into the rape and death threats she has received in response to her post.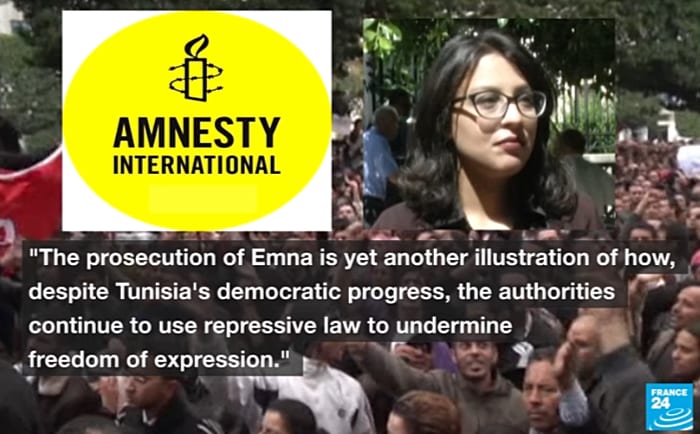 Chargui was charged with "inciting hatred between religions through hostile means or violence" and "offending authorised religions" under Articles 52 and 53 of the press code.
She is currently at liberty and will be appealing the verdict.
After charges were brought against the atheist blogger in May, Guellali said:
The prosecution of Emna is yet another illustration of how, despite Tunisia's democratic progress, the authorities continue to use repressive law to undermine freedom of expression.

It is unacceptable for someone to face a prison sentence of up to three years just for sharing a satirical post on Facebook. Such a trial sends a message that anyone who dares to express a controversial view on social media runs the risk of being punished.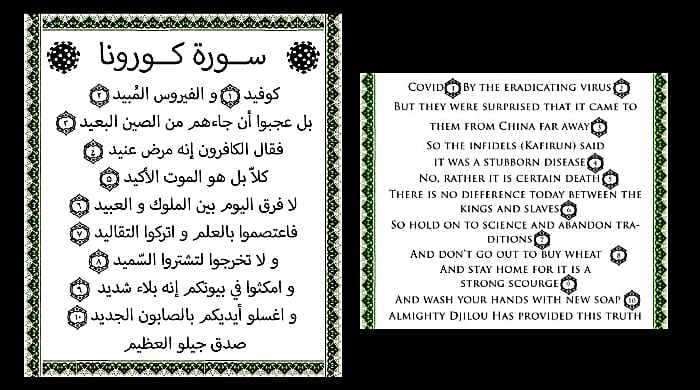 On May 4, Chargui was summoned by judicial police who questioned her the next day in the presence of her lawyer. Two days later, she appeared in court before the prosecution who did not allow her lawyer to accompany her.
A panel of seven individuals interrogated her for half an hour. Questions thrown at her included some relating o her faith. One panelist even asked her if she had consulted a psychotherapist, suggesting that she might be mentally disturbed.
The Tunisian authorities have also prosecuted others since 2011 for writings considered offensive to Islam. For example, two bloggers, Jabeur Mejri and Ghazi Beji were prosecuted and sentenced on 28 March 2012 to seven years in prison for satirical publications mocking the 'Prophet' Mohammed. The sentence was upheld on appeal.
On November 6, 2019, a prosecutor of the counter-terrorism unit of the first instance court in Tunis charged Mounir Baatour, a lawyer and LGBT activist, on several counts including Article 52 of the Press Code, for a post he shared on his Facebook page deemed offensive to Islam.
He fled to France after receiving death threats.
Guellali said:
The right to freedom of expression extends to expression which some might consider shocking or offensive. The Tunisian government must amend its laws so they are compliant with human rights and stop prosecuting people for their peaceful expression.
• If you'd like to buy me a cup of coffee – and boy, do I get through a LOT of coffee keeping this site active – please click the link below.
I'd love a cup of coffee