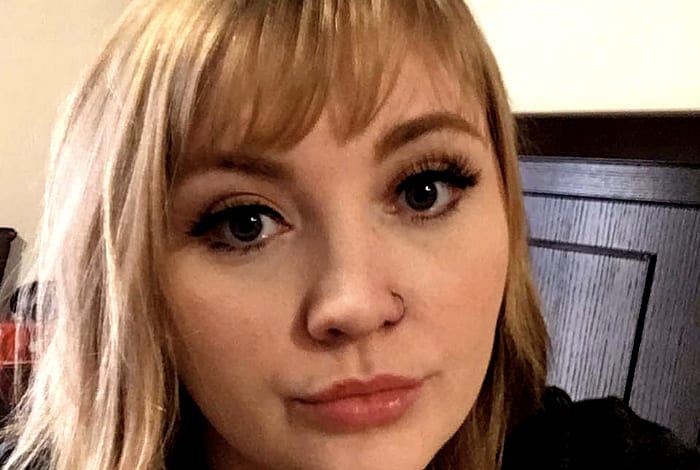 MEET Jessica McManis, a 'believer in Christ' who is beside herself with glee because a doll she alleged 'grooms children for sex' has been withdrawn from sale.
The Ohio dumbbelle launched a petition to have a troll doll called Poppy, manufactured by Hasbro, scrapped. Her petition, which has attracted almost 500,000 signatures, bears the shocking image below.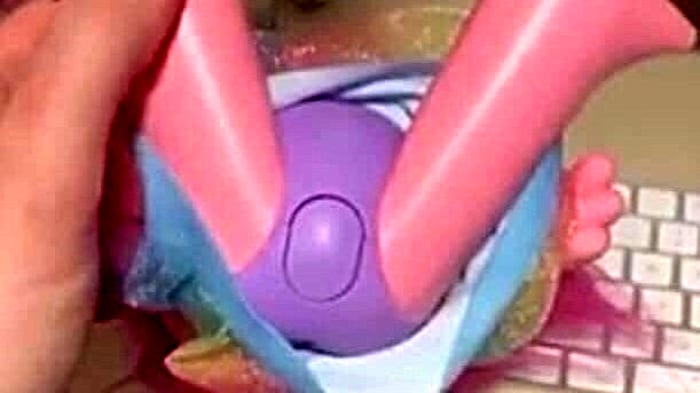 It says: Our society is conditioning our children to think pedophilia is ok. This Trolls World Tour doll named Poppy has a button on her private area under her skirt. When you push this button on the doll's private she gasps and giggles. This is not okay for a child's toy! This toy needs to be removed from our stores.

What will this toy make our innocent, impressionable children think? That it's fun when someone touches your private area? That pedophilia and child molestation are ok? It's not ok! It's not fun! It's damaging and has long term affects on a child's mental/physical health!
When she posted similar words on Facebook, the social media platform declared them to be "partly false information".
USA Today then carried this headline;

Its report said that, according to Hasbro's product description, the 12-inch tall doll is aimed at children 4 years and older and "giggles 3 different ways when she's tickled." It sings a version of the song "Trolls Just Want to Have Fun" from the DreamWorks Animation feature movie "Trolls World Tour."
It added:
Our research shows that the doll does have a 'giggle' button located in an area that could be referred as near its 'private parts.' It would be misleading, however, to suggest the design was deliberately linked to 'grooming'children for sex. Hasbro says the button's placement was not intentional but recognizes that it may be perceived as inappropriate. We rate the claim that the doll was designed to groom children as PARTLY FALSE, based on our research.
McManis told USA Today:
I'm aware that the doll was made for a seated position but I think companies need to be more mindful on how toys can be perceived by children or used by people with bad intentions.
Following the uproar, Hasbro said it was recalling the doll. Julie Duffy, Hasbro's Senior VP for Global Communications, said:
This was not intentional, and we are happy to provide consumers with a replacement Poppy doll of similar value throughThis feature was designed to react when the doll was seated, but we recognize the placement of the sensor may be perceived as inappropriate. This was not intentional, and we are happy to provide consumers with a replacement Poppy doll of similar value through our Consumer Care team. We are in the process of removing the item for purchase.
Whilst delighted over her victory, McManis is now furious because remaining stocks of the doll are being sold at "a ridiculous" price."
You created the market, honeypuddle, now own it!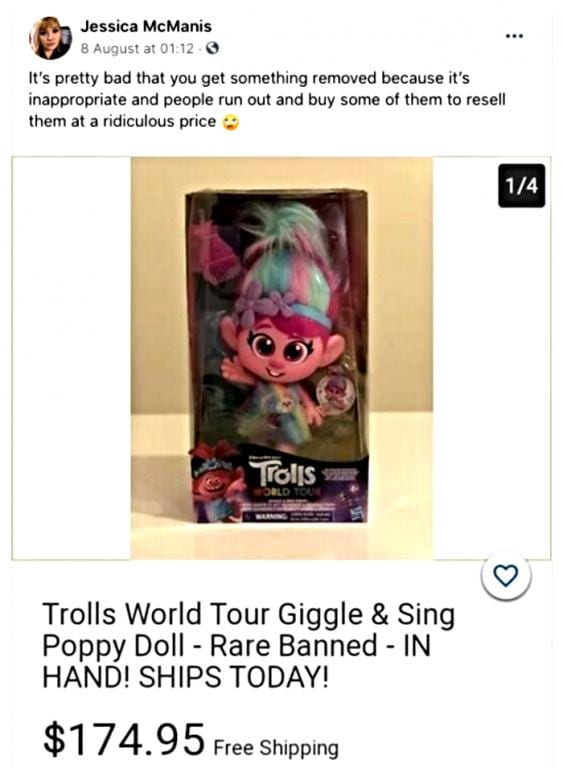 • Please report any typos/errors to barry@freethinker.co.uk
If you'd like to buy me a cup of coffee – and boy, do I get through a LOT of coffee keeping this site active – please click the link below.