INCENSE gets burned in many Christian rituals. Incomprehensible words are babbled and the 'blood' and 'body' of Christ is consumed. But when something similar is performed in a Catholic Church by an Aboriginal couple all hell breaks loose.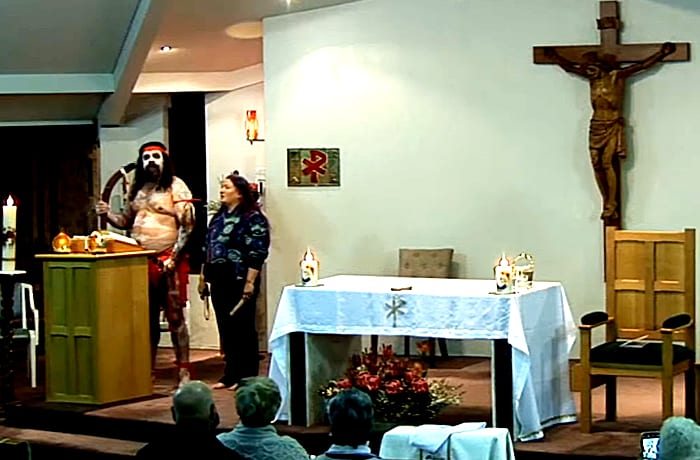 Here's the story: the couple – Philip and Bee Butler, above, members of the Budawang people of the Yuin nation – led a "Welcome to Country" ritual last month at an evening Mass in St Mary Star of the Sea Catholic Parish in Milton, New South Wales.
Earlier this month a video of the ceremony – similar to ones performed at many events held in Australia – made its way onto YouTube, and shows Butler dancing before the altar, singing and banging sticks or rattles together.
He then explained to the congregation:
I asked for protection from the air, the earth, and then the ocean.
What he also did was to ask a number of "spirit birds and animals":
To look after us all and keep us safe while we're in country.
During the Mass, Bishop Brian G Mascord of the Diocese of Wollongong invited Butler to join him in purifying the congregation. As the bishop sprinkled the faithful with holy water, Butler followed him with a smoking basket of vegetation. According to traditional Australian aboriginal beliefs, smoke from certain plants can drive away evil spirits.
Loony right wing Christian website LifeSiteNews went apeshit after learning of the ceremony, and demanded an explanation from Mascord. He responded by saying that the "Welcome to Country" was not a religious ritual, but a cultural one of :
Respect and welcoming visitors to the land of the Traditional Owners. It has been a part of Aboriginal and Torres Strait Islander cultures for tens of thousands of years. The essential elements of welcoming visitors and offering safe passage remain in place to this day.
The bishop added that the ritual had greeted both Saint John Paul II and Pope Benedict XVI when they visited Australia.
The understanding of this ancient cultural ritual of hospitality is in keeping with the special care of hospitality enjoined on Christians (cf. Romans 12:13). This leads to and encourages the virtues of charity, fraternity and social friendship in people of every race and tongue, whose faith God alone knows.
People commenting on the video are having none of this, posting remarks like these:
• Why is there some bloke in only a loin cloth singing? That is not appropriate for Mass … whoever allowed a almost naked guy to do that should never be allowed to be in charge of liturgy.
• Blasphemy!!
these people should repent immediately, before they die.
How much more are we going to offend the most Sacred Heart of Jesus?
• What do you expect when we have a pachamama pope…
• Totally sick, heretics!
• I was a neopagan from age 13 to age 26. I then became Roman Catholic, and very much came to love God and what I perceived as His church. But after years of seeing things contrary to the faith being taught in homilies by priests, traditional liturgy being canceled in my diocese, and then the debacle of Pachamama, I looked into church history and discovered that the Eastern Orthodox are right. This, right here, is absolute pure paganism, being performed in a Roman Catholic Church, and is further evidence that proves my findings. This should not have happened, and those responsible should face VERY public reprimanding – unless you want other people to come to the conclusion I came to and leave the Roman church.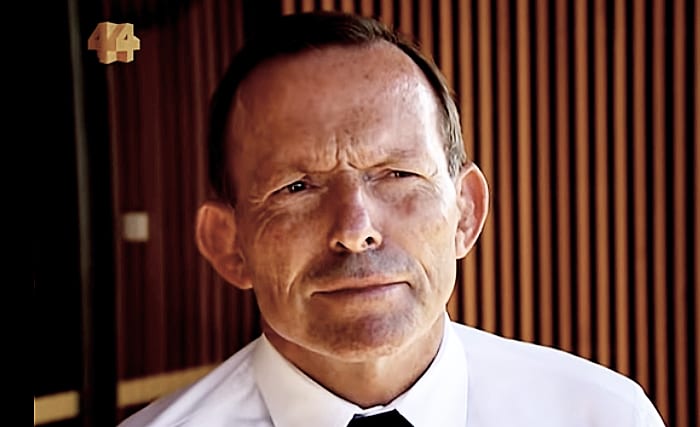 According to
Wiki
, former Australian Prime Minister – the "woefully inept", sexist and homophobic Tony Abbott, above –
recently appointed by UK Prime Minister Boris Johnson to be a UK trade envoy
– is no fan of "Welcome to Country" ceremonies. He counts himself among critics who view such rituals as a form of tokenism, and claim that they do not reflect any element of traditional Aboriginal culture.
Abbott, a Catholic climate-change denier, says its "a genuflection to political correctness" and that it "lacks heart".
Writing for the
Guardian
after Johnson appointed Abbott a trade adviser
,
Australian Van Badham said:
For reasons that are inexplicable to us, Abbott has been given the role of trade adviser by Boris Johnson's government …
Maybe his British backers missed the time Abbott ate a raw onion like an apple in front of the national news media, and for no particular reason. The Australian town of Ballarat commemorates it regularly, crowning a local statue of the former PM with a garland of onions.
Perhaps what his British friends have also either missed or wilfully ignored was that Abbott wasn't just a gaffe-prone, sexist, political eccentric. He is not merely an out-of-his-depth clown tripping over bits of international politics in a hapless, endless dance with his too-big shoes.
Australians have elected and re-elected prime ministers who've overstepped the boundaries of acceptable political behaviour, adult circumspection or simple good taste … Abbott is not only out of the prime ministership but out of parliament itself because he's not a leader: he's a neocon ideologue whose political judgment is not only aggressive but woefully inept.
• Please report any typos/errors to barry@freethinker.co.uk
If you'd like to buy me a cup of coffee – and boy, do I get through a LOT of coffee keeping this site active – please click the link below.
I'd love a cup of coffee