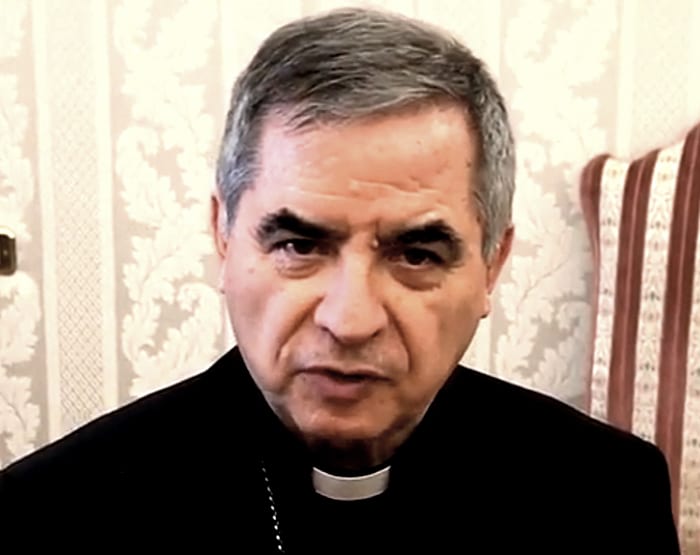 ITALIAN Cardinal Angelo Becciu, above, Prefect of the Congregation of the Cause of the Saints and a bigwig who had access to the Vatican's vast wealth, yesterday (Thursday) resigned in a shock move that the less-than-saintly Cardinal George Pell has gleefully welcomed.
According to LifeSiteNews, Pell – former Prefect of the Secretariat for the Economy in the Vatican who won an appeal against his conviction for child abuse in Australia – said today in a statement:
The Holy Father has elected to clean up Vatican finances. He plays a long game and is to be thanked and congratulated on recent developments. I hope the cleaning of the stables continues in both the Vatican and Victoria.
But Becciu, who will not preside over the September 26 beatification of Mother Maria Luigia Velotti in Naples as he was scheduled to do, insisted today at a press conference that he is innocent of accusations of illegal financial activity and will prove his innocence if given the chance.
In our meeting, the Holy Father told me that I favored my brothers and their companies with money from the Secretariat of State. I told the pope: Why are you doing this to me? In front of the whole world, nonetheless.
Becciu has been accused of using money from the Secretariat of State and from the Vatican's Peter's Pence charitable fund to contract companies two of his brothers hold ties to, to provide favouritism to his home diocese through generous donations, and to make an illegitimate real estate contract in London.
Becciu said he was "shocked" and troubled" by the events of the past 24 hours, saying that until Thursday:
I felt like a friend of the Pope.
What happened "is a blow to me and to my family, the people of my city," he said, insisting that he never "stole one euro," and voiced confidence that:
The truth will come out. I don't know if I'm being investigated, but if they send me a process, I will defend myself … I am innocent, and I will prove it. I ask the Holy Father to have the right to defend myself.
In "a rare and shocking move," the Vatican late Thursday evening announced that Becciu, the Pope's former chief of staff, had resigned not only from his post as the head of the Vatican's office for saints but also from "the rights connected to being a cardinal."
Though the one-line statement offered no further details, it is assumed that Becciu, 72, will not be eligible to vote in a future conclave to elect a new pope.
Although the Vatican did not clarify the reasons behind Becciu's surprising resignation, it is widely rumoured that he was asked to step down over a shady contract between the Vatican's Secretariat of State and a swanky London property that had his fingerprints on it, as the deal was made in 2014, when Becciu was still in his role as sostituto. The sostituto is largely responsible for the day-to-day management of the Vatican and is the only Vatican official with a standing right to see the Pope without an appointment.
In his press conference, Becciu referred to the London property deal, insisting that the Peter's Pence fund "was never touched," and that the incident did not come up in his 20-minute conversation with the Pope.
In 2018, Catholic newspaper The Tablet published a glowing profile of Becciu after Pope Francis had made him a cardinal – and "the power behind the throne."
Christopher Lamb wrote:
When the Pope told him he was being named cardinal, he tells me that he felt "emotional" and full of "gratitude". His new role as head of the body which decides who should be recommended to the Pope for beatification and canonisation – and is also responsible for the authentication and preservation of sacred relics – will allow him to reflect on the Church's core mission; a reminder that whatever heights of power and influence we might reach in this life, Christ's kingdom is not of this world.
"We must seek to conform our lives to God. In other words, we must seek to become saints," the new cardinal says. "The Church exists to call everyone to this great objective; if not, it would all be a waste of time. It does not makes sense to be an earthly power; it is called to be guided by good people, by saintly people, and to help others walk this way."
Here's a song for the now disgraced Becciu:
Hat tip: BarrieJohn
• Please report any typos/errors to barry@freethinker.co.uk
If you'd like to buy me a cup of coffee – and boy, do I get through a LOT of coffee keeping this site active – please click the link below.
I'd love a cup of coffee