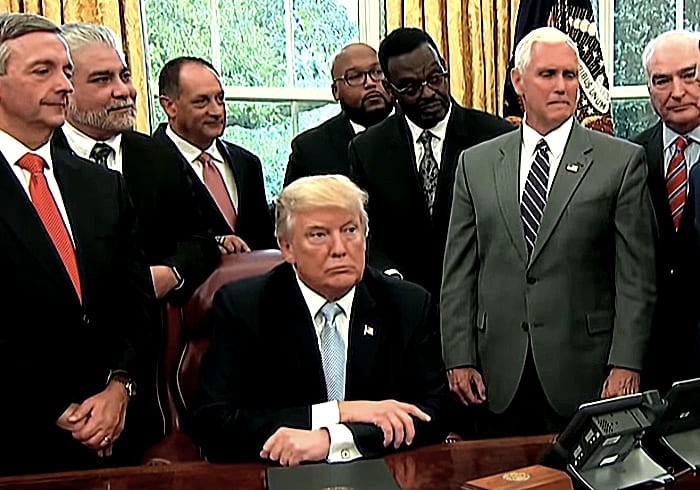 WE'VE put up with all those nauseating photo ops showing the Trump creature being prayed over and fondled by shameless evangelical opportunists for four long years, and we're sick to the back teeth of their antics.
And so, according to Business Insider, are large swathes of mainly young Americans who call themselves Christians but are prepared to walk away from the churches who have supported Trump during a tenure that's made the good ol' US of A an international laughing stock.
If Trump wins another term, Franklin Graham and his ilk will, no doubt, be thanking God and queuing up to reinsert their pious tongues up Adolf Twitler's arse. But whether he wins or loses, faith leaders face an an uphill to bring back those who are abandoning churches that helped shoe him into the White House.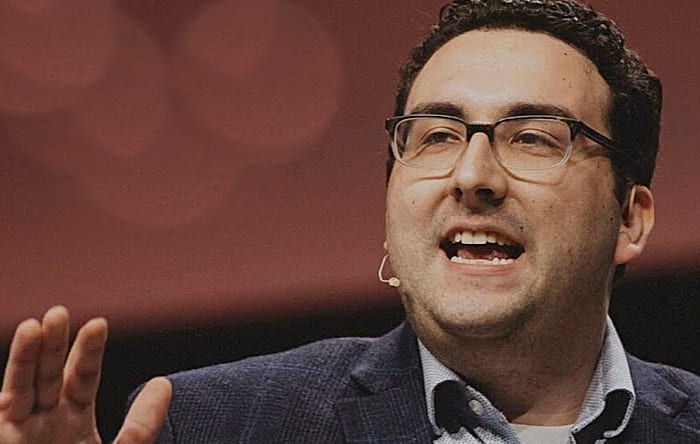 Hopefully they never will.
Michael Wear, above, who served as a faith advisor to President Barack Obama, told Business Insider he had talked to Christians on college campuses across the US who were dismayed by Trump's impact on their relationship to religion.
He said Christians of all ages told him they could no longer enjoy some of the most basic aspects of their religious communities, like coffee after church and small-group discussions, because of the new divisions.
An evangelical Christian himself, Wear is part of Not Our Faith, a new bipartisan political action committee of Christians who oppose Trump's re-election. He said the goal of the PAC was:
To be a voice for the majority of Christians who do, and will, oppose Trump's re-election.
Wear describes himself as theologically conservative, with relationships across the political spectrum. But he said he was one of many Christians whose:
Conservative theology leads them to oppose a man who frankly has shown a deficiency of character and a deficiency of morality and a deficiency in his policies.
He predicted Trump's impact could last long after his presidency, as many Christians who dislike the Trump will not forget the way so many churches embraced him.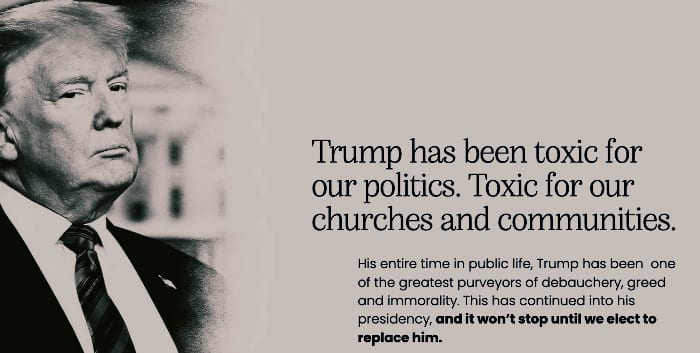 One woman who spoke to Business Insider about her feelings regarding the Trump administration was Maria Felix. She was on a mission trip, working alongside other Christians, when she first heard Donald Trump's name. It was 2015, and she said the group of teens was joking about him, baffled at the idea that he was casting himself as a Christian in his campaign for the US presidency.
Five years later, Felix, 23, said Trump's presidency – and the way he'd been embraced by so many churches, religious leaders, and Christians – had greatly shaken her faith.
I have really struggled with continuing to even call myself a Christian, because I feel like I cannot continue to call myself a Christian if Trump is what Christians want to be like.
In many ways, says Business Insider, Trump has successfully wooed Christians across the US, earning a majority of votes from Catholics and Protestants, and especially evangelicals, in 2016, according to a Pew Research Center analysis of exit-poll data.
But for others, like Felix, Trump has so strained their relationship to their religion that they have broken ties with family, friends, and even their churches. Some of the Christians told Business Insider their faith had been affected to such a degree by Trump's presidency that they didn't know whether many young people would ever find their way back to a church.
This point echoed the sentiments of the Christians Business Insider spoke with, including Felix, who said:
I have not found great luck in finding a church where I can worship and not feel like it's hypocritical.
Felix, whose father is Puerto Rican, left her church in Lancaster, Pennsylvania, this summer after she felt her Christian values did not align with those in her church, where she said almost everyone supported Trump.
I just can't be OK with the misogynistic, homophobic, racist, xenophobic, et cetera, things that spew from Trump's mouth. Or the people that follow him that also call themselves Christians.
• Please report any typos/errors to barry@freethinker.co.uk
If you'd like to buy me a cup of coffee – and boy, do I get through a LOT of coffee keeping this site active – please click the link below.
I'd love a cup of coffee