YOU learn something new every day. Via Christianity Daily I've discovered the existence of a right-wing Jewish media monitoring outfit called The Committee for Accuracy in Middle East Reporting in America (CAMERA).
The "pro-Israel media advocacy and lobbying group" has a branch in Britain – Camera UK – and right now it's pissed because the BBC World Service is currently broadcasting a programme called "Black Jesus" in it's 'Heart and Soul' faith-based series.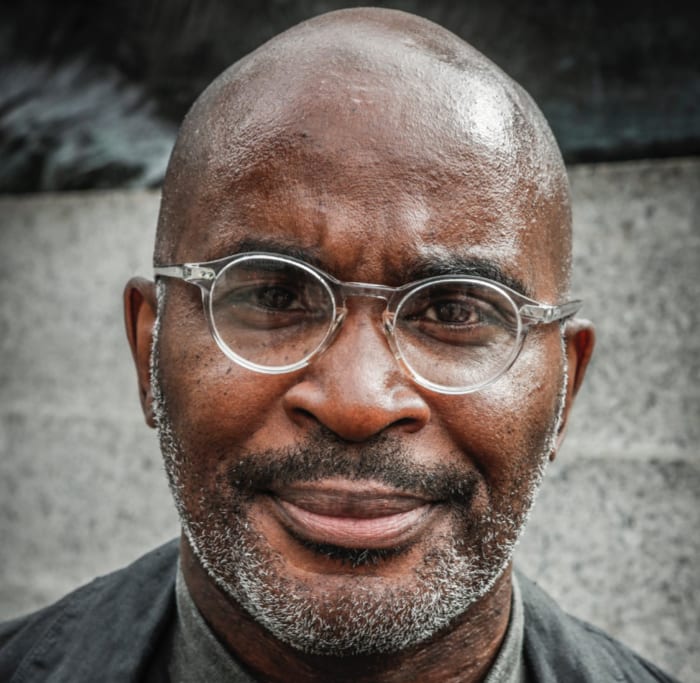 The fact that the presenter, Robert Beckford, above, Professor of Theology and Culture in the African Diaspora at the Canterbury Christ Church University, asserted that Jesus was Black was not the source of CAMERA's anger. What got up it's nose was the fact that Beckford called Jesus a "Palestinian."
He said:
Seeing Jesus as a darker skinned Palestinian rather than blonde European is both historically accurate and theologically important, but it's not a new idea.
Christianity Daily pointed out that:
While he was correct in saying these things, he gave his audience the wrong information regarding Jesus' background or descent.

The error was pointed out by the Committee for Accuracy in Middle East Reporting in America UK (CAMERA UK), an organization that fact checks the British media in order to promote accurate and fair information about Israel.
CAMERA itself says:
One must assume that it is not a lack of knowledge which prompted 'one of the UK's prominent black theologians' – as Beckford is described in the programme's synopsis – to repeatedly promote the anachronistic notion that Jesus was 'a first-century Palestinian Jew'.

In fact, Beckford's political/theological agenda is abundantly clear throughout the programme, which begins by describing Jesus as 'a leading figure in the fight against racism and discrimination' …. in reality Jesus was a refugee whose family had to flee North Africa due to persecution. He was one of the oppressed by the colonisers of his day.
Earlier this year, when The New York Times referred to "first-century Palestine", CAMERA pointed out that:
During the time of Jesus, Bethlehem and Jerusalem were in what was commonly called Judea and Nazareth was in what was commonly called the Galilee. The land where Jesus lived did not take on the name Palestine until the second century, well after his death. Thus, the notion of 'first-century Palestine,' is totally fictional.
When I read of this little kerfuffle, my initial reaction was that it was far too silly to merit writing about.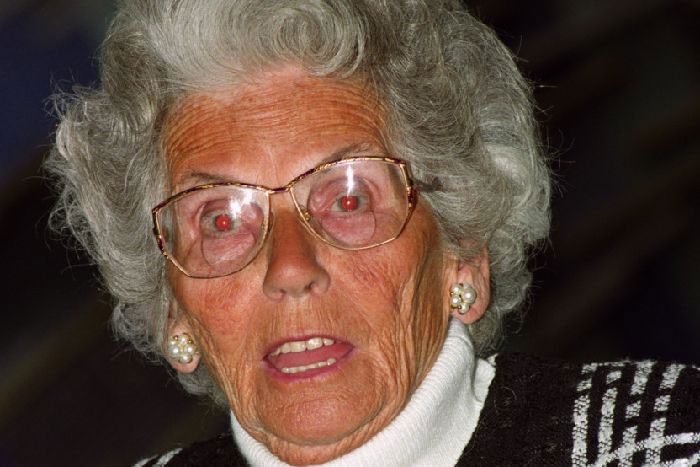 However, what seized my attention is that CAMERA was once known as UK Media Watch – and I immediately associated it with an organisation started by Christian fanatic Mary Whitehouse, above, who was Britain's Nanny-in-Chief for more than three decades.
She had some pretty weird friends and supporters, among them the ghastly Margaret Thatcher, the sadomasochistic evangelical barrister John Smythe and the notorious paedophile Jimmy Savile, upon whom she bestowed an award – to celebrate wholesome family entertainment!
The "moral crusader," who died in 2001, fought tooth and nail to remove all the "filth" that atheists, homosexuals and "lefties" were imposing on radio, theatre productions and TV, among them Doctor Who.
She's most famous for successfully bringing a blasphemous libel action against Gay News.
Then I realised that Whitehouse's outfit was called Media-Watch UK, not to be confused Mediawatch, which was a hugely entertaining column written by long-time friend Terry Sanderson that ran in Gay Times for almost 25 years from 1983.
Sanderson, a past President of the National Secular Society, noted in 1984 that:
The Daily Mirror reports that Mrs Mary Whitehouse won 'substantial' libel damages against the Observer because it published an extract from a book which said 'she was the sort of person who would have been at home in Nazi Germany.' I, of course, have nothing to add.

That was a pretty accurate assessment of the woman by Sir Hugh Greene, Director-General of the BBC in the 1960s. After a visit to South Africa, she praised the apartheid system, saying that all the "smiling Black people" she saw were among the most contented folk she'd ever come across.
In 2006, Sanderson wrote:
When Mary Whitehouse used to say, 'I don't like sex on the television', the traditional response was, 'Well, why don't you try it on the kitchen table, then?. If she were alive today, she'd be turning in her grave. Sex on the television? When isn't there sex on the television? I'm waiting for the first dogging session on Teletubbies – during which Tinky-Winky can let us know once and for all what exactly that handbag represents.
One of Whitehouse's notable accomplishments was to inspire the formation of the Gay Humanist Group, of which I was a founder member.
• Please report any typos/errors to barry@freethinker.co.uk
If you'd like to buy me a cup of coffee – and boy, do I get through a LOT of coffee keeping this site active – please click the link below.
I'd love a cup of coffee