MEMBERS of the Ásatrú Folk Assembly in California refused this week to allow a racism row in distant Murdock, Minnesota, to spoil a festive season celebration in its main Brownsville hof, better known as a 'church' or 'temple' to those not versed in Old Norse.
According to its Facebook page, Óðinshof – First Hof and headquarters of the Ásatrú Folk Assembly in Brownsville – had a high old time time as they invited "holy powers" to be with them.
Yule 2020 was a glorious day, full of spiritual might as we celebrated with many rituals for our Gods and Ancestors. Winter had arrived after a blistering-hot summer and fall. It felt wonderful to plan this ancient traditional holy-day for our new members and long-time friends …

Once gifts had been exchanged with the sprinkling of mead, our ritual sunwheel was set ablaze, representing the newly risen Solstice sun. 'Hail Sunna!', 'Hail Odin!,' 'Hail Tyr!' Hail Baldur!' Many gods were called, and then a resounding, 'Hail the AFA!'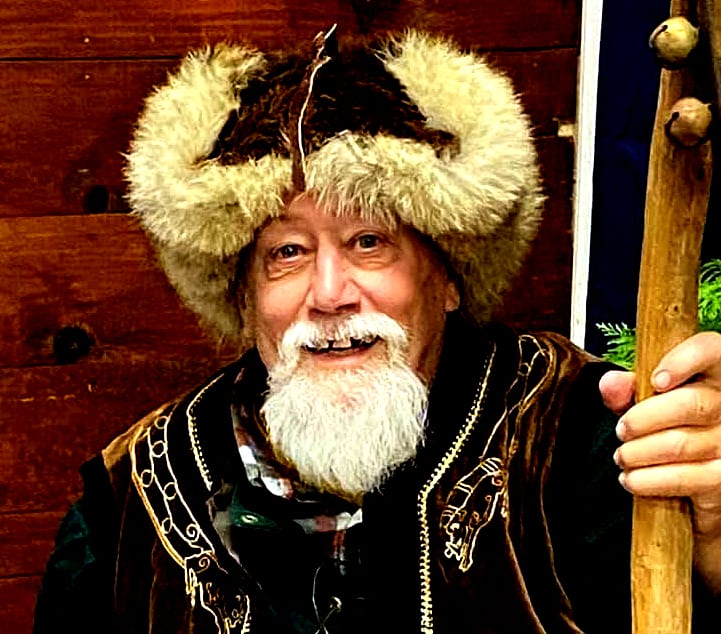 But while "Papa Yule," above, was strutting his stuff and handing out gifts to the fair-skinned little 'uns, the good folk of Murdock, around 1,700 miles away, were demanding to know why the city council had given planning permission to an outfit branded as a "racist hate group."
Failed attempts to stop the ASF from establishing a branch in the farming town of 280 people included an online petition signed by over 121,000.

Said Peter Kennedy, a longtime Murdock resident:
I think they thought they could fly under the radar in a small town like this, but we'd like to keep the pressure on them. Racism is not welcome here.
Jean Lesteberg, who lives in the neighboring town of De Graff, wrote on the city's Facebook page:
Just because the council gave them a conditional permit does not mean that the town and people in the area surrounding will not be vigilant in watching and protecting our area.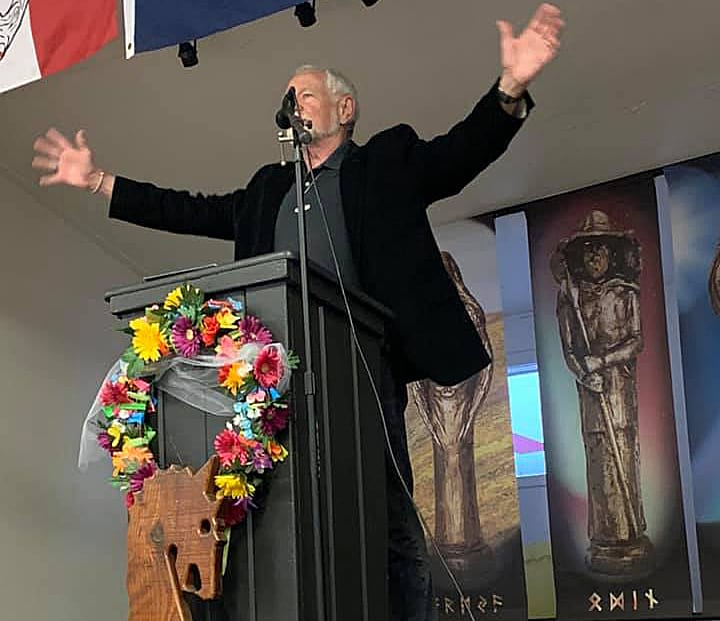 The Southern Poverty Law Center describes Ásatrú Folk Assembly as a "neo-Volkisch hate group" that:
Couches their bigotry in baseless claims of bloodlines grounding the superiority of one's white identity.

Present-day Folkish adherents couch their bigotry in baseless claims of bloodlines grounding the superiority of one's white identity. At the cross-section of hypermasculinity and ethnocentricity, this movement seeks to defend against the unfounded threats of the extermination of white people and their children.
It added:
A late 2017 Instagram post by the Ásatrú Folk Assembly (AFA), perhaps this country's largest neo-Völkisch hate group, exemplifies how Folkish adherents profess their urgency for preserving Folkish ways.

The post's caption, drawing on a popular racist meme, reads: 'In these mixed-up times it is important to remember not only that it is okay to be white but also that we owe to our descendants the same sturdy roots from which we ourselves have grown.'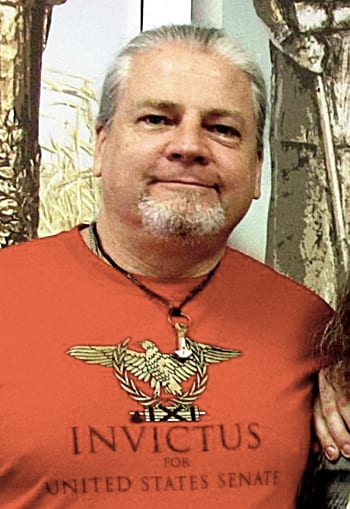 But AFA strongly denies it's white supremacist or white separatist group. Said Allen Turnage, right, a folk assembly board member:
We're not. It's just simply not true. Just because we respect our own culture, that doesn't mean we are denigrating someone else's.
The AFA says its teachings and membership are for those of strictly European bloodlines.
It was looking for a new hof in the eastern North Dakota region when it came across Murdock. According to The Star Tribune the AFA bought an abandoned Lutheran church – its third hof – for $45,000. Its second operates in North Carolina. Organisers said the hall is intended to serve believers throughout the Midwest.
The group's website says:
We do not need salvation. All we need is freedom to face our destiny with courage and honor. We honor the Gods under the names given to them by our Germanic/Norse ancestors.
Their forefathers, according to the website, were:
Angels and Saxons, Lombards and Heruli, Goths and Vikings, and, as sons and daughters of these people, they are united by ties of blood and culture undimmed by centuries.
Turnage said:
We respect the ways our ancestors viewed the world and approached the universe a thousand years ago.
On December 10, the Brownsville branch used Facebook to thank the Murdock council by voting 3-1 to grant the AFA a conditional use permit
We look forward to a long relationship as the very best of neighbors to our Murdock community.

To the City Council of Murdock, thank you. We know there was a lot of pressure on you to deny us our permit and right to worship. We appreciate your fairness and this opportunity. Thank you.

To the citizens of Murdock who have stopped by to share a kind word of support as well as those who told us they would judge us by our deeds and not by gossip, thank you, we are excited to be a part of your city.

To all those who have poured their hearts into this hof, financially as well as hours of hard work, thank you.

Hail bright Baldur! May your glory shine, now and forever!
A small contingent of church supporters in Murdock said the community should be open-minded and respectful to all. Jesse James, who said he has lived in Murdock for 26 years, wrote on Facebook:
I find it hypocritical, for lack of a better term, of my community to show much hate towards something they don't understand. I for one don't see a problem with it. I do not wish to follow in this pagan religion, however, I feel it's important to recognize and support each other's beliefs.
Murdock council members said they do not support the AFA but were legally obligated to approve the permit.
Mayor Craig Kavanagh said:
We were highly advised by our attorney to pass this permit for legal reasons to protect the First Amendment rights. We knew that if this was going to be denied, we were going to have a legal battle on our hands that could be pretty expensive.
The Star Tribune reported that beliefs of the AFA, as laid out on the group's website, are "explicitly pro-white."
"We in Ásatrú support strong, healthy white family relationships," according to the AFA's statement of ethics.
We want our children to grow up to be mothers and fathers to white children of their own. We believe that those activities and behaviors supportive of the white family should be encouraged while those activities and behaviors destructive of the white family are to be discouraged.
The paper quoted Turnage as saying:
A Black man who sought to join the group wouldn't be mistreated but would be encouraged to look elsewhere for his beliefs.
Hat tip: Robert Stovold
• Please report any typos/errors to barry@freethinker.co.uk
If you'd like to buy me a cup of coffee – and boy, do I get through a LOT of coffee keeping this site active – please click the link below.
I'd love a cup of coffee