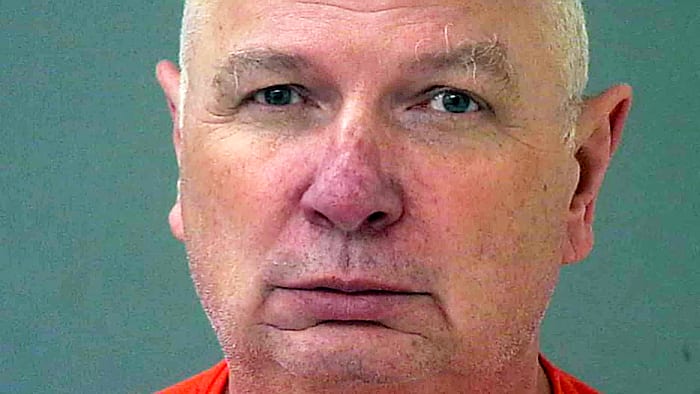 In 2015 pastor William Milam, above, of Olivet Baptist Church in Milton, Florida, took a stand against the Sunday sale of alcohol, branding it 'immoral.' He later also expressed a yearning for 'the old days when NO restaurant was open on Sundays.'
Today Milam, 62, is being held in custody at the Santa Rosa County Jail for the alleged possession of child pornography involving kids as young as three.
The pastor was arrested on Monday – a day after delivering a sermon at his "be rapture ready" church. He faces two counts of promoting sexual performance of a child and 25 counts of possession of child pornography, according to the Florida Department of Law Enforcement (FDLE).
An investigation into Milam's online activities began when the FDLE received a cyber tip from the National Center for Missing and Exploited Children regarding the uploading of child pornography at an IP address later traced to Milam's residence.
When FDLE agents served a search warrant Monday morning at Milam's residence, they found multiple devices containing child pornography.
The Santa Rosa County Sheriff's Office, Milton Police Department and Homeland Security Investigations assisted in the investigation.
Milam was vocal during a campaign in 2016 by Santa Rosa County municipalities to change local ordinances to allow the sale of liquor on Sundays.
Milam wrote in an op-ed for the News Journal on July 17, 2016:
Oh for the old days, the old days when NO restaurant was open on Sundays. Oh for the days when 'blue laws' were in effect all over this country. But, those days are gone. There are a significant amount of people who appreciate that the streets of our city could be just a little safer with no Sunday sale of liquor.
At the time he said he opposed liberalising liquor store regulations for "deeply personal" but not religious reasons, voicing concerns about opening up more opportunities for drunken driving by expanding the hours of sale. He added:
To casually vote in favor of this ordinance for the supposed, and I say it again, supposed, increase in tax revenue, I personally believe is immoral.
ChurchFinder says Olivet Baptist has two pastors: Frankie Godsey and Milam.
On Tuesday, Olivet Baptist issued a written statement to the News Journal saying that said Milam no longer was the pastor there.
The church was shocked to hear about the arrest of its former pastor. We are in fervent prayer for all involved; including law enforcement as they seek to uncover the truth in this situation.
Church officials declined to answer the News Journal's questions about whether leaders had notified parishioners about the charges against Milam or launched an internal investigation into the pastor's alleged actions.
• Please report any typos/errors to barry@freethinker.co.uk
If you'd like to buy me a cup of coffee – and boy, do I get through a LOT of coffee keeping this site active – please click the link below.
I'd love a cup of coffee