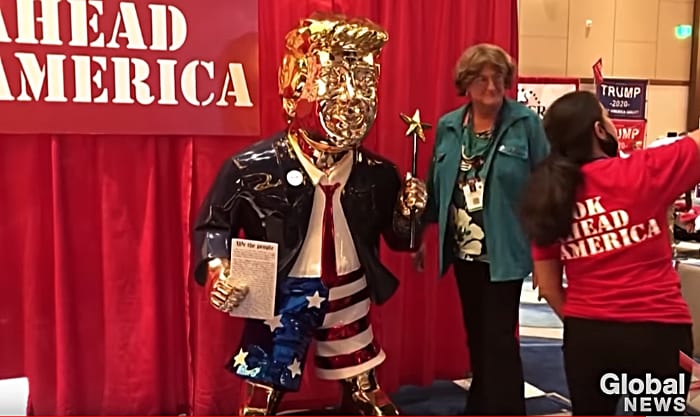 IN any other setting, a golden statue of Donald Trump, wearing shorts and flip-flops, would be regarded as cruel satire. People would definitely point and laugh.
But those attending the Conservative Political Action Conference which opened in Florida at the weekend thought the monstrosity was 'awesome' and 'cool.'
Their enthusiasm is not being shared on social media where, right now, people are pointing and laughing – and the more devout, with lips pursed, are drawing comparisons with a golden calf made from melted down earrings of Israelites and worshipped until a furious Moses had the idol destroyed.
Newsweek reports that journalist Dave King tweeted:
To anyone who wants to fool themselves into thinking Donald Trump's grip over the Republican Party is coming to an end … They erected a literal golden statue of him at the party's most influential annual conservative gathering.
Legal analyst Joyce Alene added:
This is what the Republican Party has reduced itself to. Worshippers of the golden Trump. Also, I've never seen this expression on Trump's face. It looks almost like they're trying to morph him into something Reagan-esque.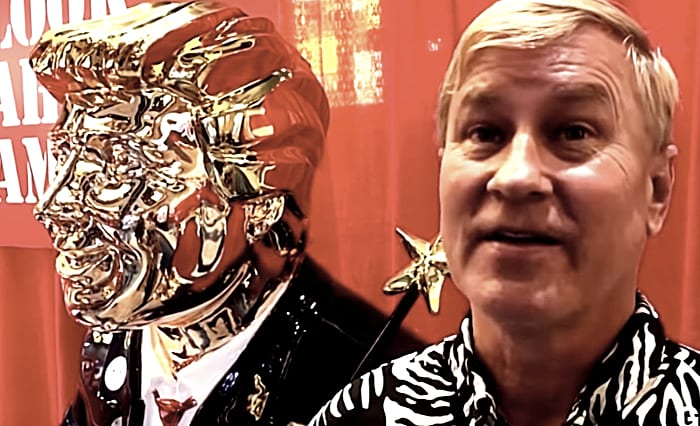 CNN reveals that the more than 6-foot-tall statue is the creation Tommy Zegan, above, a California-based artist.
He acted in response to multiple pieces of art mocking Trump, then stupidly heaped more mockery on the criminal ex-president with a grotesque creation that was wheeled into the Hyatt Regency on Thursday evening.
The thing was then taken to the conference's exhibit hall, where it found a home in a booth for a conservative nonprofit called Look Ahead America.
And what's with the wand? Is Trump now a fairy?
Zegan said:
Two years ago, when I saw all those statues of naked Trump and Trump on a toilet, I said, 'You know what? I can do better'.
Zegan said the piece on display at CPAC is actually the fiberglass mold of the real, stainless steel sculpture currently stored in a warehouse in Tampa where it awaits a potentially high-profile showcase.
CNN's Michael Warren wrote:
The statue is perhaps the most extreme celebration at CPAC of the former president, who will speak here on Sunday in his first public appearance since leaving office. Zegan says every aspect of the statue – which puts Trump in a suit jacket, American-flag-themed shorts and flip-flop sandals – is intended to be symbolic.
Said Zegan:
The coat and tie is the fact that he's a professional, he's a businessman. The red tie symbolizes he's a Republican. The red white and blue is that he's a patriot. The fact that he's wearing thongs and shorts is that he's at the age where he should be retired. He should be at the beach right now.
According to this report, when the abomination was wheeled into the hotel one peson was heard saying "that's so cool." Another chants "four more years."
A video captured by a Bloomberg News reporter was watched by more than three million people within the first ten hours after it was posted.
Many used the footage as a springboard to criticise the Republican Party and its seemingly undying devotion to Trump, who is more likely to wind up in jail than in deck chair on some beach when investigators conclude their probes into his tax affairs and his role in the Capitol riots.
• Please report any typos/errors to barry@freethinker.co.uk
If you'd like to buy me a cup of coffee – and boy, do I get through a LOT of coffee keeping this site active – please click the link below.
I'd love a cup of coffee