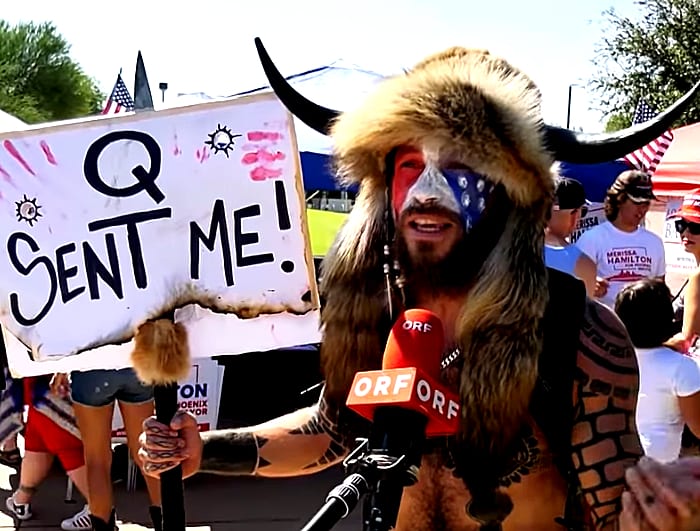 A LAWYER representing Jacob Chansley, above, told a judge this week that a combination of the insurrectionist's 'Shamanic faith', and his refusal to be vaccinated against COVID-19, were compelling reasons to have him freed from detention until he faces trial for breaching the the Capitol on January 6.
According to Religion News the argument presented to US District Court Judge Royce C Lamberth was that various COVID-19 protocols at the Alexandria Detention Center in Washington made "meaningful unmonitored communication" between Chansley, aka Jake Angeli, and his lawyer impossible.
The attorney claimed his client's "longstanding status as a practicing shaman precludes him from feeding into his body any vaccination."
The request also noted that Chansley was removed from the US Navy in 2007 for refusing to take a vaccine for anthrax.
The judge flatly refused, saying:
To put it plainly, defendant's religious objection to the COVID-19 vaccine is not a relevant reason, let alone a 'compelling reason', to grant his temporary release.
Lamberth also dismissed arguments that Chansley isn't a flight risk.
Though possibly relevant at sentencing, these arguments about defendant's faith, aspirations, and interests are irrelevant to the question of whether any conditions will reasonably assure defendant's appearance as required.
The judge was unmoved by the argument that Chansley is unable to speak to his lawyer. Lamberth pointed out that both Chansley and his lawyer appeared in a recent, nationally televised interview with 60 Minutes, where they communicated via video chat.
The issue … is not that defense counsel cannot confidentially communicate with client. The issue is that when defense counsel is able to speak with his client, he squanders the opportunity for private conversations, preferring instead to conduct public interviews.

Such media appearances are undoubtedly conducive to defense counsel's fame. But they are not at all conducive to an argument that the only way defense counsel could privately communicate with his client is if defendant were temporarily released.
The rejection follows a more successful legal appeal. Shortly after he was arrested for his role in the Capitol insurrection, Chansley went on a hunger strike in jail because, according to his lawyer, the "shamanic belief system and way of life" precludes him from ingesting food that contains "unnatural chemicals" or is not organic.
His request for organic food was eventually granted by a federal judge, and he was subsequently moved to a different jail that could better accommodate his dietary needs.
Chansley has said his beliefs and appearance – which often involves face paint, a fur headdress and tattoos — are drawn from Norse paganism and Indigenous traditions combined with Christian references and baseless conspiracy theories, including the QAnon theories that have earned him his Q-Anon Shaman moniker.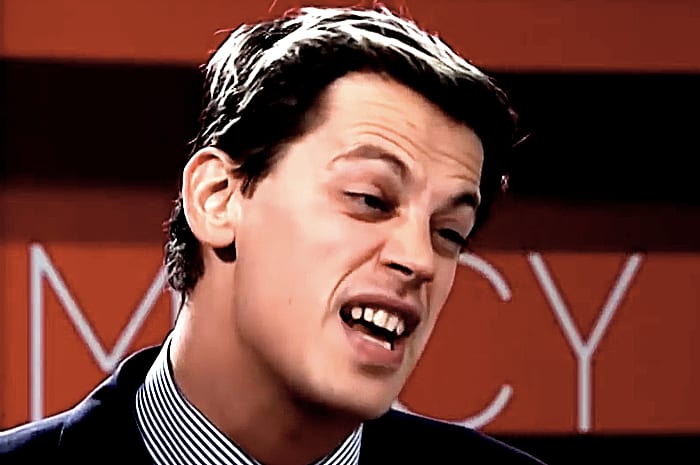 While on the subject of posturing far-right clowns and conspiracy theorists, the media are having fun today reporting that flamboyant homosexual Milo Yiannopoulos, above, famous only for trashing gays, trans people, feminists and everyone opposed to Trump, has abandoned the world of sodomy and has a new man in his life: St Joseph.
This from The Daily Beast:
Professional right-wing troll Milo Yiannopoulos has declared himself no longer homosexual. In an interview with the right-wing LifeSite, Yiannopoulos claims he is "ex-gay" and will direct his future endeavors to St. Joseph:
"I treat it like an addiction. You never stop being an alcoholic … I hope people will support and pray for me, if for no other reason than they share my delight at the prospect of Milo Yiannopoulos furiously and indignantly railing against homosexuals for sins of the flesh."
He announced a new vocation as well, a dedication to the discredited and widely banned practice of forcibly subduing homosexuality:
"Over the next decade, I would like to help rehabilitate what the media calls 'conversion therapy.'"
It is unclear whether Yiannopoulos remains legally married: "The guy I live with has been demoted to housemate."
And he took some time during the interview to indulge in transphobia as well, claiming "trannies are demonic."
Hat tip: Antony Niall (Yiannopoulos report)
• Please report any typos/errors to barry@freethinker.co.uk
If you'd like to buy me a cup of coffee – and boy, do I get through a LOT of coffee keeping this site active – please click the link below.
I'd love a cup of coffee