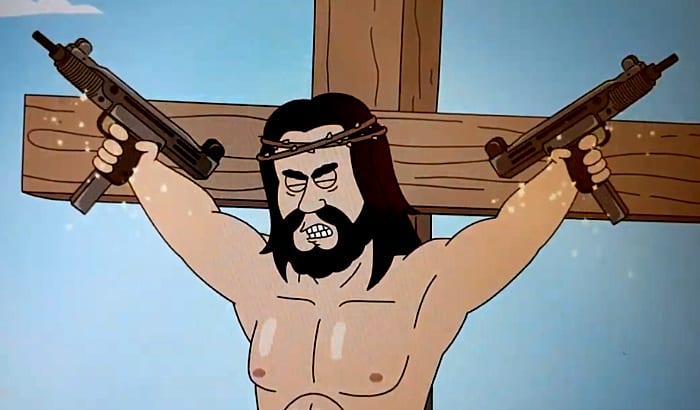 AN anti-liberal, pro-gun conservative website is urging True Christians™ to lodge complaints to Netflix for airing a 'blasphemous' and 'pornographic' episode of Paradise PD that shows the nails holding Jesus' hands to the cross supernaturally transformed into automatic weapons.
Asked if he has any last words, Jesus says "Messiah-nara bitches" and uses the weapons massacre his persecutors. He then has sex with two women in an episode of the animated series entitled Trigger Warning.
The scene is preceded by the head of the National Rifle Association (NRA), Mr Chip Fuck-Yeah, saying:
I wanna show you why guns aren't the problem. They are the solution … imagine a world where Jesus had guns.
Newsbusters reports:
The liberal fever dream of disarming lawful gun owners came through in Season Three of Netflix's Paradise PD. Along with attacking gun rights, it was also blasphemous against Christianity, featuring a video of a gun-wielding Jesus that turns into a porno. 

The crazy, over-the-top animated series was released on March 12 and took on the topic by ridiculing white male gun owners for using guns as a replacement for testosterone. Paradise's police chief confesses to needing a gun to get an erection and the head of the NRA says the initials stand for Nards Removed Association. The script is off the wall, even for this totally unrealistic series.
It adds:
Officer Kevin Crawford (voice of David Herman) watches an anti-gun video by super liberal Michael Moore and is so impressed that he wants his father, Police Chief Randall Crawford (voice of Tom Kenny) to watch it.

Randall refuses. Kevin tells his father, .Dad, there's no good reason why we can't have sensible gun control.' Officer Gina Jabowski (voice of Sarah Chalke) pushes back by saying, 'Give it a rest. I'm sick of you liberals acting like guns are the only dangerous thing in society. Mayonnaise kills people.'
The episode also features the corpse of Charlton Heston used as a statue, complete with a quote:
Pry this gun from my cold, dead hands and win a Republican Senate seat.
Newsbusters points out that:
The NRA has developed smart guns called Mr. Bang-Bang. The organization wants all guns to be smart guns and mandatory for everyone. The catch is that, by everyone, it means white people.

This episode is Hollywood's idea of reaching a compromise on gun control which means tossing out the Second Amendment as irrelevant in today's world. It's malarkey, yet it is something to watch as the new administration continues on a far-left course in Washington.

Conservatives Fight Back: Contact Netflix to let them know your outrage over their release of such a blasphemous scene during Lent!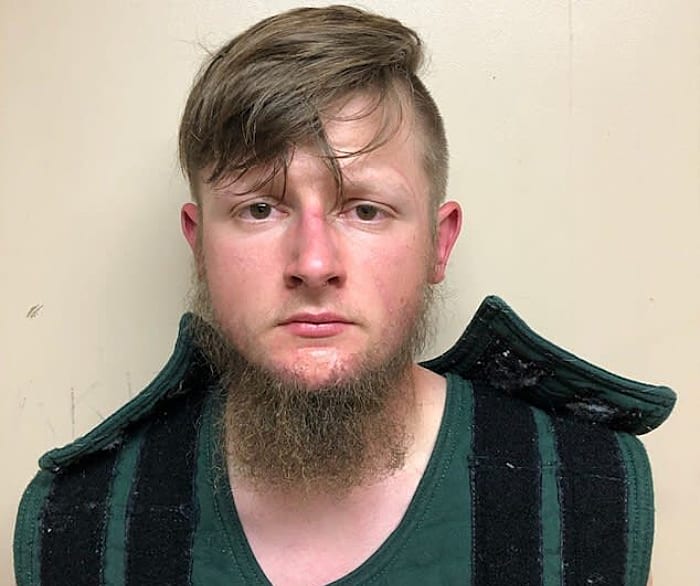 Speaking of guns and shootings, after days of silence following the horrific killing in Georgia of eight people – most of whom were Asian women – by devout Christian Robert Aaron Long, above, his church has issued a lame statement:
Crabapple First Baptist Church to said in a statement to the Baptist Press, the official news service of the Southern Baptist Convention:
We are grieved to hear the tragic news about the multiple deaths in the Atlanta area. We are heartbroken for all involved. We grieve for the victims and their families, and we continue to pray for them. Moreover, we are distraught for the Long family and continue to pray for them as well.
Long has been charged with eight counts of murder and one count of aggravated assault. Others are calling for hate crime charges to be added.
After his arrest for the shootings at three spas, Long told police attacks were "not racially motivated". Rather they were the result of his "sex addiction."Long saw the spas as a "temptation" that he "wanted to eliminate."
The 21-year-old who had grown up in the conservative Baptist church appeared fixated on guilt and lust.
As investigators on Thursday pieced together whether and how racism and sexism might have motivated Tuesday's attacks, people who knew Long offered new details about "a dangerous collision of sexual loathing" and what a former roommate described as "religious mania" that marked his life in the years before the shooting spree.
Long, whose church strictly prohibited sex outside of marriage, was distraught by his failed attempts to curb his sexual urges, said Tyler Bayless, a former roommate who lived with Long at a halfway house near Atlanta for about five months beginning in August 2019.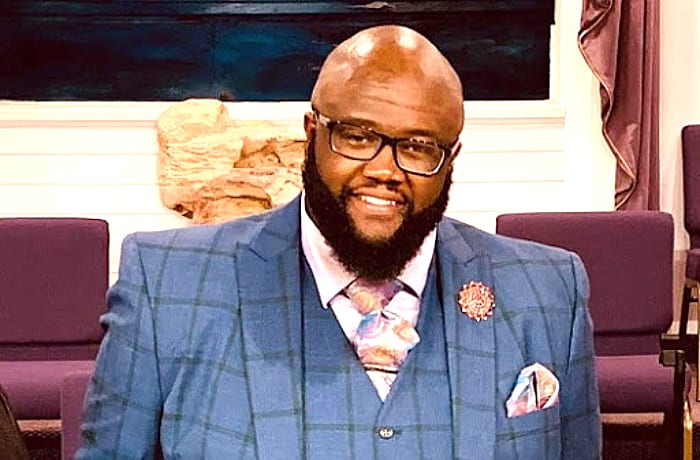 Long's shooting spree eclipsed earlier reports that a pastor in Georgia, Kevin D Nick, had been shot dead days before. The incident occurred less than three weeks after he celebrated his 43rd birthday and publicly thanking God for helping him survive "what I didn't see coming."
An unnamed 16-year-old youth was arrested in connection with the shooting last Saturday.
• Please report any typos/errors to barry@freethinker.co.uk
If you'd like to buy me a cup of coffee – and boy, do I get through a LOT of coffee keeping this site active – please click the link below.
I'd love a cup of coffee