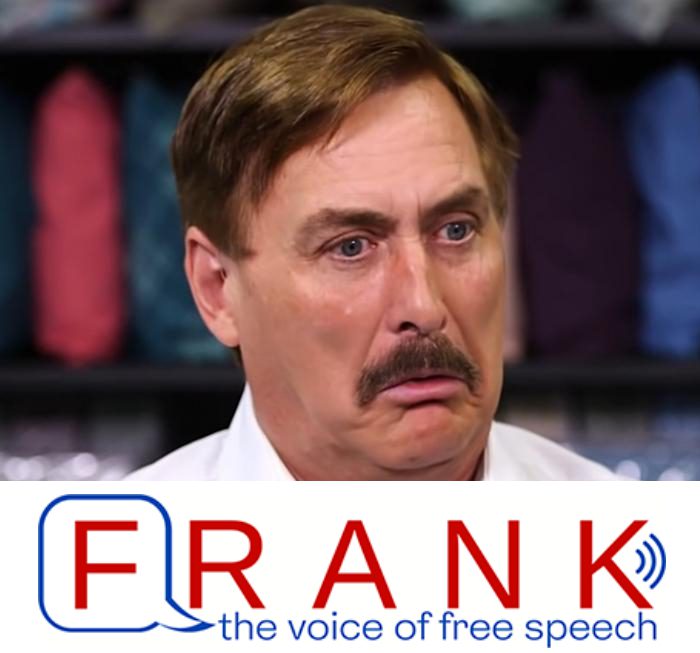 AFTER being banned by Twitter last month MyPillow CEO Mike Lindell got a big stupid on and announced that he was going to launch his very own multi-million dollar, cuss words-free social media site called Frank – an acronym for Fuckwit Republicans and Nationalistic Kootches,
According to Business Insider, the Trump and Jesus-loving ex-crackhead initially planned to call the platform Vocl, but was forced to change its name to Frank after lawyers for the company Creatd, which owns a website called Vocal, said that Lindell could face a lawsuit if he refused to change the name,
The imbecile's new website – currently static – declares itself to be "the voice of free speech" and shows Lindell blathering on about the millions he has spent to create a platform:
For Americans who want to defend life, liberty, and all the freedoms that have marked America as the longest running Constitutional Republic in the history of the world.
Users will be able to:
Post videos, livestream television, distribute news and information, and find community and fellowship with likeminded Americans.
MSN reports that Frank will focused on "free speech" but will not allow swearing, pornography, or the use of "God's name in vain".
In a video posted as a placeholder on the Frank site, Lindell explains the reasoning behind the founding of "Frank" and asks for potential users to input a phone number for early "VIP viewing."
Promising "a platform like no other", he muddled through a description of it as a combination of Twitter and YouTube, saying the site will be able to handle the capacity of users he expects and will be "secure" because:
We're going to be attacked. I have my own servers and everything. We're not going to be worried about Amazon taking it down or YouTube or Google or Apple and we are going to get our voice of free speech out there.
When the site officially launches on April 20 at 9am, the deranged Lindell promises to be online all day as part of a two-day "Frankathon" with:
All your influencers on there. All the cancels of our First Amendment rights we're seeing right now, well guess what? It's coming back. You're not going to have to worry about what you're saying and worry about being able to speak out freely.
He added:
You don't get to use the c-word, the f-word, the n-word, or God's name in vain … free speech is not pornography. Free speech is not 'I'm going to kill you'. It's very well-defined in our mission statement.
Lindell was permanently banned from Twitter in January 2021 for continuing to make unfounded claims that Mr Trump had won the election.
A documentary by Lindell called Absolute Proof, posted on Lindelltv makes baseless allegations of voter fraud in the 2020 election. it was removed from YouTube for violating rules regarding false election information.
He is also facing a $1.3bn defamation lawsuit from election machine company Dominion Voting Systems regarding his false claims about their role in the election.
Frank will join "unbiased" Parler and Gab, two other platforms pitched as alternatives to mainstream social networks. Both have restrictions on pornography but have been flagged by Google and Apple for not moderating extremist posts.
In a separate report Business Insider revealed that the loon has another new idea: a "patriotism-themed" e-commerce platform.
Speaking on Steve Bannon's "War Room: Pandemic" podcast on Monday, Lindell announced that he was launching a company called MyStore as a rival to Amazon, which aims to flog, among other schmutters, books about himself and Trump.
Hat tip: Robert Stovold
• Please report any typos/errors to barry@freethinker.co.uk
If you'd like to buy me a cup of coffee – and boy, do I get through a LOT of coffee keeping this site active – please click the link below.
I'd love a cup of coffee